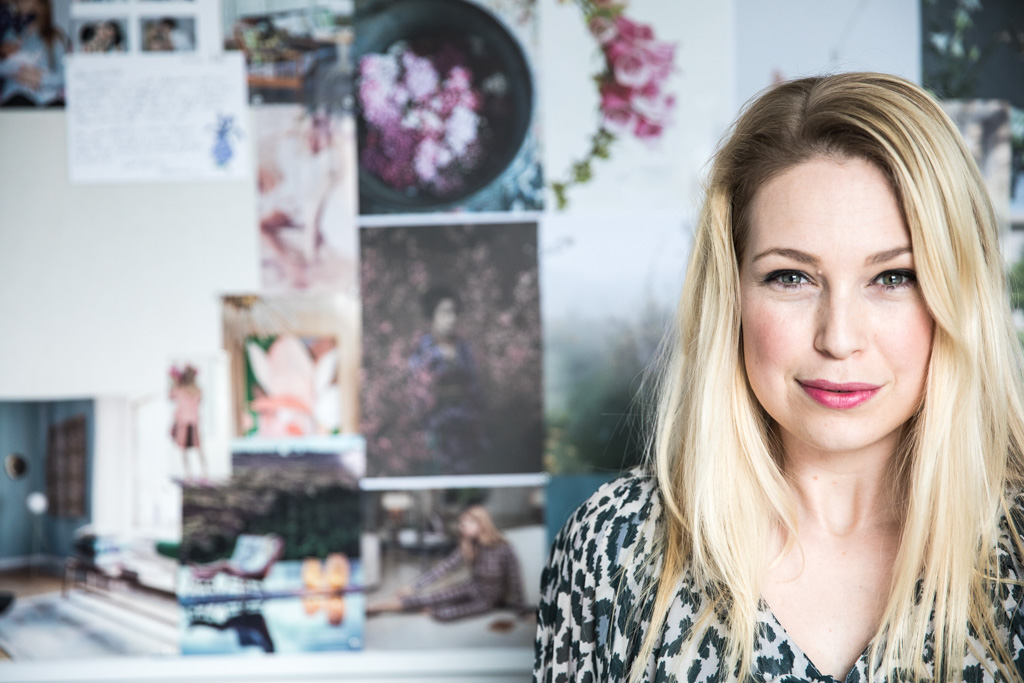 If you like my style but do not see precisely the illustration you would like to own or give as a gift, please contact me to discuss a commission.
The process begins with a consultation, which can take place over email, telephone or video call. In fact, I find a quick virtual face-to-face meeting is the perfect way to discuss your ideas, preferences, themes and colour palettes. We will end the consultation with an action plan, usually where I will revert in a few days with ideas for content and colour and a price for your finished artwork. I'll take a deposit and the next stage is a pencil drawing for your feedback. Only once you are entirely happy with the proposed drawing, I will take payment and proceed to colour. I can work with you through every stage of the creative process, right up to guidance on framing.
CASE STUDIES: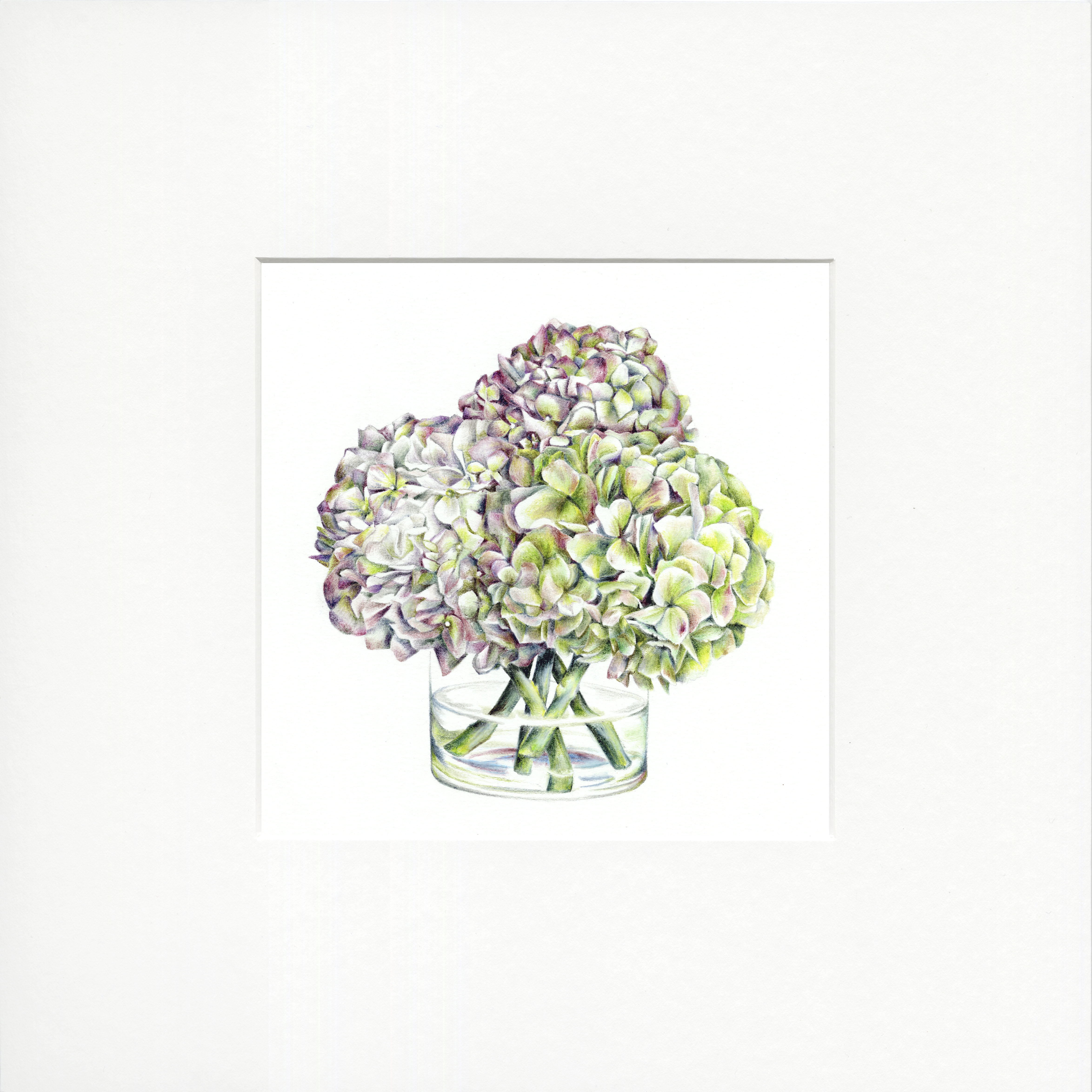 Hydrangea Bouquet
, created for interior designer and lifestyle blogger 
Laura Butler Madden
Inspired by Laura's love for single-species bouquets and a pale pastel palette throughout her home and wardrobe, I created this illustration for her Summer Room. We discussed the ideal proportions for the final artwork, and how a trio of hydrangeas would make a serene and pleasing composition. I provided a pencil sketch and a colour spectrum initially, and then proceeded to the final illustration, updating Laura with my progress along the way.  
Time: Two weeks from initial consultation
Cost: A similar commission would cost £290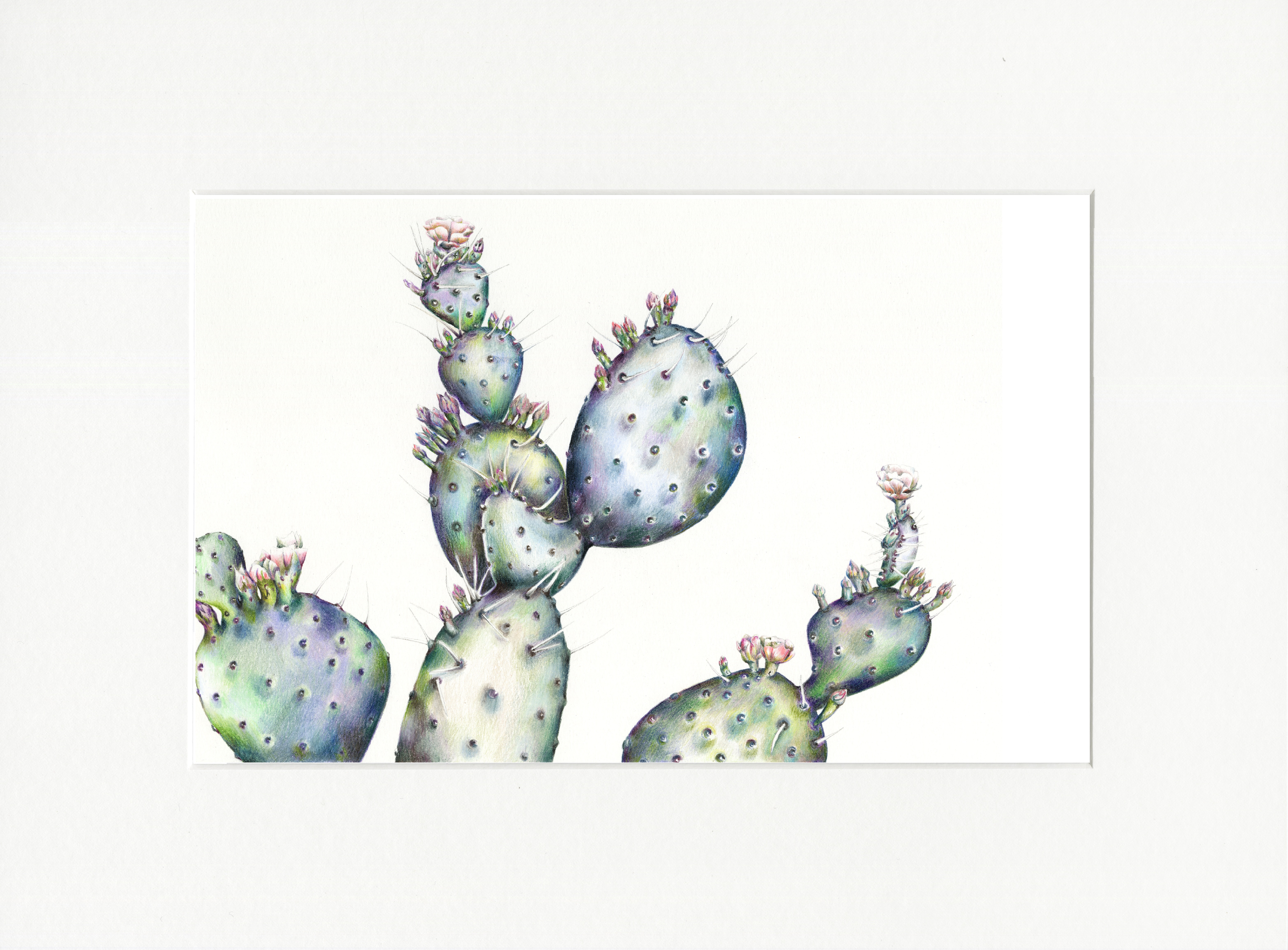 Prickly Pear
, created for interior stylist and lifestyle blogger 
Emily Murray at The Pink House 
This illustration was inspired by Emily's eclectic style, which perfectly balances modern, period and retro with her passion for botanical prints. I also sourced a vintage frame and had a new wide, snow white mount created to give a contemporary update.   
Time: Two weeks from initial consultation
Cost: A similar commission, including vintage frame would cost £390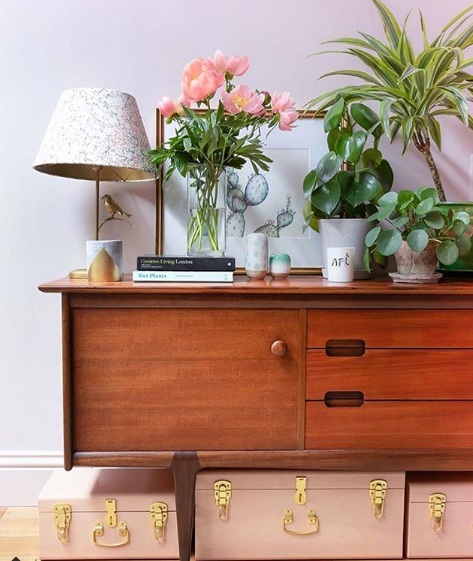 Garden Bouquet
, created for a private client
In celebration of a milestone birthday, I was commissioned to create a large illustration in celebration of the recipient's much-adored garden. My client simply emailed photographs to me, and together we developed a creative composition of a garden bouquet. Butterflies and a bumblebee bring life to the illustration and keep it from feeling too bridal.
Time: Two weeks from initial consultation
Cost: A similar commission to fit a 20×16 inch mount would cost £350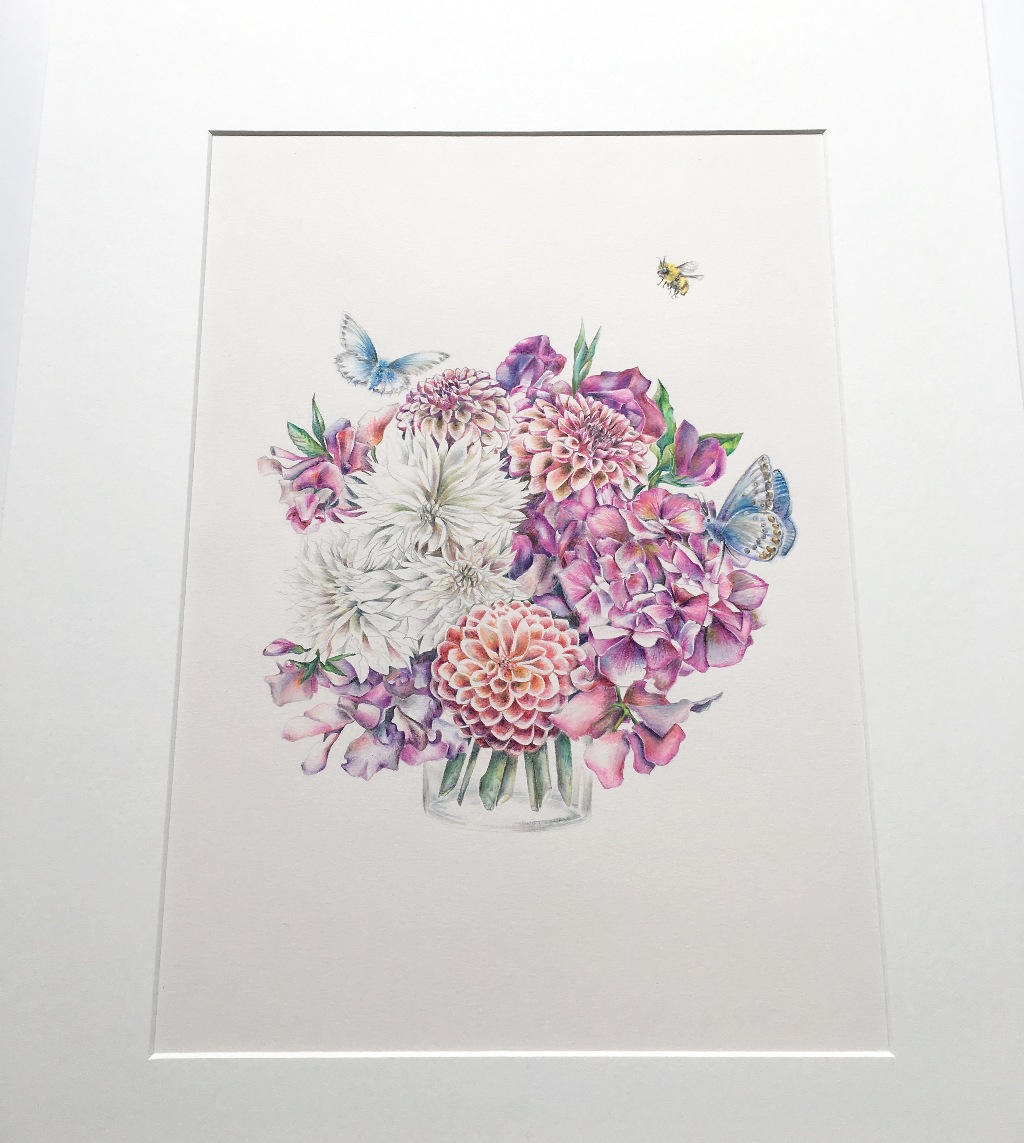 Some kind words about this commission: 
"I commissioned Charlotte Argyrou to create a bespoke illustration to celebrate my mother's 70th birthday. Knowing I wanted something based around the florals in mum's garden, Charlotte encouraged me to take lots of pictures and then set up a private Pinterest board as a further source of inspiration. The process was very collaborative, with Charlotte sharing her progress with me on a regular basis and allowing me timely opportunities to make comments on colour palette and style – it was amazing to see the artwork taking shape!"
"Although the illustration felt very personal, it was certainly enhanced by Charlotte's keen eye for detail. This was my first time commissioning a piece of art and Charlotte made the entire process easy, stress-free and lots of fun. I was so excited to gift the final piece to my mum, who was moved and delighted by all the personal details, especially the name of her house, subtly sketched within the vase."
Please send me a message with any questions. Click to contact.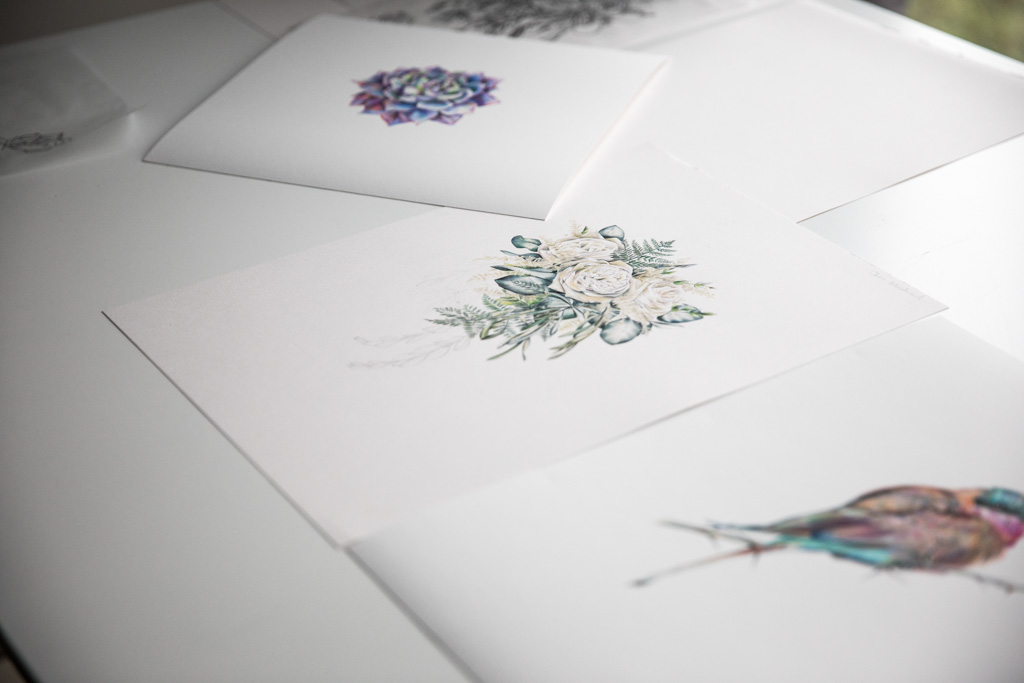 More kind words from commission clients:
"There aren't many things as special and luxurious as having bespoke artwork to display proudly in your home. I loved the whole experience from start to finish, Charlotte had wonderful, imaginative ideas for the design and the finished piece brings me joy every day. It has her trademark vibrant style but it also feels completely personal and 'me' at the same time. Thank you!" 
***
"I am so pleased with my original illustration from Charlotte. It made the perfect paper anniversary present. Charlotte was wonderful and made sure that I got exactly what I had imagined."
***
"I absolutely love my hand drawn illustration from Charlotte Argyrou. It's so special to have a unique gift and the finish is so intricate and beautiful, it brings a smile to my face every time I see it."
Please send me a message with any questions. Click to contact.