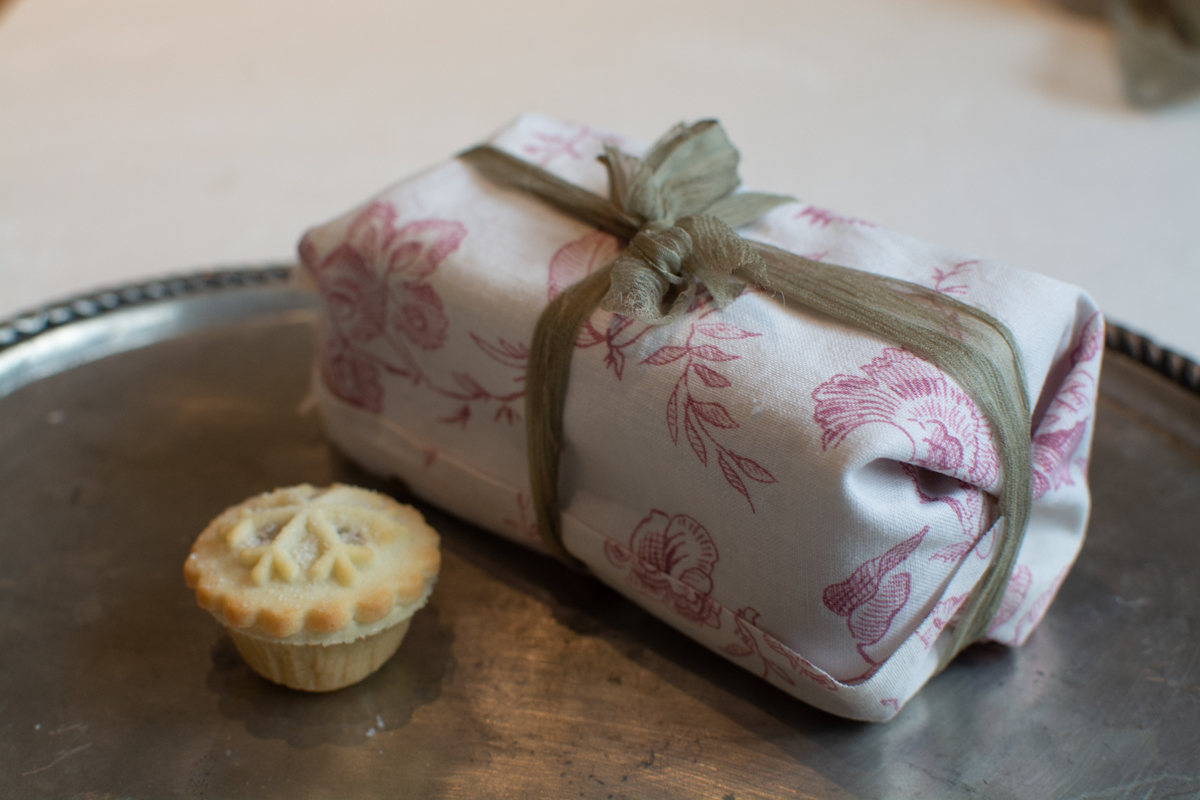 At some point during the 35 degree heat of Summer 2018, I boldly declared that my Christmas 2018 would be Sellotape-free. Christmas is a time of huge wastage in terms of packaging (amongst other things) but as December draws near, I'm very aware that I don't really know how I'm going to present my Christmas gifts without compromising on style. Thankfully, Kate Stuart has stepped in to offer practical guidance for us to create environmentally-friendly gift wrapping. Kate is an artist, writer and runs The Phoenix Green Store – Newcastle's first zero waste solutions store. She contributes to No Serial Number Magazine, a publication promoting ethical and sustainable crafts.
3 Tips for Environmentally-Friendly Gift Wrapping
Kate begins, "With Christmas mere weeks away, many of us are wondering how, and indeed, if, we can get through the gift-giving season without Sellotape, glitter and sheets and sheets of shiny, sparkly, ever so festive plastic infused wrapping paper. Stepping away from plastic wherever possible is important work, but can feel like an insurmountable challenge, especially when we're also challenging the festive status quo a little. But fear not, here we have our 3 top tips for you to make the very best environmentally-friendly gift wrapping with things you probably already have at home."
1. The Furoshiki Wrap
"Furoshiki is a traditional Japanese method of wrapping and carrying using cloth, rather than paper. Cloth can be up-cycled from unwanted fabric in the home, and printed or dyed for the occasion, then used as a headscarf, bandana, tablecloth or sandwich wrap once the gift has been unwrapped. Perhaps you have an unwanted duvet cover, table cloth or old pair of pjs that have a standout print – consider repurposing this fabric for some Furoshiki wraps. You could even have a stash of personalised cloth wraps that come out every year for birthdays or Christmas. Check out this YouTube video to learn the basics, grab some cloth, and get started."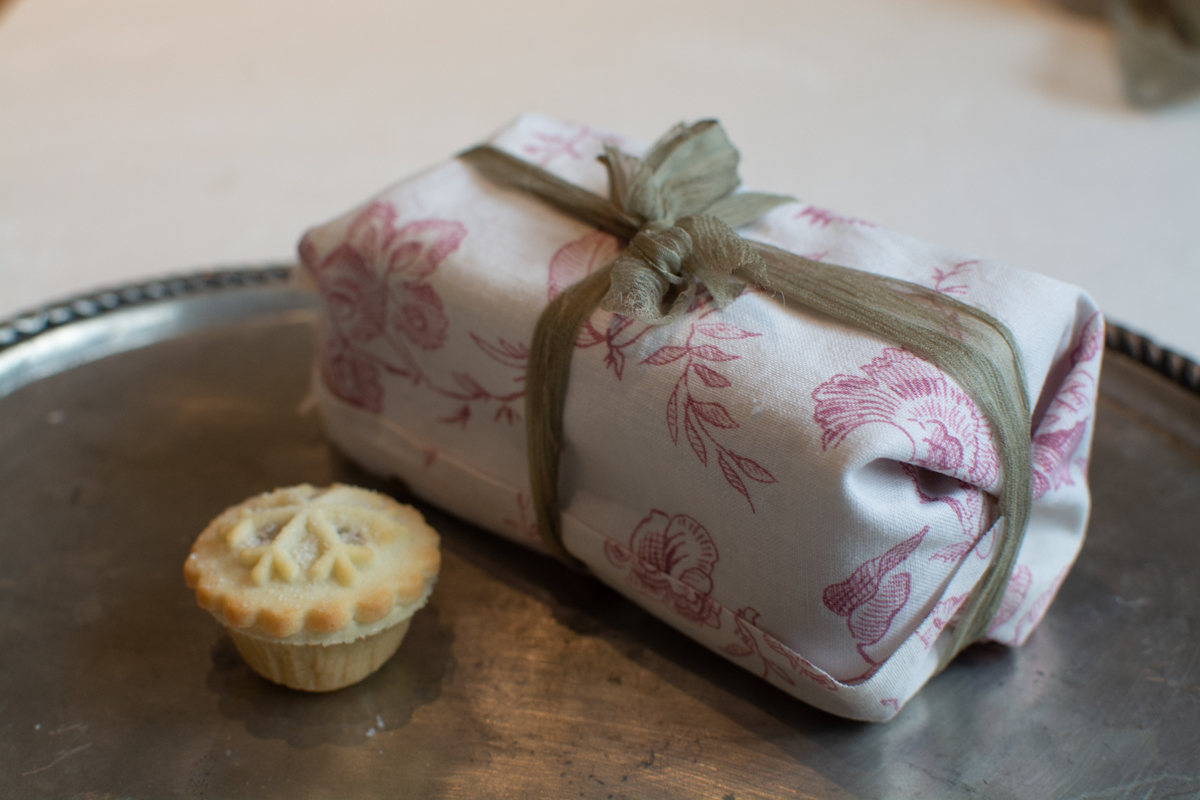 I think silk scarves are a gorgeous way to achieve this and are an extra gift in themselves. I've found authentic vintage Liberty scarves on Ebay for £4.99, Christian Dior from £10. It's a barely even a couple of pounds more than you may spend on luxury wrapping paper, bows and ribbon, but chic additional gift that can be kept and reused forever. In the You Tube video Kate recommends, it takes the creator Marianne mere seconds to create a beautiful parcel – another blessing!
2. Rethink the Ink
"Paper is most people's go to for gift wrapping, but how to make it more environmentally-friendly? You could try using recycled paper – newsprint, sheet music, old maps and handmade paper can give an alternative to the shiny sparkly papers on the high street. Etsy has lots of sellers of these types of paper if you don't have any hidden away in a cupboard somewhere. Tie your gifts with ribbon, string or twine for a well secured package without a hint of Sellotape in sight, and add handmade gift tags for a personal touch."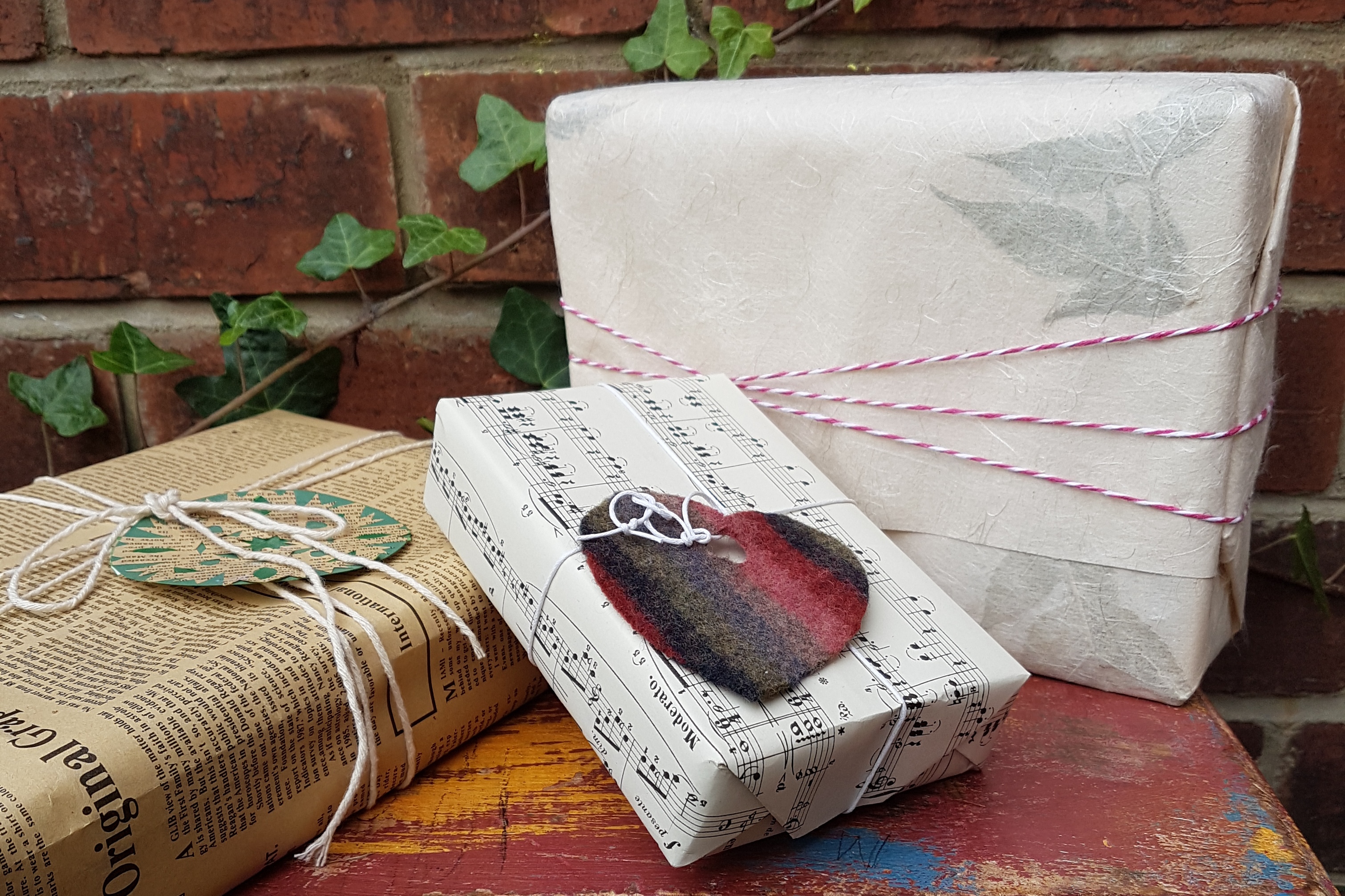 I've inherited a thrifty habit from my parents and grandparents. Every Christmas and birthday when I take down the cards from the shelf, I spend 10 minutes cutting them up into gift tags and punching a hole in each. The festive ones go in the Christmas Box, ready for next year. The birthday ones go in a paper bag in my Party Box which I sift through, throughout the year. It's not difficult or time-consuming, but simply requires a commitment to being tidy, organised and willing to recycle. (It's also a lovely prompt to reread each card before it gets the chop!)
I use fabric ribbons that hold up well to be used and stored year after year within our family, unlike the plastic-coated paper curling ribbon that goes straight in the bin.
3. Re-imagining Usefulness
"Is there a reason why we traditionally wrap presents in paper? Do we have to? Why not re-imagine your gift giving traditions, and put gifts in a wooden box, basket or even a repurposed biscuit tin? We have so many containers around our home that could be used to hold a special gift and kept by the recipient afterwards. If your home is devoid of suitable containers, check out your local charity shop for low cost, recycled boxes, pottery and baskets. So many of us have made the switch from plastic shopping bags at supermarkets, so why not think about switching from plastic coated gift bags to reusable cloth bags when it comes to gift giving."
I love the idea of using tins to package gifts. Emma Bridgewater has a vast array and I think the stackable sets will look fabulous piled up under the tree. Either the Christmas designs, which can be bought out each year in all their nostalgic splendor, or for maximum usage, choose the non-seasonal designs to store toys and household bits and bobs beyond Christmas Day. Check out Thornback & Peel for their stackable botanical set, and this bramble design that I think looks festive enough, but not restrictive to the holiday season.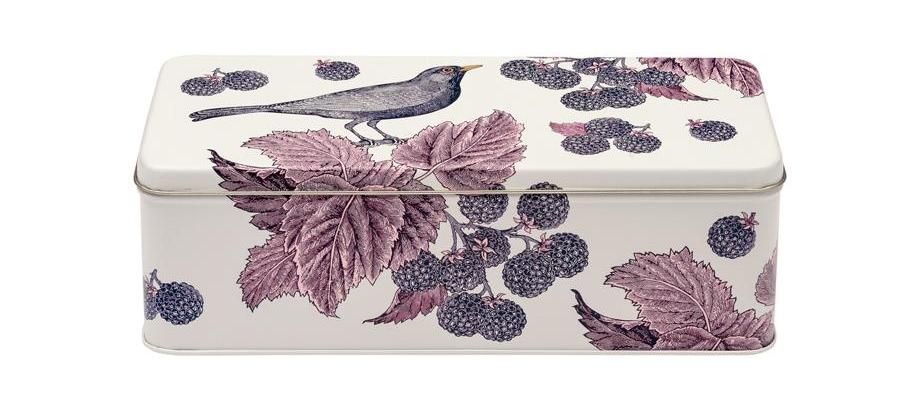 MY LEARNINGS
So of course I had to put this into practice. 
My first challenge was to use no Sellotape for my daughter's third birthday. Instead, I used brown paper, secured with fabric ribbon. It worked fine, but I think mostly because I only had to transport the gifts from one room to another within my house. I wouldn't feel confident my parcels would have held up if they needed to travel further, or by post. In this instance, I'd recommend Kate's third tip – place each item in a box or tin and then wrap in non-platicized paper. 
My second challenge to myself was to create and package a Secret Santa gift, totalling less than £10. I bought the Kilner jar (£3), confident that they are useful in everyone's kitchen. Then I filled it with homemade granola, jam-packed with cranberries, pecans and all kinds of seasonal loveliness (probably around £2, if that). I used a scrap of fabric ribbon that's already circulated around my family many times. And added a tag from my Party Box – this one was formally the cover of a Prada accessories catalogue! Finally, I placed the Kilner jar in a reused paper bag, and simply added my recipient's name in a chic understated script.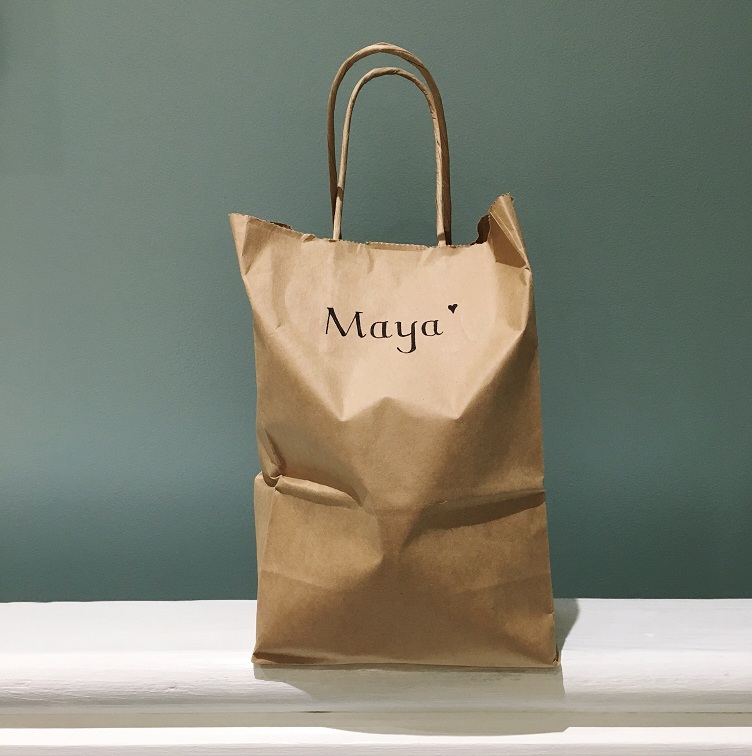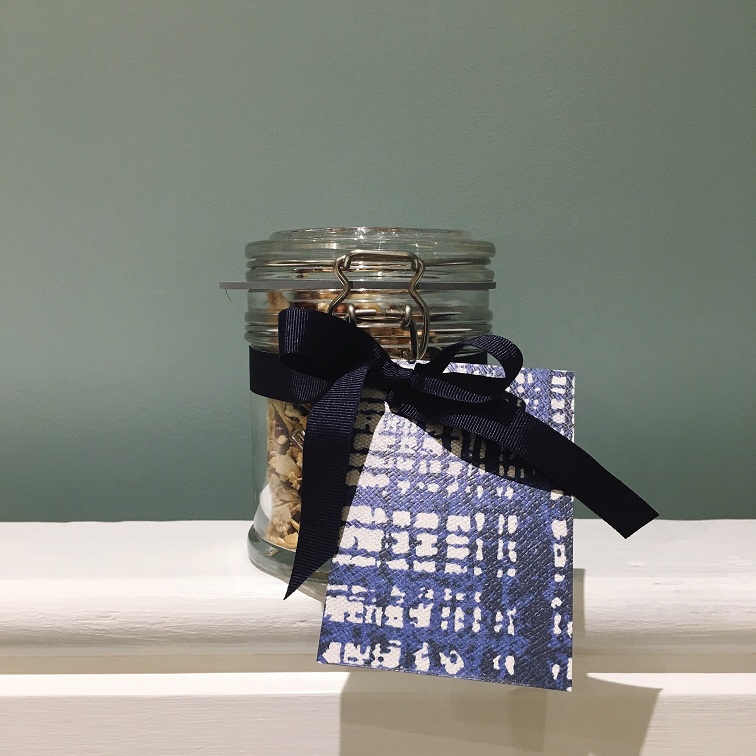 ENVIRONMENTALLY-FRIENDLY GIFT WRAPPING CONCLUSION
It is possible to wrap gifts without Sellotape

It can still look good

We just need to be organised, and think about wrapping at the time of purchasing or creating the gift
Thanks to Kate for sharing her ideas and guiding my Sellotape-free Christmas. I'll be sharing more photos with my progress, and Kate and I would love to know your ideas about environmentally-friendly gift wrapping.
KATE STUART:
Kate Stuart is an artist, writer and craftswoman based in the North East of England. She runs The Phoenix Green Store, selling zero waste solutions, handmade quilts and original art. She also writes for No Serial Number Magazine, a quarterly paper and digital magazine, committed to offering a platform for environmental and heritage crafts, grass roots eco movements, maker activists and conscious citizens.
Further reading:
Find out more about Kate's zero waste boutique: The Phoenix Green Store 
A great resource for sustainability information and inspiration:  No Serial Number Magazine. Use voucher code ECOWRAPPING for a 15% off a subscription to the quarterly magazine, for my blog readers.  
No Serial Magazine links: Facebook  / Pinterest / Instagram
Click here to read more of my blog posts