Eco Friendly Stocking Fillers Ideas: Big Magic, High Style, Minimal Waste
Introduction
2020's been a bit of a shocker, hasn't it? We've juggled, we've pivoted, we've hustled, we've survived and thrived the very best we can. And now we want to end the year by serving up our families the best Christmas that circumstances allow. If you are anything like me, you're already keeping your eyes peeled for eco friendly stocking fillers you can buy online, supporting small businesses. Last year, when I edited together this same blog post, my emphasis was on the environmental impact of small, silly gifts. I wrote: "And it's not just environmental creds that are weighing on my mind. Our house is full. Seriously. With all the birthdays and party bags and every other celebration that inspires our family and friends to generously give gifts – I need anything I buy our kids to also be useful, fun, beautiful, good quality AND without single-use plastic wherever possible." This year, we've not had the big birthdays and party bags to contend with, but for my own sanity, I need to keep things simple. 
I'm not a qualified environmentalist, just a mum on a mission to make our family Christmas big on magic, low on waste, and above all, EASY.
My daughters are aged seven and five, so I suppose I naturally have their ages and abilities in mind as I compile this edit. So even if the specific recommendations don't work out for your brood, I hope these ten ideas inspire your shopping for a planet kind Christmas.
Firsty, when it comes to stocking fillers ideas…
What Do You Already Own and What Can You Swap? 
Before we even start discussing anything new, is there anything already in your home you can swap with another parent at the school gates? Unworn clothes, unwanted birthday gifts, books that have never inspired your kids' attention…can you trade a bunch of unwanted goodies for some new-to-you items? And ask yourself what you already own that your kids haven't seen before, such as old items from your childhood. We've just received one of the Harry Potter book series from a mum who received it as a duplicate gift for her son. She doesn't need or want two copies, and is delighted it will find a happy home on our bookshelf instead.   
1. The Magic of Christmas Lifelong Gifts – snowglobes, baubles etc
In the 2019 edition of this blog post, I described the annual pilgrimage my mother and I went to Liberty to buy one – just one – special bauble. It's a really precious and enduring memory of mine because although we only came away with one small gift for our family, the ritual of visiting central London, seeing the lights, and pottering through the festive department stores was magic in its own right. We won't be doing that this year. But, the principle is the same. Pop a 2020 bauble in their stockings and so that in Christmases Future when big families unite, we humbly remember the year we were forced apart.  
2. Travel Games
2020 has been full of weekend outings to the middle of nowhere, often without a particularly child-friendly destination. If you're going away to a private Airbnb rather than well-prepared hotel or on a Center Parcs style minibreak, packing a few games for early evening saves boredom meltdowns.  Choose games you'll play year after year without plastic pieces that get mislaid.  Djeco Forest Adventure £9, at Bird Kids requires you to build a treetop trial by matching patterns on your cards.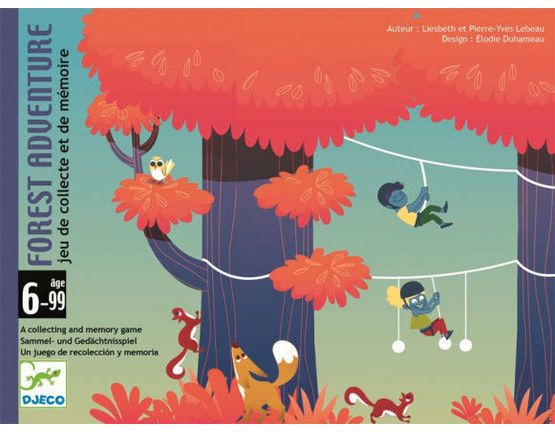 3. Pants, socks, vests and tights
Boring under the tree, but exciting balled up and wrapped with twine and popped in a stocking. It's a no brainer to pad out their stocking with essentials you need to replenish anyway. 
4. Pens and Pencils
It may not be a surprise to you that as a family, we are big fans of colouring in. Shared Earth supports makers in developing countries benefiting local community projects and keeping alive traditional skills that would otherwise be lost. Twig pencils, £3.95 set of 10, And Keep 
5. Anything Monogrammed or with Their Name on
My little ones love anything with their name on and seem to learn to treasure their things better when the are the assigned custodian. These cute cups by Konges at Scandiborn can be used as tableware, pen pots or as storage for trinkets. R is for Radishes – can't cope with the cuteness! Infact, Scandiborn is a treasure trove of carefully curated, environmentally kind gift wares well worth exploring – and I can personally testify that the customer service is excellent.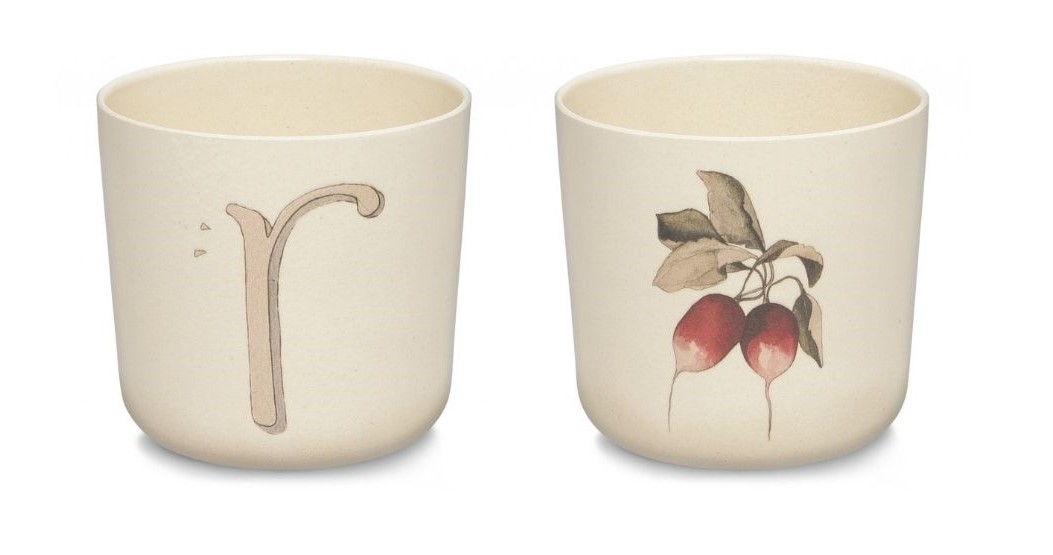 6. Fruit and Plastic-Free Snack Bars
Another classic, but can you really beat a seasonal satsuma? If you follow my Instagram, you know I'm a sucker for old-fashioned nostalgia and meaningful traditions. A plump satsuma's natural packaging is miles preferable to that nasty plastic netting of chocolate coins, and a more welcome snack at 7am anyways. YES! Bars are one of the only pre-made convenience snacks bars I've come across with recycleable packaging, sourced sustainably. For full Santa credentials, I'll include a flavour my kids haven't had been given by mummy before.   
7. Reuseable Lunch/Snack Containers
While we are on the subject of snacks (aren't kids always on the subject of snacks?) I've found these reuseable snack bags with wipeable inner liner £16 / 2 pack by Fluf at Peace with the Wild.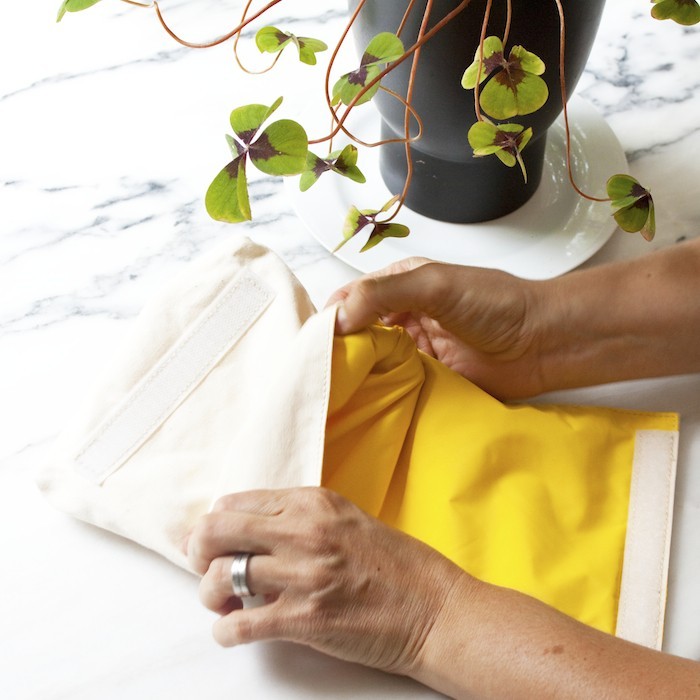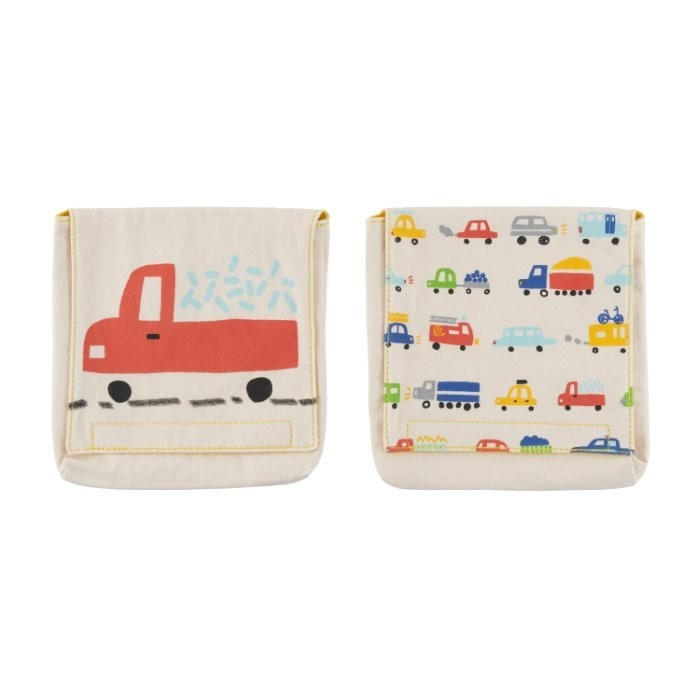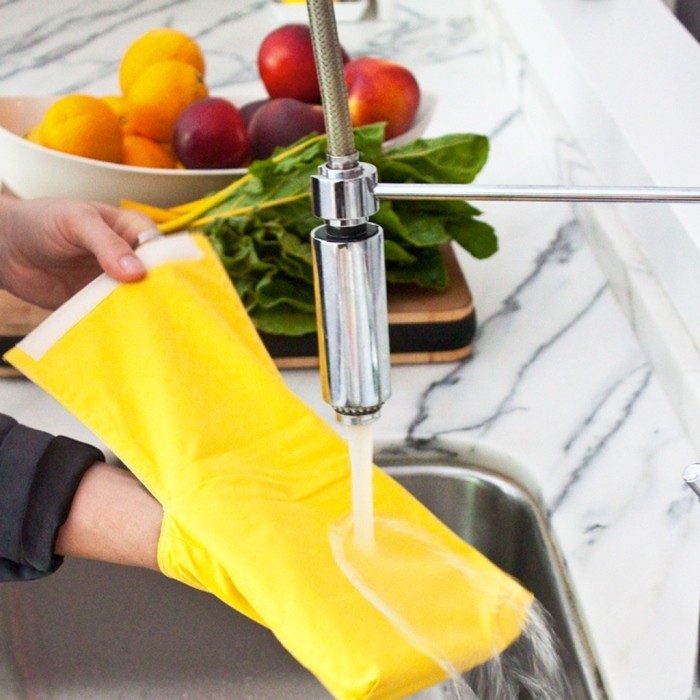 8. Toothbrushes
You will always need a new one or an extra one, so squirrel a couple into their stockings. Bamboo Club Bambino toothbrushes have soft bristles and biodegradable handles and recyclable packaging, and the all important choice of colours. And even better, you can just add them onto your Ocado shop. (£3.89, Bamboo Club at Ocado)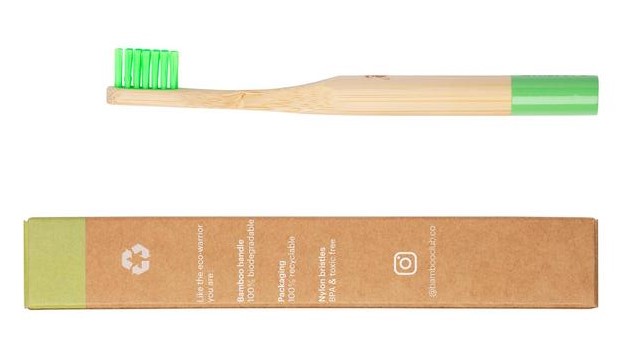 9. Bubble Baths, Lotions and Shampoo
Also on your supermarket shop – including Holland & Barratt – stock up on bathtime essentials. I like Child's Farm – it's products are registered with The Vegan Society and certified by Cruelty Free International. They do big 500ml bottles of some of the products, with labels that are easy to remove, so you can refill the bottle or use it as an imagination toy for the garden/bath. The packaging is also recycled and recyclable. My favourite – for me and my daughters – grapefruit and tea tree oil moisturiser.
Bloom and Blossom is another brilliant brand. My kids don't complain about shampoo time when the packaging features all their favourite illustrated characters! The products use only naturally derived ingredients (100% vegan), no microplastics, parabens, SLS, petrochemicals or colourants. Bloom and Blossom manufactures here in the UK never tests its products on animals. Plus, it's co-owned by my freind Julia and I am always inspired by her awesome career path.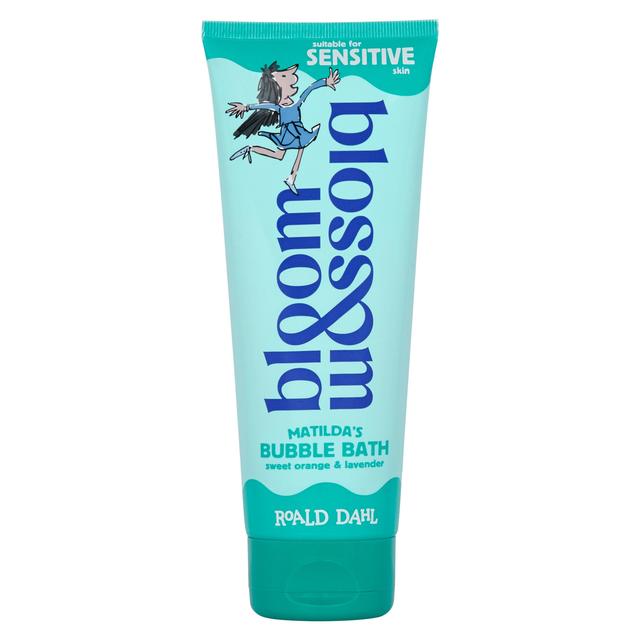 10. Bedroom Decor
In my chldhood there was a cardboard box – a massive old TV box I recall – that was ceremoniously dragged down from the loft each year at the beginning of December. It contained all the tree decorations, cake toppers, and this silver foil artificial tree my brother and I were "allowed" to have in our bedroom. I realise now that there was no way my mother was going to have this tacky objet in her living room, but the that clearly went over our heads. The excitement was palpable. 
For similarly exciting ceremonial seasonal dressing of the bedroom (without the shiny foil), I like these banners by White Cottage. From £8, with options to personalise.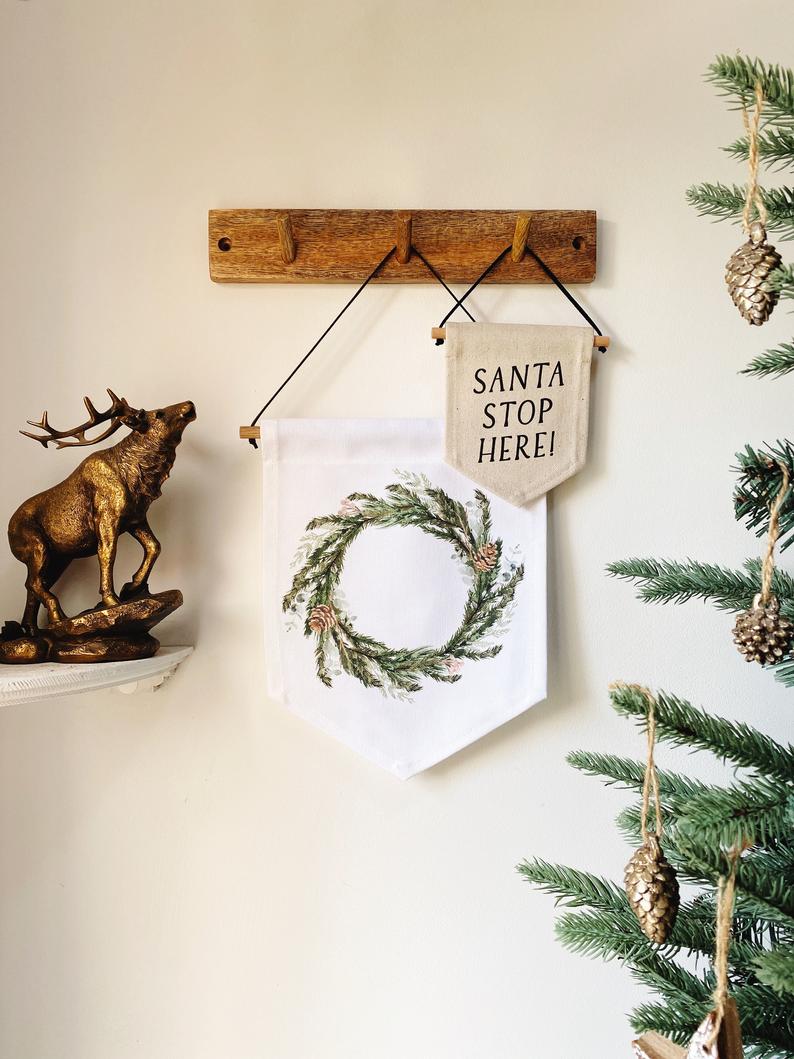 That's ten stocking fillers ideas that I hope spark imagination for foggy-brained parents and gift-givers at the end of this crazy year. Please do share you own ideas on my Instagram @charlotte.argyrou . It feels far too early – I still have autumnal posts I want to share! – but I wish you all a calm, creative and cosy Christmas.
Find Out More
Here are the links to the featured brands:
Cotton Snack Packs, £16 for two, Peace with the Wild
Flags, from £8, with additional option to personalise, White Cottage 
Bamboo Toothbrushes, £3.89, Ocado
Konges cups, £10.95, Scandiborn
Bloom & Blossom toiletries, from £3.99, Ocado
Djeco Treetop Trail, £9, Bird Kids
Twig pencils, £3.95 set of 10, And Keep