Creative Living Blog
How to Make a Dried Citrus Garland
and Celebrate at Home, the Festive Edition, with Rust Bloom 
This year, I'm extremely mindful to not to let my to do list swamp my enjoyment of the festive season. I'm saying no to jobs that feel like work for the sake of being busy. And for all my immediate family's sake, I want our home to feel like a restful haven from the choas outside. I'm keeping the razzle dazzle of tinsel hidden away, and opting for a calmer decor scheme that is a little more harmonious with nature. So for maximum impact with minimum workload, I've teamed up with my local Greenwich and Blackheath florist, George Holmes at Rust Bloom. 
Rust Bloom deliver wreaths and fresh produce boxes across several SE10 postcodes. Plus, you can also book the Celebrate at Home service, pictured here, where all your festive #nofloralfoam tablescaping is done for you. George delivers a box filled with small, ready styled vases, taper candles and holders, tealights and voltives and festive additions to scatter across your table. And when you are done a week later, she'll collect all the vases and props you no longer need.   
Wreath by Rustbloom (gifted) 
Celebrate at Home by Rustbloom (gifted)
Dried Citrus Garland by Charlotte Argyrou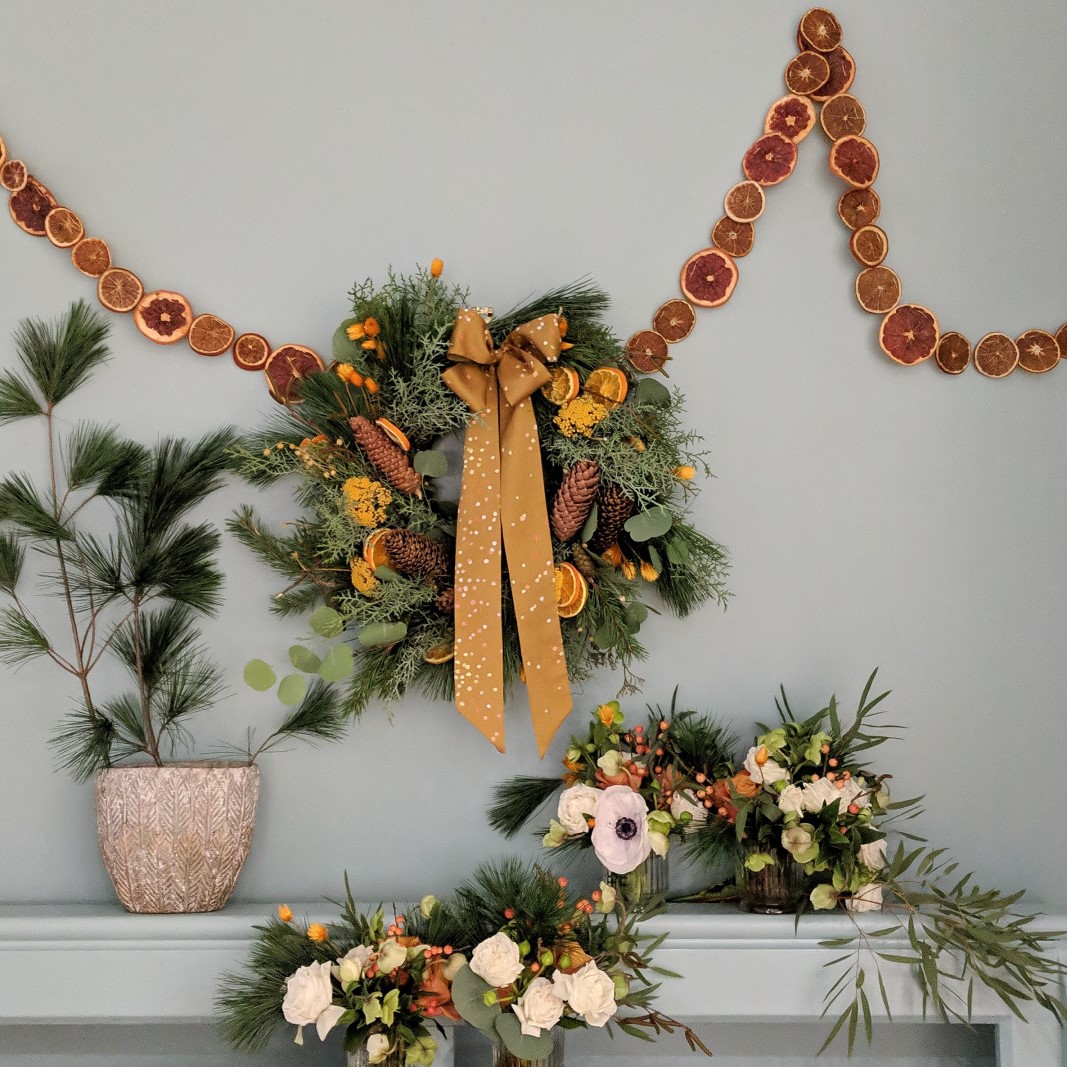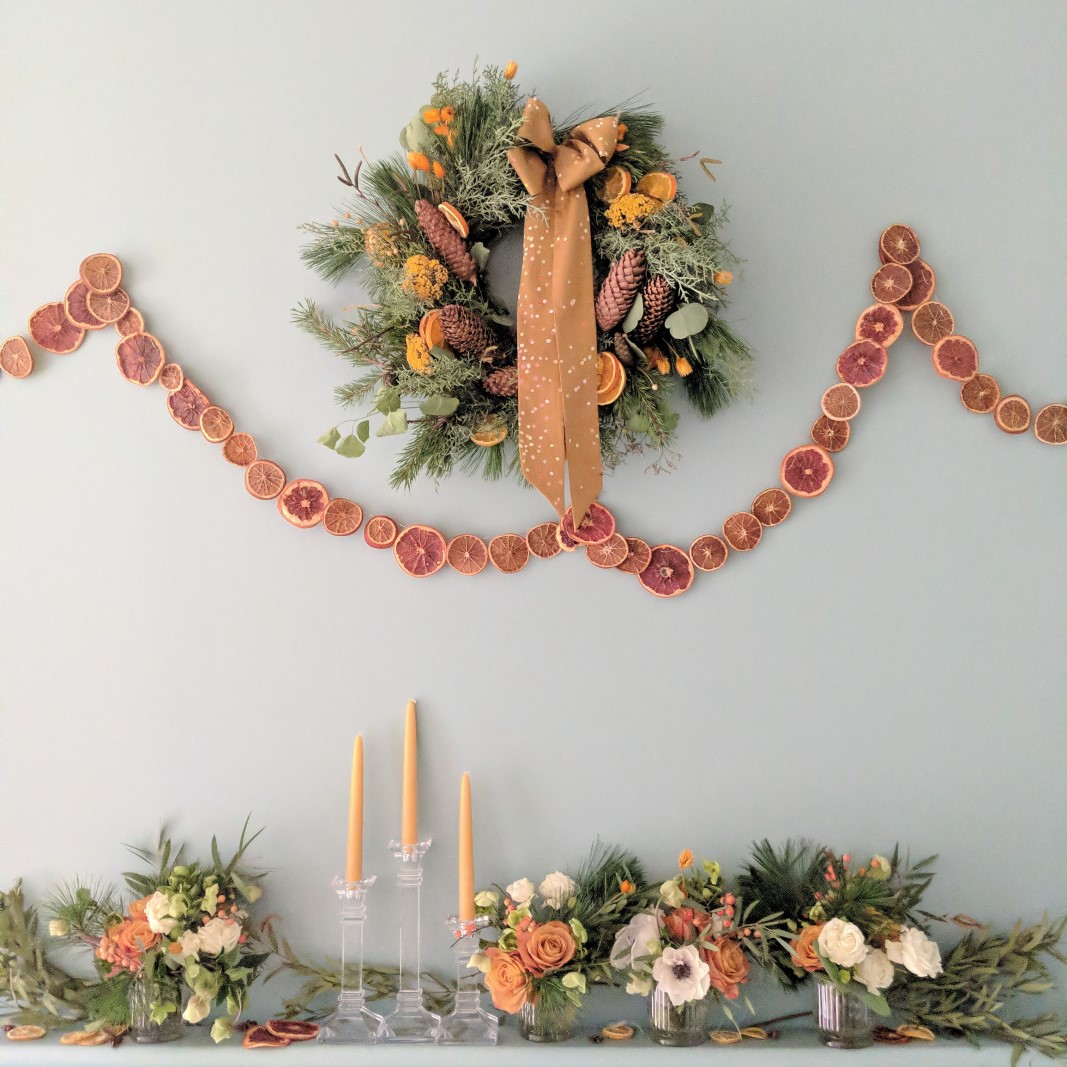 How to Make a Dried Citrus Garland
1. Slice red grapefruit and oranges thinly – around 5mm. Don't sweat it if you are not Gordon Ramsey when it comes to cutting evenly. It really won't matter if each slice isn't identical.
2. Arrange the sliced fruit on baking parchment on a baking tray so they do not overlap. I used around 3/4 trays to create the garland you see pictured.
3. Bake in a low heat, around 90 degrees C. Flip them over every 30 mins (or when you remember). It takes around 4-6 hours, depending on the thickness of the fruit. I baked mine for 4 hours, but popped them back in the oven after cooking meals for the next couple of days to save the elecricity. Don't be tempted to increase the temperature to speed things along – they will burn and go brown and crispy.
4. Remove from the oven when no juice remains. Allow to cool. 
5. Thread using craft or floristry wire (I use this from Hobbycraft, which hold its shape really well), leaving a few cm at each end to make into a loop for hanging. Stitch as close to the white pith as possible – the fruit is less likely to tear that way. I created my garland in 50cm lengths to make it easy to handle. Twist the wire ends of each section together to extend your garland.
Remember, your local florist is your best resource for flowers that are fresh and responsibly-sourced. If you want a more natural decor scheme this Christmas, steer away from supermarket flowers with unnatural dyes and glitter elements, and ask your florist for tips about what's in season and what will last indoors throughout the holidays. I've loved this combination of outsourcing the floristry and wreath-making to my local expert, George at Rust Bloom, leaving me more time for mindful crafting with my children. Do please tag me on social if you make your own garland inspired by this post. 
Find Out More
Rust Bloom    |   Website   |   Instagram   |  fresh produce boxes