How to Choose Art for Your Home
Seven Principles for People Who Aren't Quite Sure What They Want (Whatever the Budget)
Introduction
"Well, I know what I don't want," people say. To curate art for your home, that's actually not a bad place to start. But the tricky bit is to dig into why, and to lean into the opposite without getting overwhelmed. I speak to people all the time who don't want to decorate their homes with art from generic high street stores, but end up there by default. Etsy can be a mission to wade through, eBay is mysterious and unruly, online poster stores show you the same old, same old and often of questionable quality. 
I've put together seven principles to guide your thoughts when you are hoping to elevate and curate art for your home. And remember you can always come and find me on Instragram to continue the conversation. 
1. Go Easy on Trends
Don't
Don't invest heavily into a design trend just because a magazine editor or influencer seduces you into believing it's a must-have. They are just doing their job (fair play), which is to create hype or viral content in a specific moment on behalf of their advertisers or sponsors. But it's unlikely to have longevity non-influencer / non-design editor people need when buying for their real homes.
Do
Remember flamingos? Pinepapples? Palm leaves? Embrace fun thematic trends like these with a light touch.
2. DIY (Maybe…)
Don't
Don't be afraid of DIY art. But don't rely on your "Jackson Pollock" to deliver the sense of soul and cosiness you may be aspiring to achieve. If your own art annoys / disappoints you, leave that brainwave to Changing Rooms.
(I love Changing Rooms, btw).
Do
Instead, do consider what bits and bobs you could assemble and frame that costs little but means a lot:
hand-written recipes

scribbled playlists

back of an envelope sketches of harebrain ideas

Instax and Polaroids
3. Size Matters
Don't
Don't buy small just because you are unsure if you like something enough. If you don't absolutely love it, don't buy it. In any size. Just walk away.
Also, don't buy small because you think big art makes rooms feel cramped. Often, the opposite is true and gallery walls can make a room feel more cluttered.
Do
Remember (as a general rule) small art – especially collated in groups – will give you a cottagey / eclectic / bohemian feel. Big art will give you a cleaner, modern feel. If you love a print, buy as big as you can safely afford.
4. Shop Your Home
Don't
Don't automatically think you have to buy new.
Do
Do shop your own home first:
What can you move from room to room?

What can you reframe? (A botanical illustration in a vintage gold frame will be given a new lease of life in a black frame with a wide white mount or placed in a colourful bobbin frame).
If you struggle to see your home with fresh eyes, ask a friend to do a gallery style tour and make suggestions. 
5. High / Low
Don't
If you buy your art all in one shopping trip from one retailer, your house will look and feel like a catalogue, not a home.
Do
The homes with the best art are collected and created and inherited over years. Embrace a high/low approach:
– invest in original art when you can
– collect artisan pieces from your travels
– pick up oddities from charity shops
– be instinctive about "treasures" when out antiquing
– use your social media to discover new talent 
– shop local to ground your home in its natural landscape
6. Play the Long Game
Don't
Don't panic if you don't find the right piece of art straightaway. If you panic buy, you risk ending up with something you hate very quickly (or worse, feel lukewarm about and therefore compelled to keep).
Do
Do find a way to collate ideas over a long time. That could be a photo album on your phone, a Pinterest board, a physical folder of pages ripped from the Sunday supplements and glossy mags. You may identify themes you love year after year – nature, movie posters, black and white photography, Italy…. Chances are, if you've loved something for years, it's a great starting point to extend your art collection.
7. You Do You
Don't
Don't forget we are talking about your home. Your home! Not a magazine shoot or a boutique hotel. If you see Matisse cutouts in every stylish home on the internet but you are offically over it, resist the temptation to copy.
Do
– Buy what you love, regardless of whether it's cool or classy or meets your mother-in-law's approval.
– Buy in the colours you truly love. Which may be grey, but it's probably not.
– If you and your partner don't agree, buy it anyway and hang it in your wardrobe or at the back of the linen cupboard.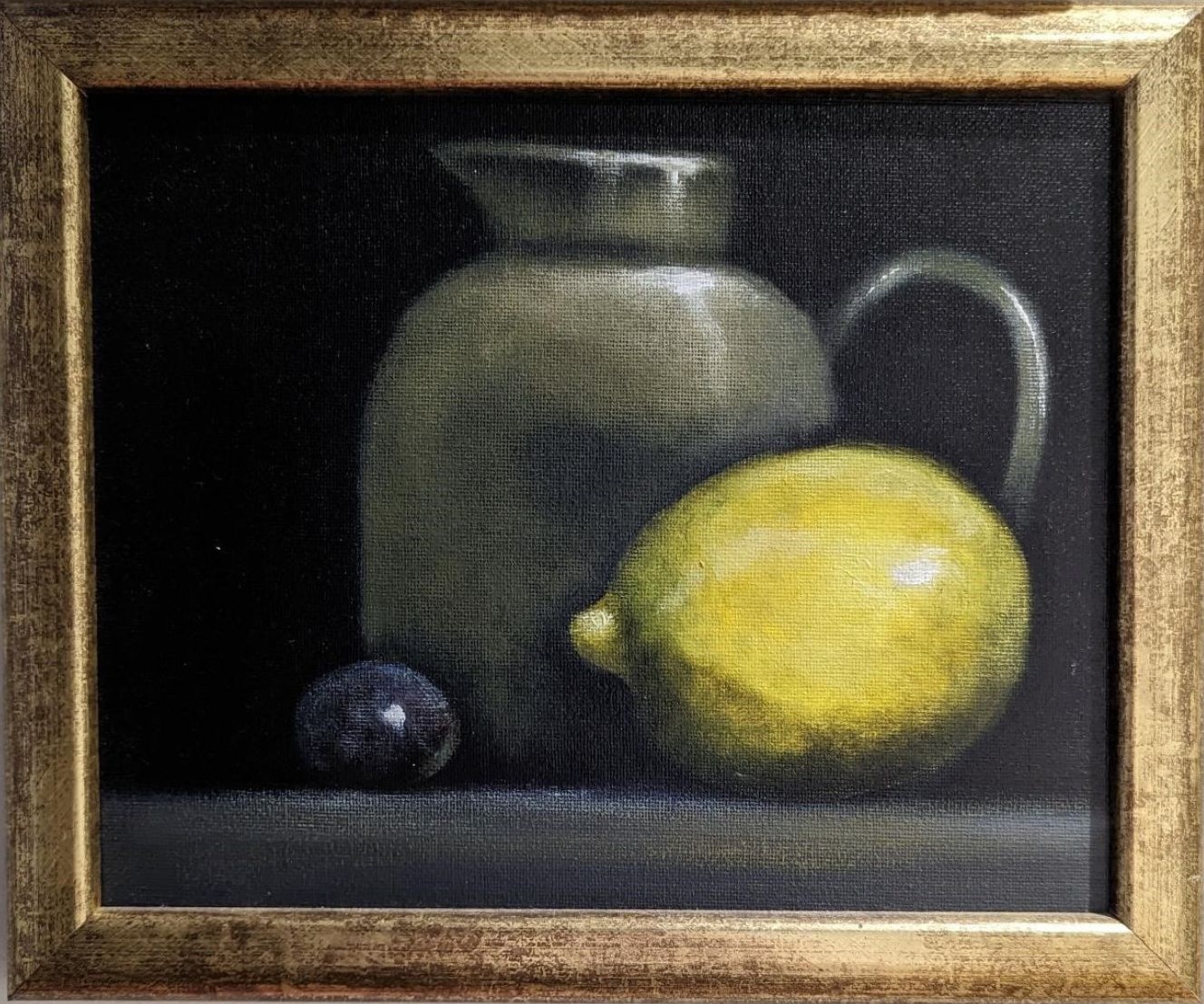 A Case Study
Original Oil Painting, £12
Pictured above is an original oil painting that hangs in my hallway. It cost £12 and the bespoke frame was around £20. 
Why I Love It and Why It Works
– We love lemons. We grow lemons. We love how thy smell, taste, we love holidaying where they grow natively in abundance. None of those things are likely to change in the future that I could possibly foresee.
– I bought it from the artist directly, via ebay. It makes me happen for money to flow from my bank account to hers, even if I think it was wildly underpriced.
– These are my forever colours. Gold, mossy greens, chartreuse, sludgy sage. Because I've loved these for as long as I remember, I'm confident I will love these colours forever more.
– It's a contemporary painting (which suits my new build house), created in an old style that very much reflects my aesthetic. It's a perfect high/low/old/new balance for me. 
The painting hangs next to my front door. That's prime real estate in my home, precisley because of these reasons above. It says "welcome to our home, we like lemons and unique, original lovely things." Consequently, it just fits, which is why its a great investment (regardless of cost) and I know it will come with me fot the rest of my life.