2020 Floral Trends: Introduction
When the idea for a blog report about 2020 Floral Trends popped into my head, I loosely marked out three areas I knew I wanted to cover:
Dried Flowers
Installations
Species and Colour Palettes
It then took me about 20 seconds to nominate who I would invite to be my guest editors, as each of these three designers has accumulated and shared such an extraordinary body of work throughout 2019 mastering these floral trends. But here's what I didn't expect… Despite being pigeon-holed by me into a category that I was confident would best showcase their work, each replied to me beginning with a statement about sustainability.
Began Jane Hartley, founder of Brighton-based Dove & Myrtle: 
"There's one trend we can all be certain of – weddings are set to continue to reflect our mindfulness towards sustainability issues and the future of our planet."
Says Bethan Beck, founder of Rosehip and Wren in Wales:
"Wedding planning has become more eco-conscious, focusing on quality vs. quantity and avoiding unnecessary waste."
Agrees Gaia Eros, founder of London-based freelance floristry Storm and Grace Flowers:
"As an industry that trades in the beauty of nature it seems only natural to seek solutions to waste and toxicity, starting by removing poisonous and polluting non-biodegradable single use plastic from our work."
And it becomes clear that while we are very much still interested in colour and form, the overriding issue is one of ethical floristy. So I am delighted to share with you creative analysis of three 2020 floral trends, yet with the overarching narrative of sustainability. Beyond a trend, and part of the zeitgeist of our beautiful industry.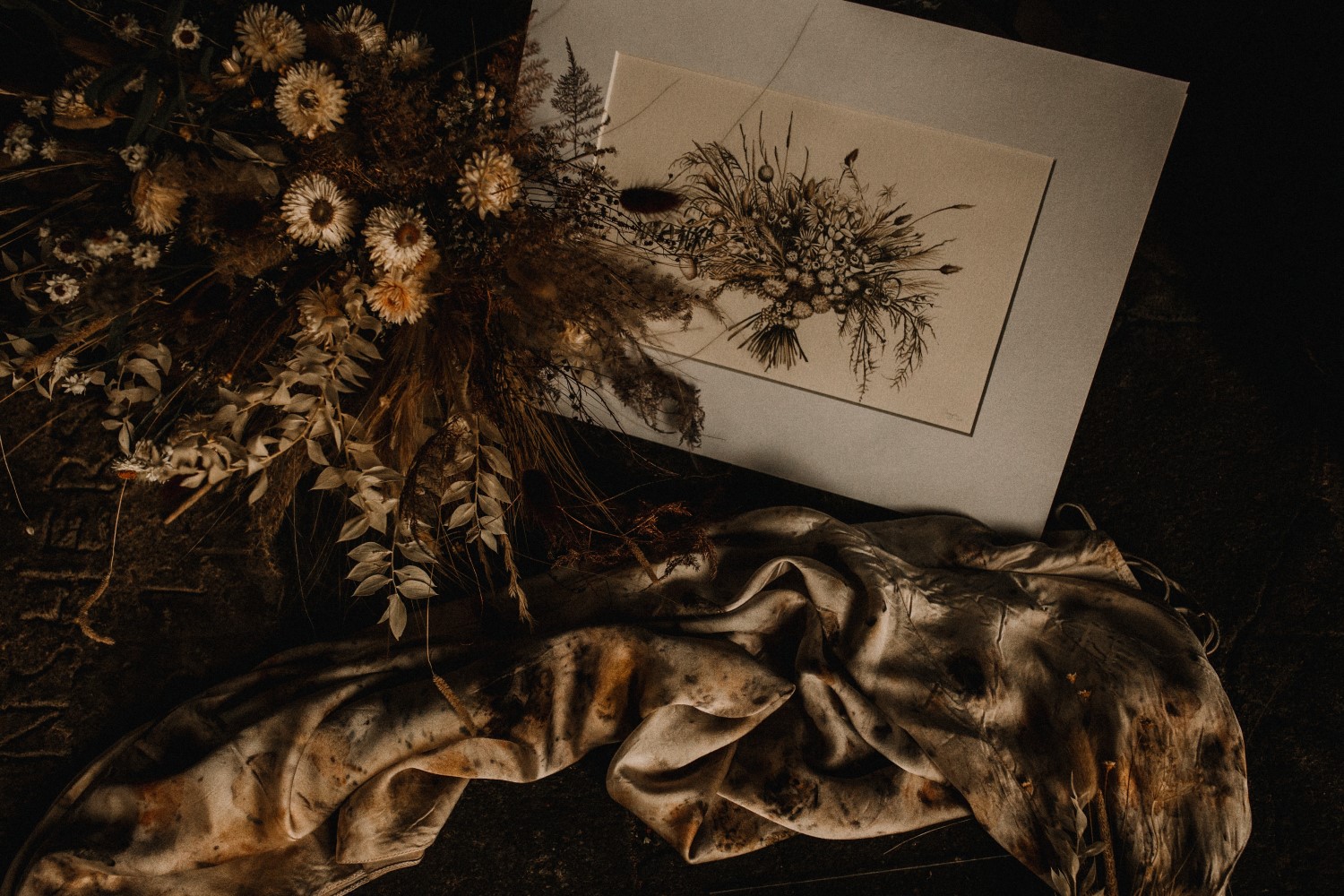 2020 Floral Trends: Dried Flowers
by Bethan Beck, founder of Rosehip and Wren
The popularity for natural, organic, ethical materials has brought about the floral revival of dried flowers. The dried flower trend complements a free-spirited bohemian vibe yet perfectly sets the scene for a minimalist style highlighting natural simplicity, all with soul and authentic beauty. Not forgetting the utterly wonderful opportunity to cherish your flowers as a keepsake.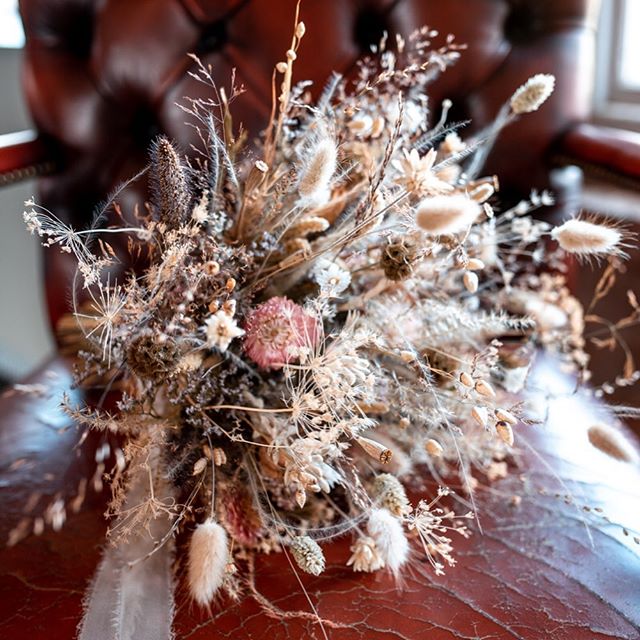 Equally, the dried flower revival is featuring strongly within interior/home trends for 2020. With all the muted, warm tones and textures we love to create in our own homes, dried flowers fit into this aesthetic.  The wild, foraged look is so popular and has that environmentally friendly feel, whilst ethereal grasses and dried botanicals are the perfect long lasting, low maintenance alternative for contemporary urban home décor.
2020 Floral Trends: Installations
by Gaia Eros, founder of Storm and Grace Flowers
The thing about floral foam is that it really hasn't been around for all that long. Constance Spry designed glorious large-scale high-end installations without it, and so too now does Shane Connelly among many others. When I re-trained as a florist after a previous career in film production and realised the many downsides of using foam, it quickly became fundamental to me to design without it. As an industry that trades in the beauty of nature it seems only natural to seek solutions to waste and toxicity, starting by removing this poisonous and polluting non-biodegradable single use plastic from our work (*the new 'bio' brown foam isn't at all as eco-friendly as it sounds either).
Shocked and saddened by the scale of the foam waste stream I had never been aware of before working as a florist but was suddenly seeing from events and installations, I started to look into alternatives. And was thrilled to discover that there was already a passionate and informed foam-free movement building in the floral community which is now not just fringe but becoming mainstream. Rita Feldmann of Feldmann Flowers created the #nofloralfoam hashtag which has been enormous in spreading awareness and Sabine Darrall Floral & Event Design is also a leading light.
My friend Sarah Diligent, founder of Floribunda Rose florists, has a new book coming out in early 2020 which offers a complete guide to the mechanics of sustainable floral design. The book's publication has been crowd-funded by almost 1500 florists and flower lovers worldwide, all of whom are committed to making work which is beautiful on the inside as well as on the outside. It is really inspiring to see flower lovers and floral designers coming together on this scale – both those who already design without foam and those who seek to learn these techniques and skills. Without preachiness or scolding, but with imagination, support and collaboration. The Tallulah Rose Flower School – which already teaches foam free – will be providing a copy of Sarah's book to each of their students.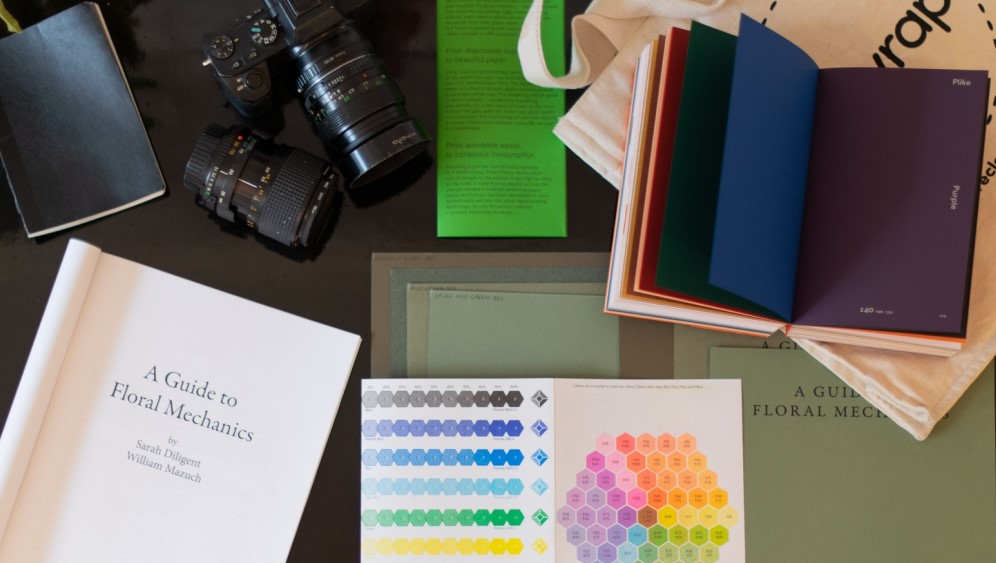 Teaching foam free and getting these alternative skills into flower schools from the get-go is so important – if you have trained and maybe also worked for years on foam it can be very, very nerve-racking trying to let go of it. But in practise, the alternative mechanics for wedding and event work aren't usually much more difficult in most scenarios. The designs are lighter, airier, more creative and far more beautiful. It is also about appreciating different aesthetics, locally sourced rather than factory farmed flowers and foliages. People often describe the work of florists as 'playing with flowers'. The reality is we are first of all mechanics, logistics planners and problem solvers. It is often challenging but also exciting and satisfying.
My current freelancing work for the brilliant Creative Director of Rake's Progress botanical arts magazine, Victoria Gaiger, is all foam free and we will be exploring a wider sustainability agenda in 2020. It is so exciting for florists / floral designers that floral trends bibles such as Rake's Progress offer new and magically inspiring creations, along with alternative mechanics for traditional and widely-loved floral designs which don't leave a plastic hangover…. Beautiful both inside and out.
Below are three images created by Storm and Grace Flowers as part of a team of floral designers including Cyrill Tronchet and Phoebe Theodorou, with creative direction by Victoria Gaiger, Creative and Art Director of Rake's Progress botanical arts magazine. From the Cobb Gallery art launch and the summer 2019 exhibition at the Roland Mouret flagship store, 8 Carlos Place.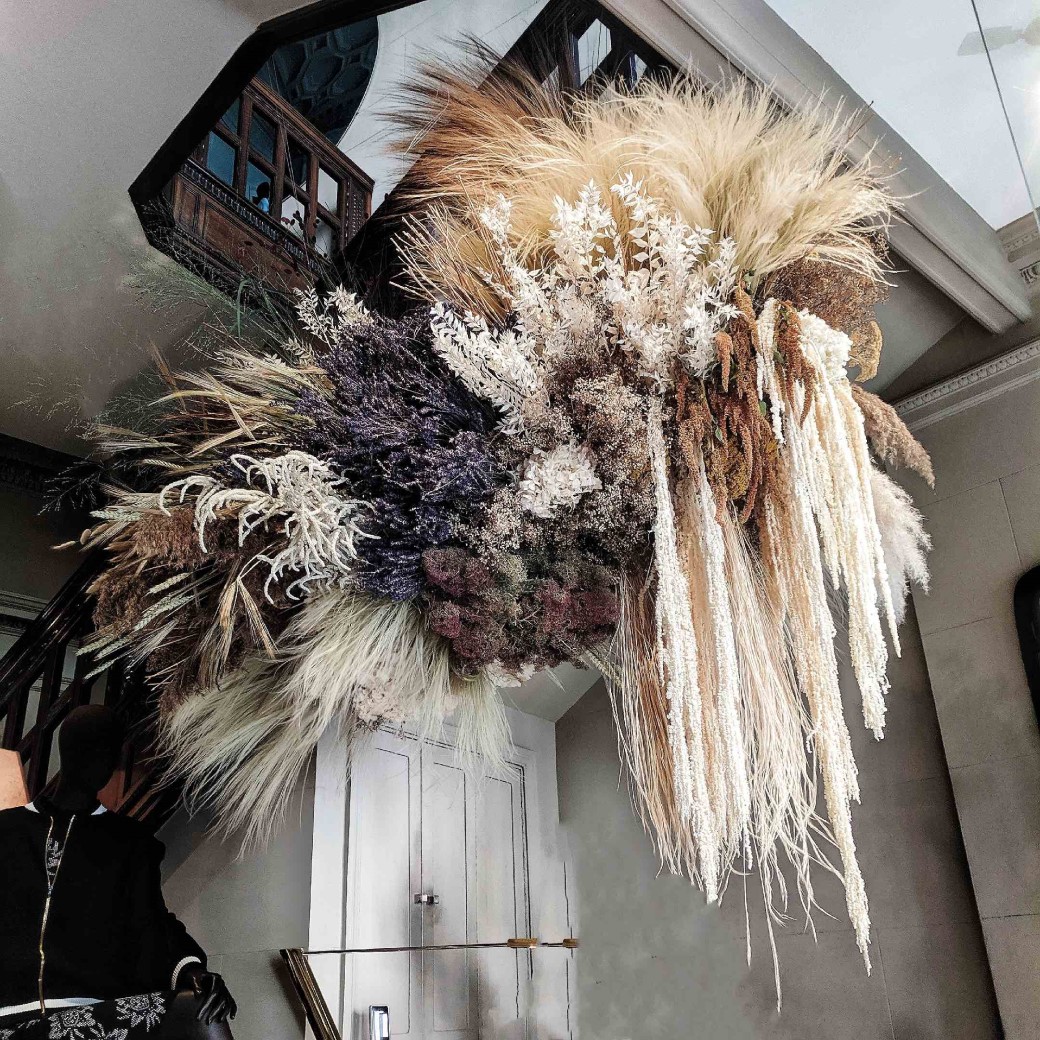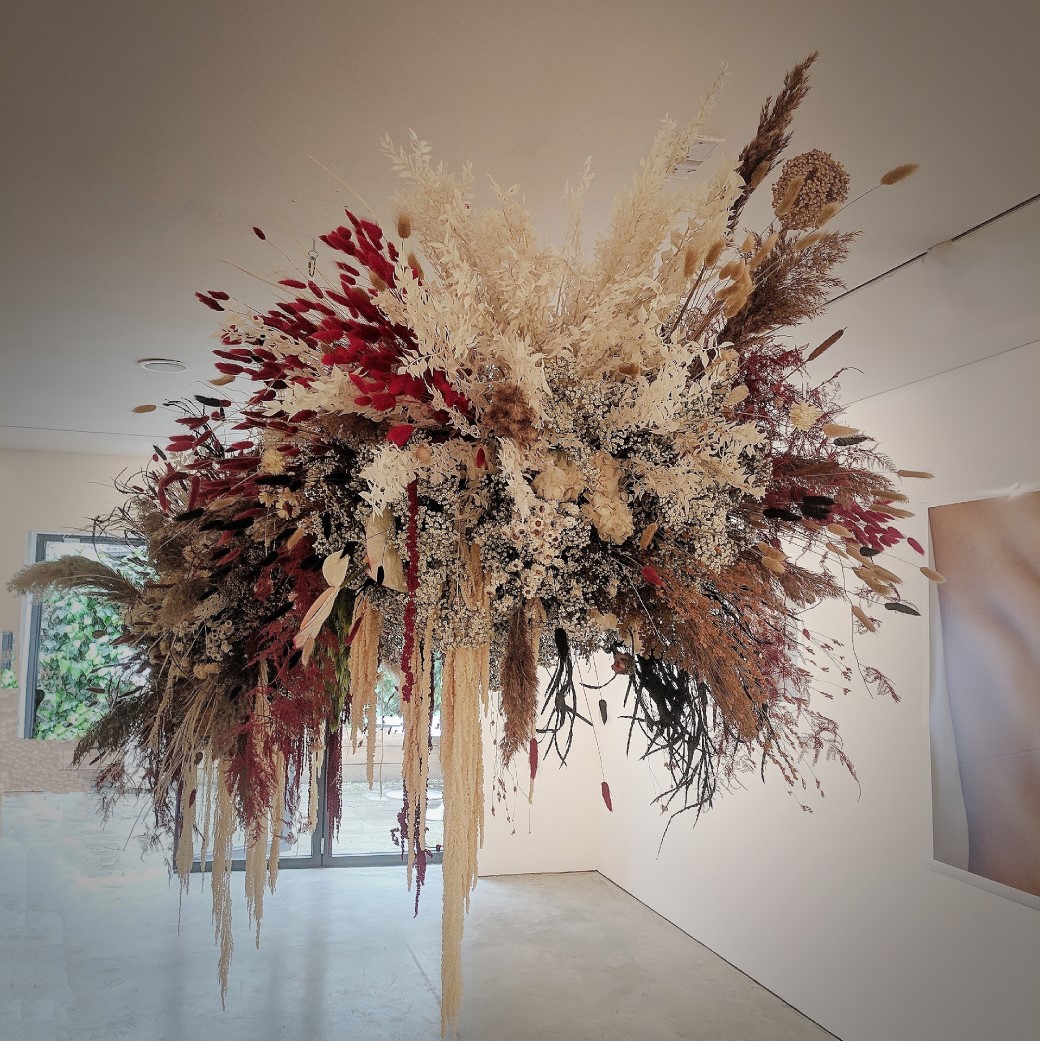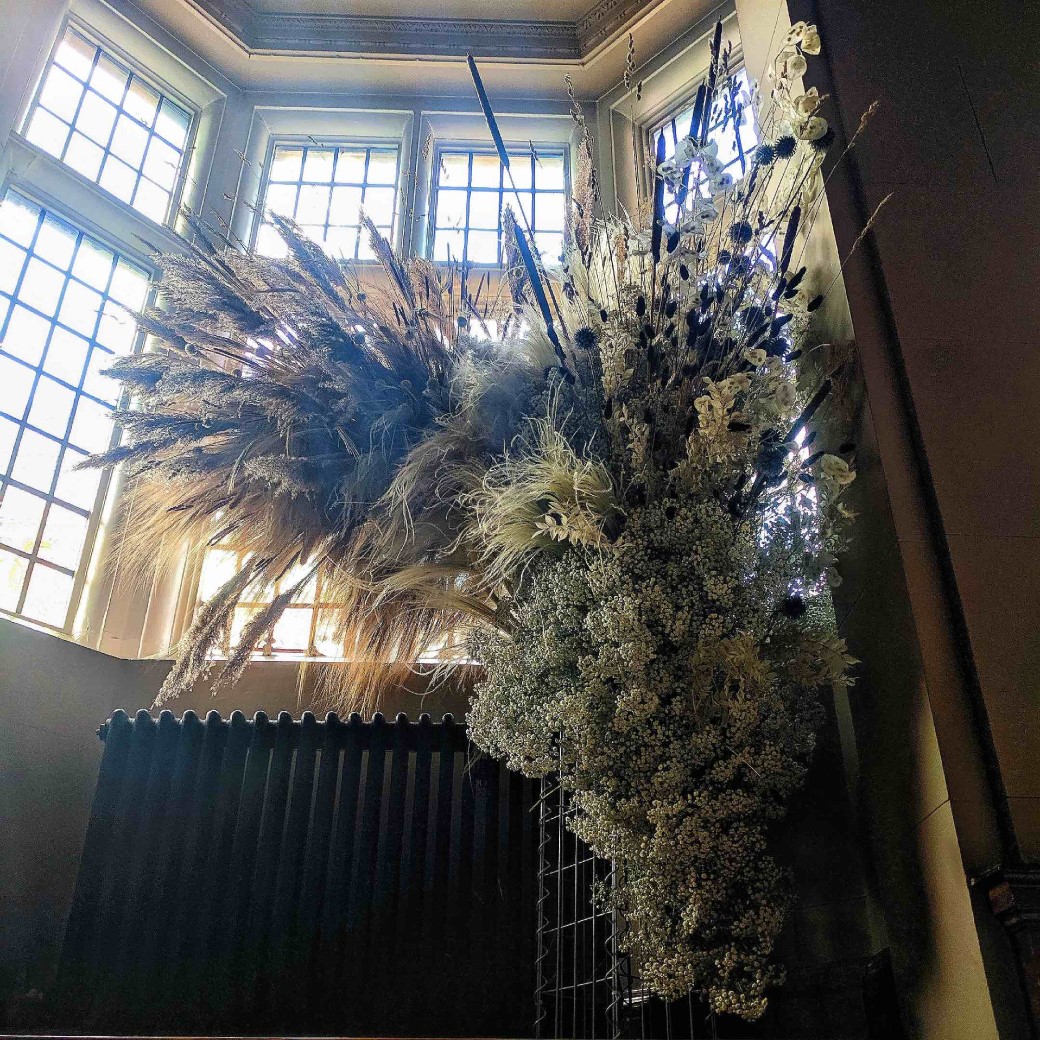 2020 Floral Trends: Species and Colour Palettes
by Jane Hartley, founder of Dove & Myrtle
I see 2020 floral trends moving more and more towards natural styling – unstructured freshly gathered bouquets and wild flower meadow aisles, dried and – perhaps most significantly – locally grown seasonal flowers. 
I am delighted to see the British flowers movement gaining momentum and a decision to use locally grown flowers whenever possible guarantees more sustainable weddings and events. Couples and industry professionals choosing locally grown know their flowers will have been cultivated with every consideration for the soil and wildlife.  British blooms will be truly seasonal, last longer, look better and have the most incredible fragrance so it's easy to see why this trend is growing in popularity. 
Using aromatic herbs, especially in the bridal bouquet has always been a part of Dove & Myrtle's signature style.  Whether that be mint to bring out the delicate sweet scent of the roses or rosemary as a symbol of love and fidelity nothing evokes a memory quite like fragrance and I see it becoming a key consideration for modern couples in the coming year.  Expect to see mint, rosemary, sage and thyme alongside deliciously scented floral blooms.  My personal favourites are the rose – timeless and classic, sweet pea and lilac – a soft sweet smell and beautiful vintage aesthetic, tuberose – bursting with scent and elegant and the incredibly delicate and sweetly heady jasmine.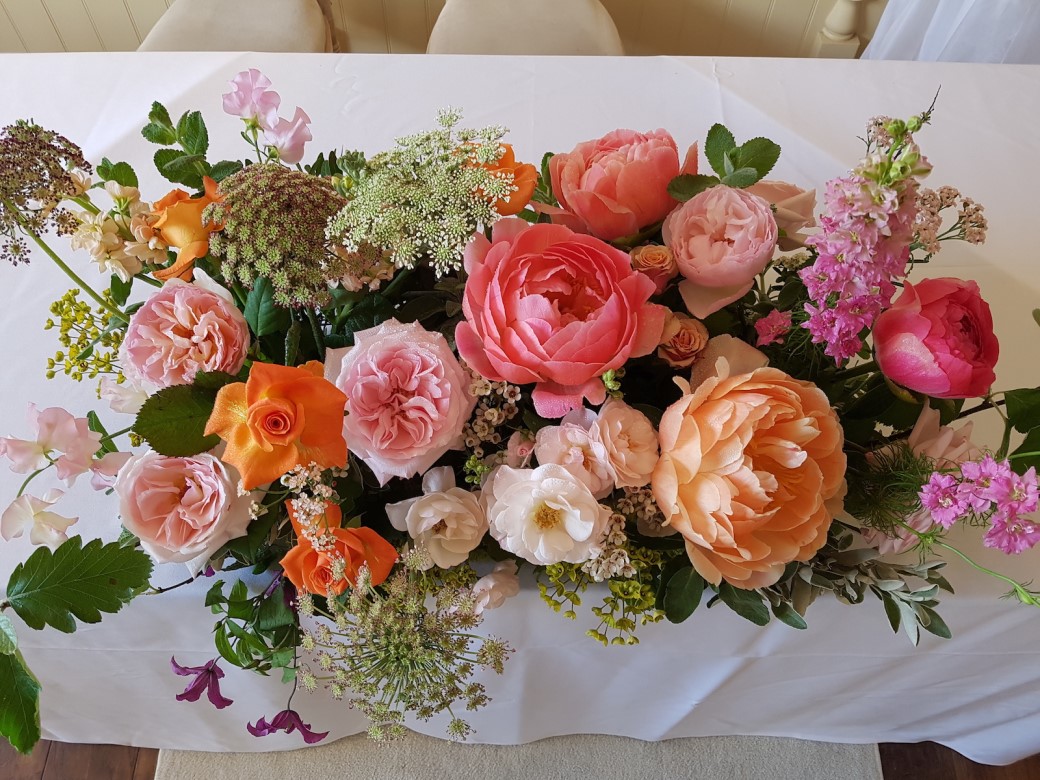 2020 will be the year we optimise the flowers and go unapologetically maximalist!  I'm looking forward to seeing and creating statement ombre and single colour bouquets.  Fresh green foliage as we know it is being replaced with sun bleached versions, honesty, grasses, lagurus (bunny tails) and our recently new found love for pampas shows no signs of slowing down.  As well as the natural tones we'll also see vividly coloured grasses in a myriad of rainbow hues alongside paint box bright florals in inspiring colour combinations.  The aptly named peony "Scarlet O'Hara" springs to mind with her silky red poppy like petals and vibrant yellow stamen bursting with colour and energy.
On the other side of the spectrum earth inspired soft browns with subtle pink undertones, mauves nudes and blush hues are super popular.  I'd describe it as a soft and slightly washed out palette with hints of dried grasses, raw plaster walls, warm wood and clay. These colours are calming and tranquil with a strong connection to nature and incredibly romantic. Ideal flowers for this palette are the roses "Koko Loco", "Quicksand" and "Cappuccino", wild carrot, phlox "Creme Brûlée" and specially bred species in coffee and chocolate tones offset with vintage hued anemone and carnations. Photos below by Elena Popa Photo.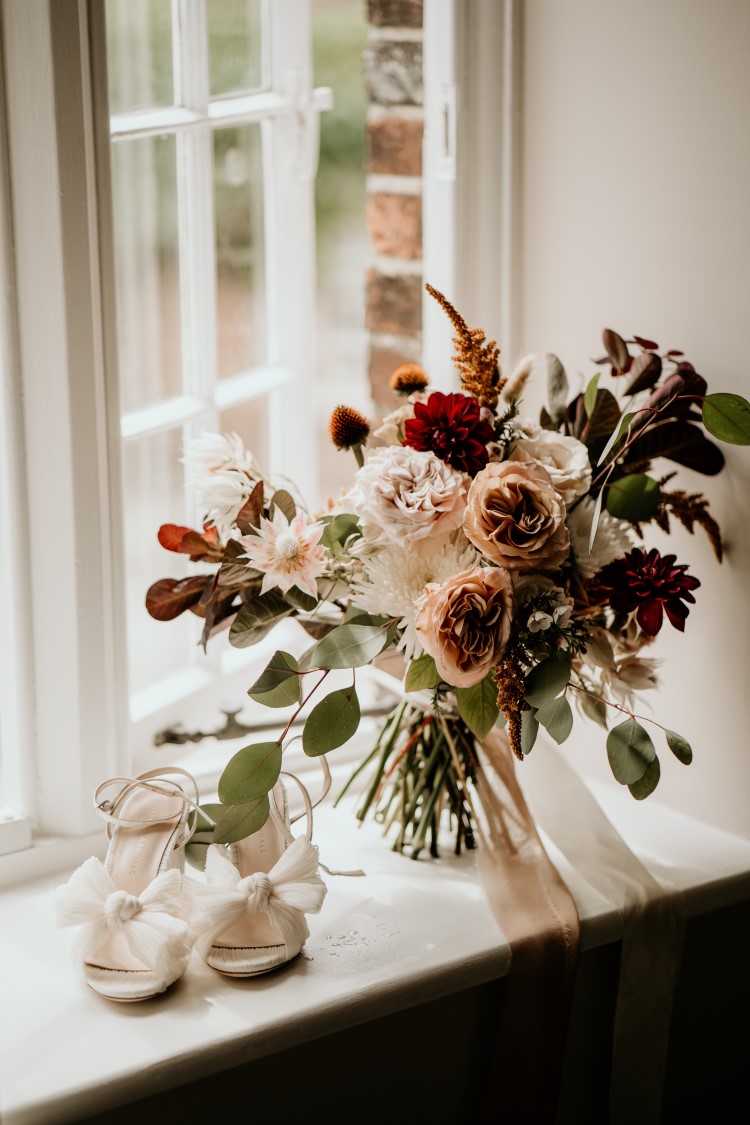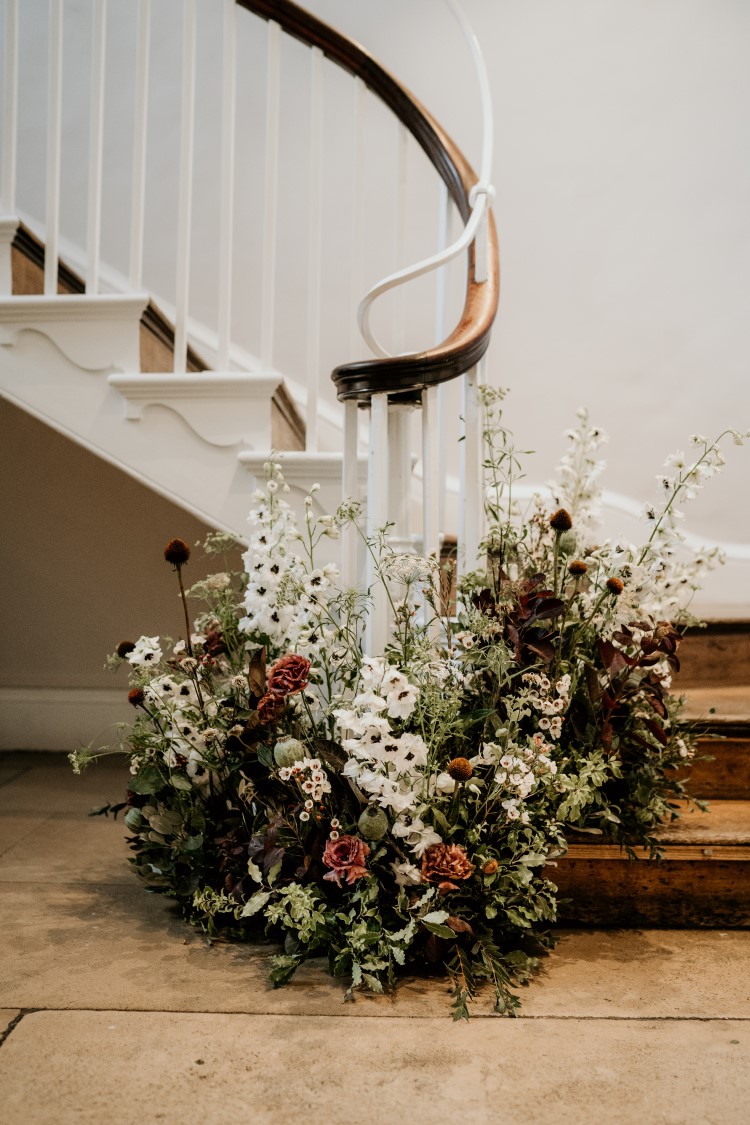 I'm yet to meet a bride who doesn't love a dahlia and dahlia "Cafe au Lait" has reached almost rockstar heights of adulation – but it was only a few years ago that the glorious dahlia was overlooked, unwanted and regarded as downright old fashioned. Ditto the now adored pampas grass.
Two flowers that in my opinion are about to enjoy a similar resurgence and become the new must have flowers of the wedding world are our old friends the carnation and the chrysanthemum.  Forget those sad petrol station forecourt flowers of memory because times have seriously moved on in the cut flower world.  These two flowers are also amongst the longest lasting in terms of vase life so if that's a priority they're an excellent choice. Each time I include carnations in my work the feedback is amazing and when I recently posted a close up of the variety "Nobio Pink Gelato" on Stories the response was phenomenal with everyone thinking it was a peony.  There are so many gorgeous colours to choose from and they add a wonderfully unexpected texture and in-between leading lady and extras flower.  My current go to's are "St Lege Marron" for a muted story and "St Cheerio" for brights.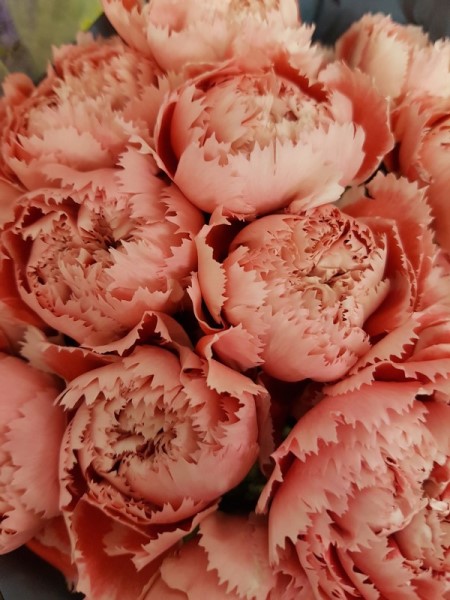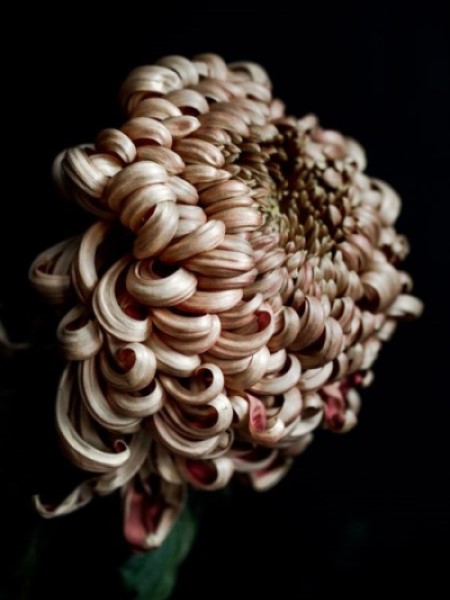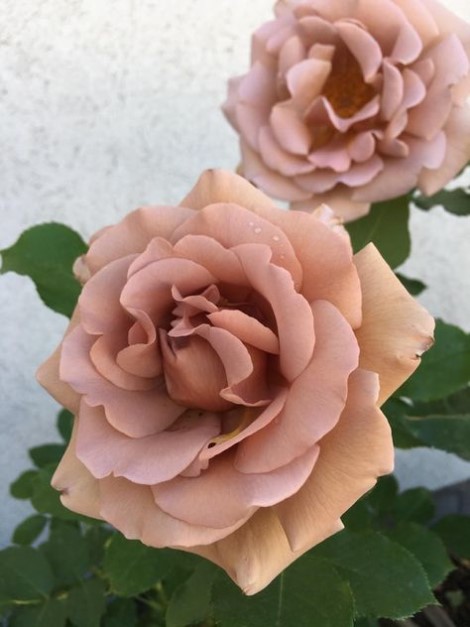 Seasonally, chrysanthemums come into their own towards the end of dahlia season and continue past the first frosts adding that last hoorah of colour before winter sets in.  If you're not convinced the following varieties may just change your mind "Avignon Pink", "Spider Bronze" and "Vienna Copper".  There's only one word for them, delicious!
2020 Floral Trends: Conclusion
"Delicious!" as Jane describes. A very good word to describe what's coming up for us in the new year. And Jane concludes with a quote borrowed from British Vogue…
Helpfully, the biggest wedding trend for 2020 is individuality.  The industry is evolving, which thankfully means brides are no longer pigeon-holed in either the 'traditional' or 'boho' category.
"Over the last few years I have seen a change in how couples want to plan their weddings, " says Elizabeth Walshe of Weddings by Elizabeth Walshe.  "They are more inclined to choose modern, contemporary celebrations creating an ambience or mood, as opposed to being led by trends, colours and themes".
I agree with Elizabeth and I'm confident anyone reading this – bride-to-be, nature lover, interiors fanatic or industry professional – are all assured in their own style and treat trends as a point of interest rather as than a rulebook. But what's been so interesting with this early insight into what my botanical illustration commissions and Wedding Bouquet Illustration Service bookings may comprise of throughout 2020 is the extent to which ethical floristry has become a non-negotiable. It's made me determined to re-examine my packaging and practices, to ensure Charlotte Argyrou Illustration is working to the same standard as the floral and creative business I partner with. I'm hugely grateful to Beth, Gaia and Jane for their contributions above, and giddy to see their new floral masterpieces as we embark on the 2020 season. 
With big thanks to
Bethan Beck, founder of Rosehip and Wren 
Gaia Eros, founder of Storm and Grace Flowers
Jane Hartley, founder of Dove & Myrtle 
Also featured
Foam free installations by Shane Connolly 
Creator of the #nofloralfoam Instagram hashtag, Rita Feldmann founder of Feldmann Flowers
Pioneer of sustainable floristry Sabine Darrall
Author of A Guide to Floral Mechanics, published 2020 by Sarah Diligent, founder of Floribunda Rose
Teaching florists to be foam free, Tallulah Rose Flower School
Rake's Progress Magazine, the art of gardens, plants and flowers
Find Rake's Eye on Instagram, a creative floral design agency 
The incredible floristry skills of Cyrill Tronchet and Phoebe Theodorou, seen in the Roland Mouret installations pictured within this blog post
And for further reading, please check out newly launched website The Sustainable Floristry Network – connecting many of the designers listed above.
If you enjoyed this report and want to see more of my posts about Floral Dreams and Creative Living