The Balcony Gardener: In conversation with queen of small space gardening, Isabelle Palmer
Let's talk about small gardens
Our small garden works really hard. It's a 4m x 4m plot and contains a playhouse, table and chairs, mini trampoline, water butt and several containers each with a lemon tree, lime tree, and an olive tree. Seedlings – little works in progress – line the sills of every south-facing window in the house.⁠ Soon, when the threat of snow is behind us, these tomatoes, herbs, chilli and peppers will be planted outside, stacked high to maximise every centimetre of ground space we have. ⁠
Which all may sound like we know what we are doing.
We absolutely don't.
We are "have-a-go" gardeners and learn year-on-year what works for the plants and what works for us. ⁠There are many disappointments and I'll never understand how to navigate the precipice between too much and too little water. Last year's high yield tumbling tomato bonanza was great for our summer salads, but there was barely room for me to sit with a cuppa without feeling like I was being attacked by fuzzy foliage.
Here's the March update on my container garden…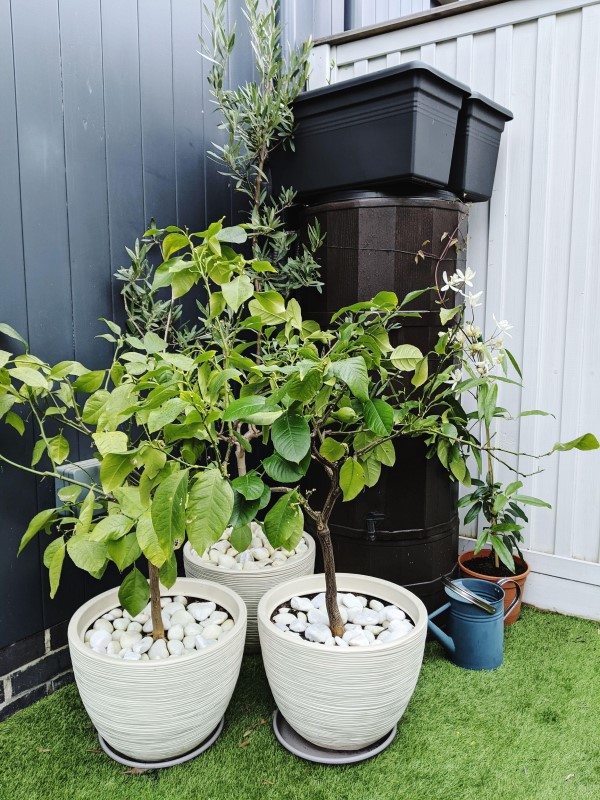 Time to call in Isabelle Palmer, The Balcony Gardener, whose fourth book
Modern Container Gardening
is published today, 5th March 2020 and available from all your favourite book retailers.
The book combines clever, realistic ideas for small spaces with beautiful photography and practical advice. It's laid out like a recipe book, with cute graphics simplifying all the elements from workload, sun requirements, watering needs and seasonality. ⁠You may have seen Isabelle on Kirstie's Handmade Christmas or Alan Titchmarsh's Love Your Garden. She has collaborated Anthropologie and West Elm to create special events and products for a greener city life. Red Magazine also shortlisted Isabelle for a Hot Woman of the Year Business Start-Up Award in 2011.⁠
She's know her onions. I LOVE THIS BOOK and will be gifting it to my green-fingered friends this year.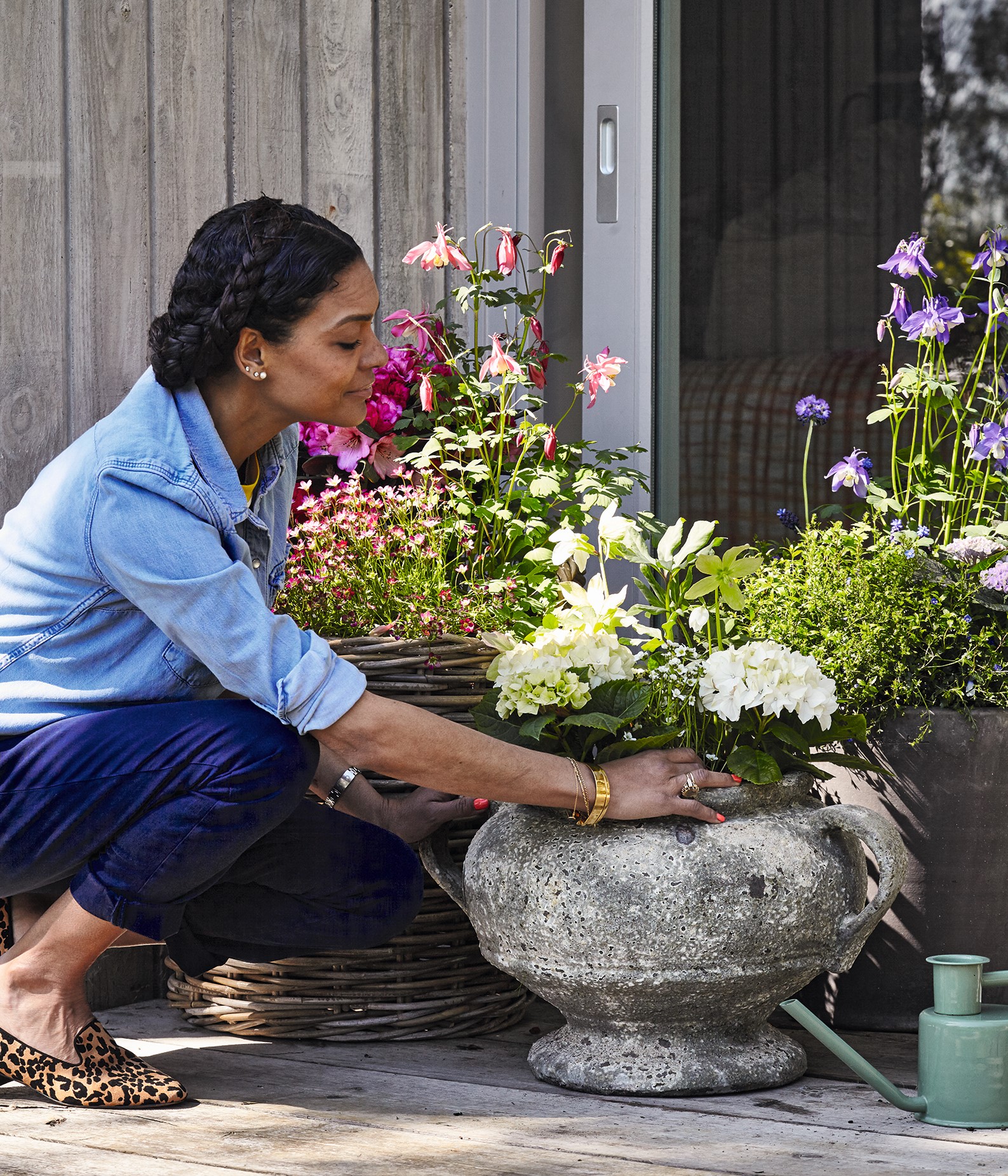 What's The Balcony Gardener all about?
You've grown a garden – and a business – from two small balconies in your London apartment. Why didn't the small space put you off?
Isabelle: "Living in London, I think having any outdoor space at all is a real benefit so instead of putting me off I wanted to make the most of it and utilise what little space I had. It made me more creative to take advantage of it and try to incorporate all the elements I would have achieved if I had had a larger space."
I feel like the driving force of The Balcony Gardener is that anyone can love their garden, no matter the dimensions or if it's theirs to own. What's your top tip for renters, wanting to get more green in their lives?
Use of pots and containers is great as you can take the plants with you when you move.
Invest in the biggest pot you can as that will lessen the time between watering, which is the only chore of gardening in pots.
Fold-away furniture is great as can be put away when not using it to get the most space – and is also easier to transport.
Start off with one pot and master that so you can gain confidence and then grow your collection. There's nothing worse than spending a lot of money to see it all die in front of you.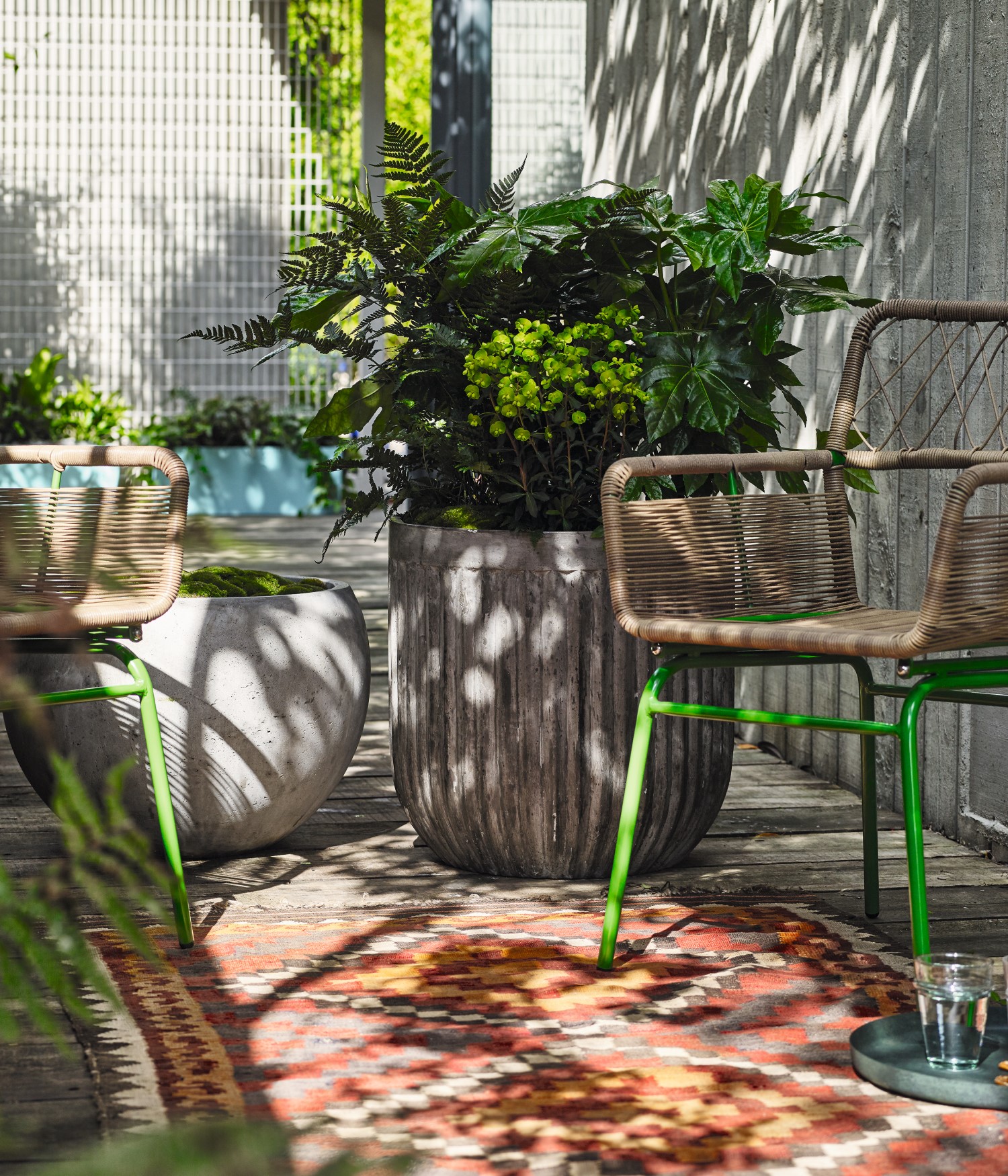 Our 4m x 4m patch of London garden works seriously hard, containing a playhouse, table and chairs as well as fruit and veg. What's in yours and how did you choose?
A greenhouse (great urban one from Juliana city range). It's small and on wheels – perfect for small gardens I use it to grow seeds and cuttings.
Corten steel large planters for statement planting
Outdoor furniture
Herb garden (I love cooking so perfect for added herbs all year around)
Lots of flowers and shrubs in pots. I use it as a test for what grows well and to experiment with new combinations for clients.
Your new book is about container gardening. We find using containers in our house offers us great flexibility, say at Christmas time or when the kids have friends over, we simply move our plants out of the way. What are some other perks?
Isabelle: "It's a great way to get new looks, during the different seasons you can move the pots around for constant colour."
I've fashioned a greenhouse out of a bench in my living room next to a south-facing window! Here's how it's coming along…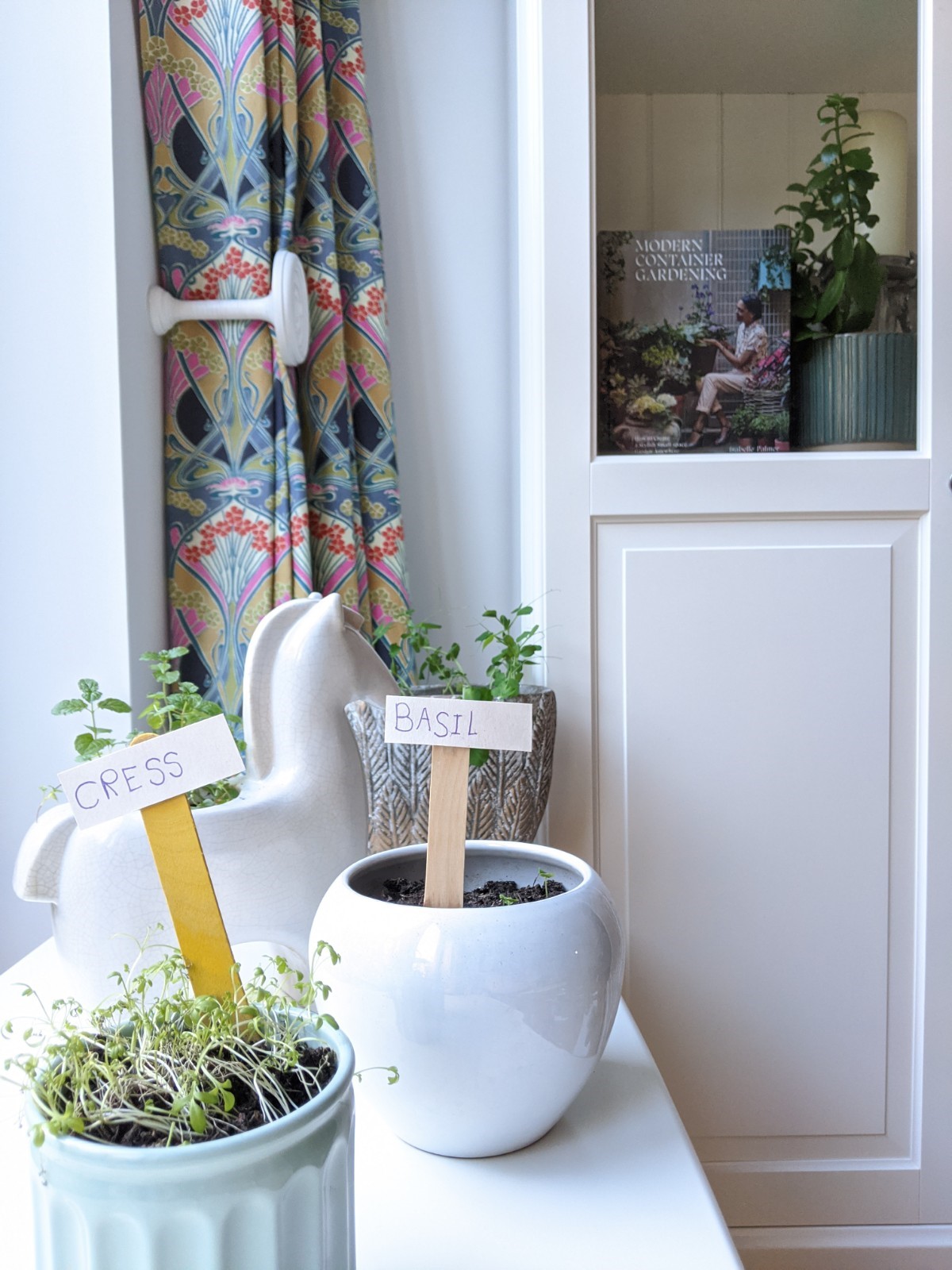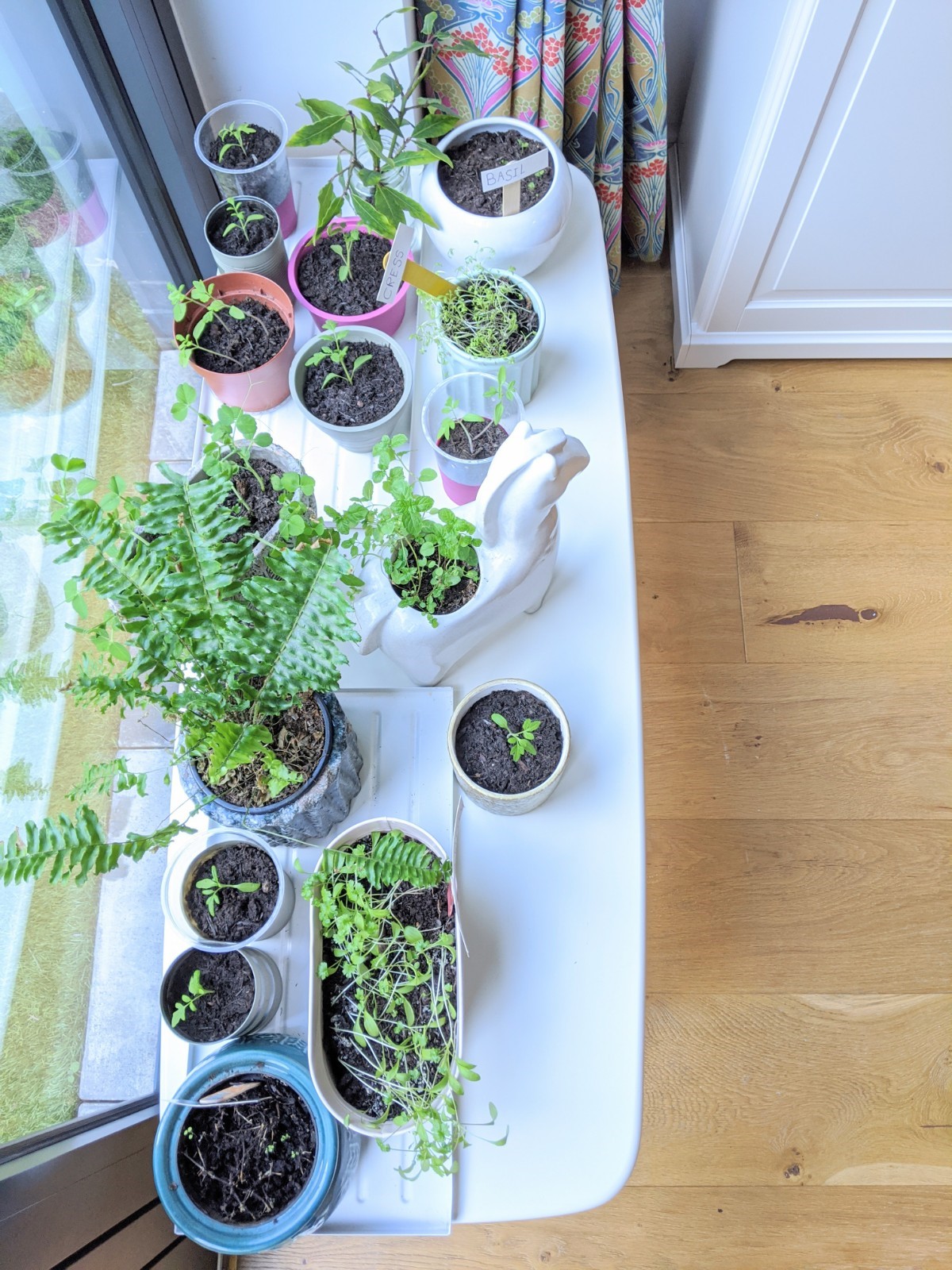 Gardening and Creative Business
Today, you are publishing your fourth book, have appeared on Kirstie's Handmade Christmas and manage your own team of garden designers. Did you ever feel like an imposter, learning and teaching about gardens from such a small space of your own? Did you anticipate it would be such a success?
Isabelle: "I think when you go into any new start up business you have to have the mindset that it will be a success and also be very passionate about your vocation. There are many times that you need that to carry you through ups and downs and the long hours. I suppose I did in the early years and I think like anything it takes time for you to gain knowledge, but I also think it motivates you to move forward and accomplish more."
Gardening was once known as a pastime for the retired, what made it become so accessible for all ages?
Isabelle: "Millennials' love of house plants, shared across social media, has really shone a light on the benefits of gardening. Not only in creating a wonderful home, but also with the mental and physical benefits of plants. I think it's really brought in a new generation into the fold, who enjoy both the visual aspects and caring for their plants."
I believe that a small budget or small space can push us to be even more creative and more intentional with our homes and gardens. What's your vision for how The Balcony Gardener services and your books can help?
I really want to inspire people to get into gardening its given me such joy and I think its something that anyone can do. I would say that it's a great introduction into gardening if you're a novice and container gardening is available to anyone even if you only have a window ledge and limited budget.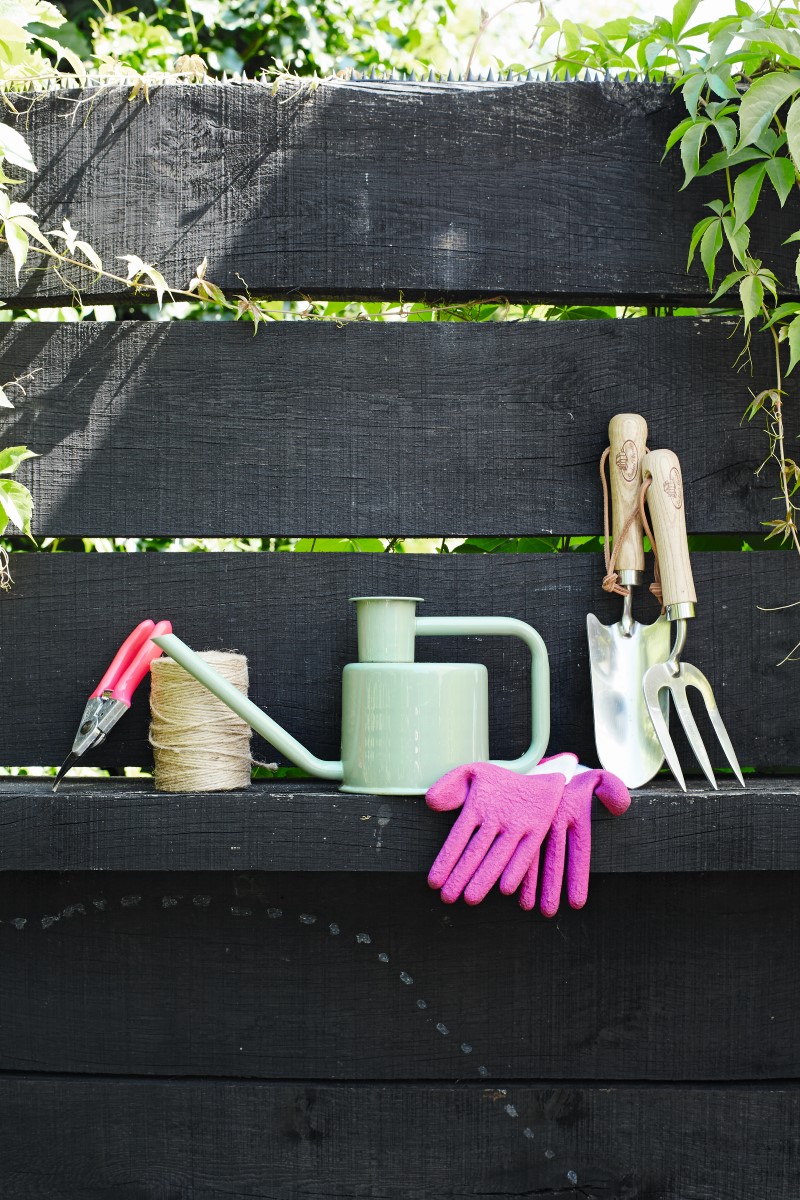 Find Out More about The Balcony Gardener
If you've loved scrolling through Isabelle's new book imagery and feel inspired to learn more about Modern Container Gardening:
Follow @thebalconygardener on Instagram for behind the scenes and top horticultural tips
Visit The Balcony Gardener website for Isabelle's garden design services and garden DIY videos
Buy the book Modern Container Gardening £16, at Waterstones and other retailers
With thanks to publishers Hardie Grant UK and photographers Ali Allen and Nasima Rothacker
This book was gifted to me in my role as a flower blogger, but all opinions are my own.