Celebrate at Home, Delivered to Your Door
New Floral Delivery Service from Greenwich florist, Rust Bloom
I celebrated my April birthday in lockdown. Zoom and FaceTime were a savour, as I feared the day might fall a little flat. Punctuating the funny videos and surprise sing-alongs were messages of "your card will probably arrive next week" (uni best friend) and "your gift is scheduled to arrive in 7-10 days" (my mother). 
Covid 19 quarantine is a weird time for a celebration. There's all sorts of confusing feelings to navigate, from uncertain financial wobbles to missing loved ones. And let's not start on the guilt of "celebrating" while keyworkers risk their lives to help those in need. The gifts and experiences we might normally wish for are mostly either completely irrelevant or impossible. Instead, each day, we snuggle at home and make dinner and virtual catch-ups as special as possible.
My family and I are certainly not the only ones who like to #makeamealofit. Banana bread, sourdough and a quarantini, anyone? Embracing new wave old-fashioned homemaking and celebrating the art of gathering (even if it's a very small gathering) is a having a moment. But to ease the workload, you may like to consider calling in the pros with a contactless doorstop delivery.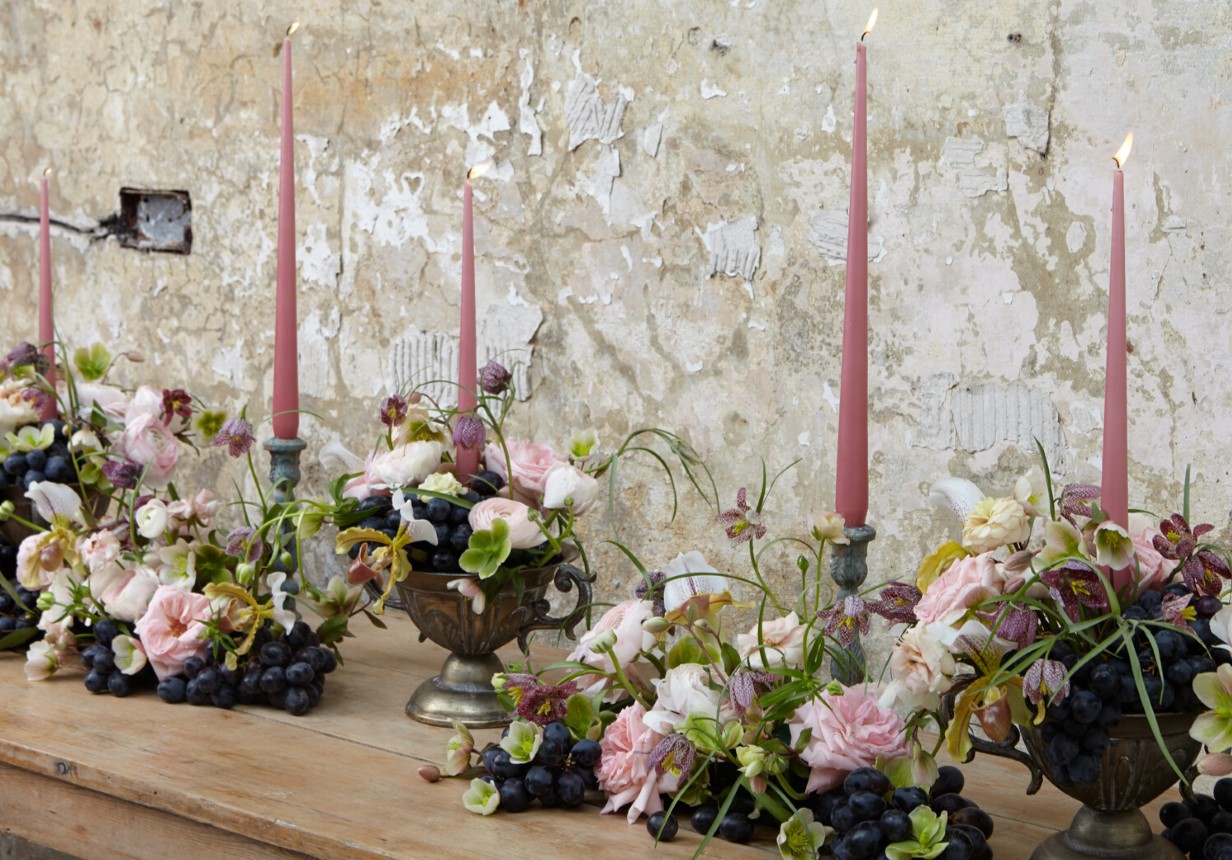 Celebrate at Home, by Rust Bloom
Rust Bloom, the elegant and ethereal floristy service based in Greenwich, SE London, is offering to do the hard work for you and deliver table florals and props to your door, ready to plonk on the table. I sampled the service, and was deligthed to receive:
– x10 small vases filled with seasonal blooms, foliage and herbs – including peonies and ornate roses. Ready filled with water, ready to place on the table.
– x4 decorative candleholders
– tealight holders
– selection of tealights and tapered candles
– all well-wrapped, direct to my doorstep, with a friendly wave and chat from the pavement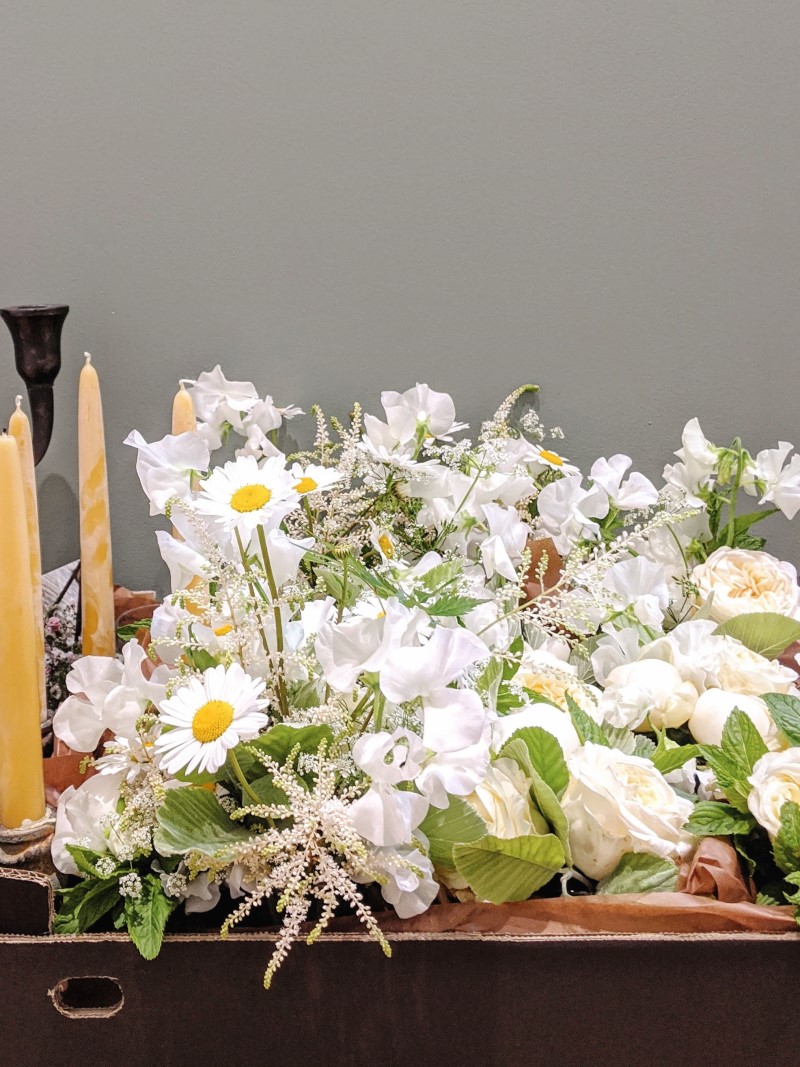 The easiest tablescape I've ever styled
All I had to do was unwrap the candles and place in the holders, all the rest was done for me. I had one more vase and flower posy than I had space for on my table, so I separated the blooms and scattered on the table to add layers – that was my creative contribution! Minimal effort, maximum effort, I'd call it.
And another massive plus point – Rust Bloom will collect all the vases and props a week later. Just return them into the box they arrived in and Rust Bloom offer a contactless pick up.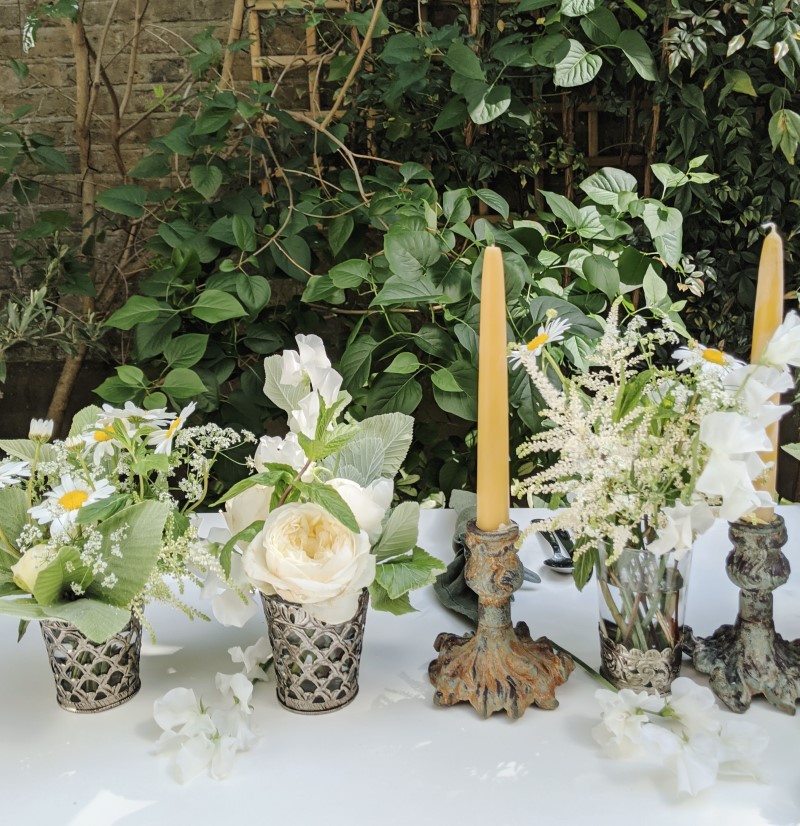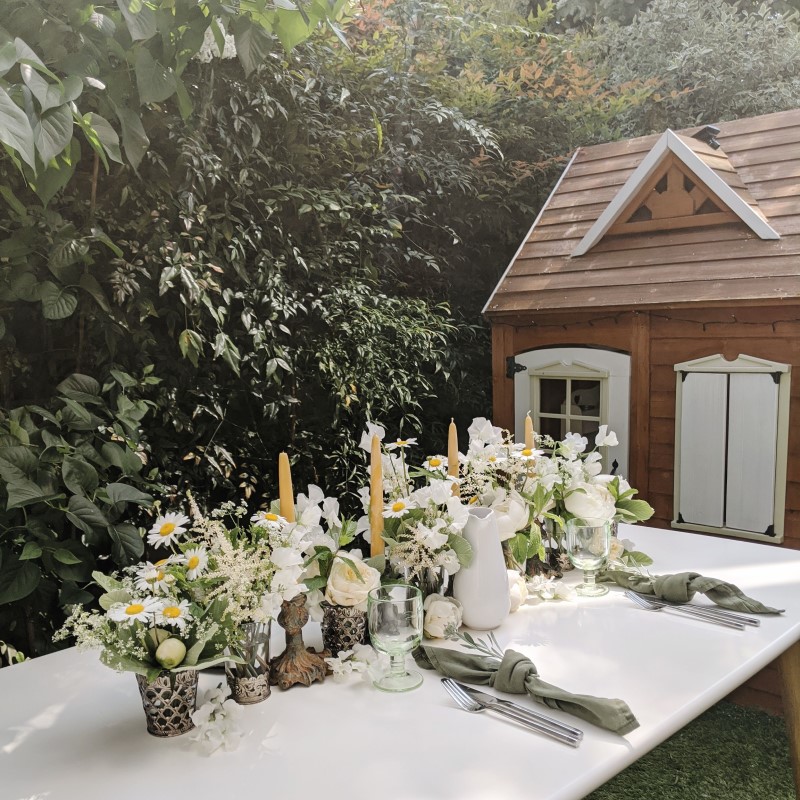 Celebrate at Home Packages
PACKAGE 1 – £150
10 – 12 SMALL VASES/ BOTTLES OF MIXED SEASONAL FLOWERS PLUS A CHOICE BETWEEN 8 x DECORATIVE T LIGHT HOLDERS, 4 X ORNATE CANDLE STICKS OR A THREE ARMED CANDELABRA 
PACKAGE 2 – £225
15 – 18 SMALL VASES /BOTTLES, 8 x DECORATIVE T LIGHTS , 4 X ORNATE CANDLE STICKS AND TAPER CANDLES OR A THREE ARMED CANDELABRA , 1 X LARGE VASE ARRANGEMENT 
PACKAGE 3 
BESPOKE PACKAGE
DELIVERY AND COLLECTION IS FREE OF CHARGE IN THE INNER LONDON AREA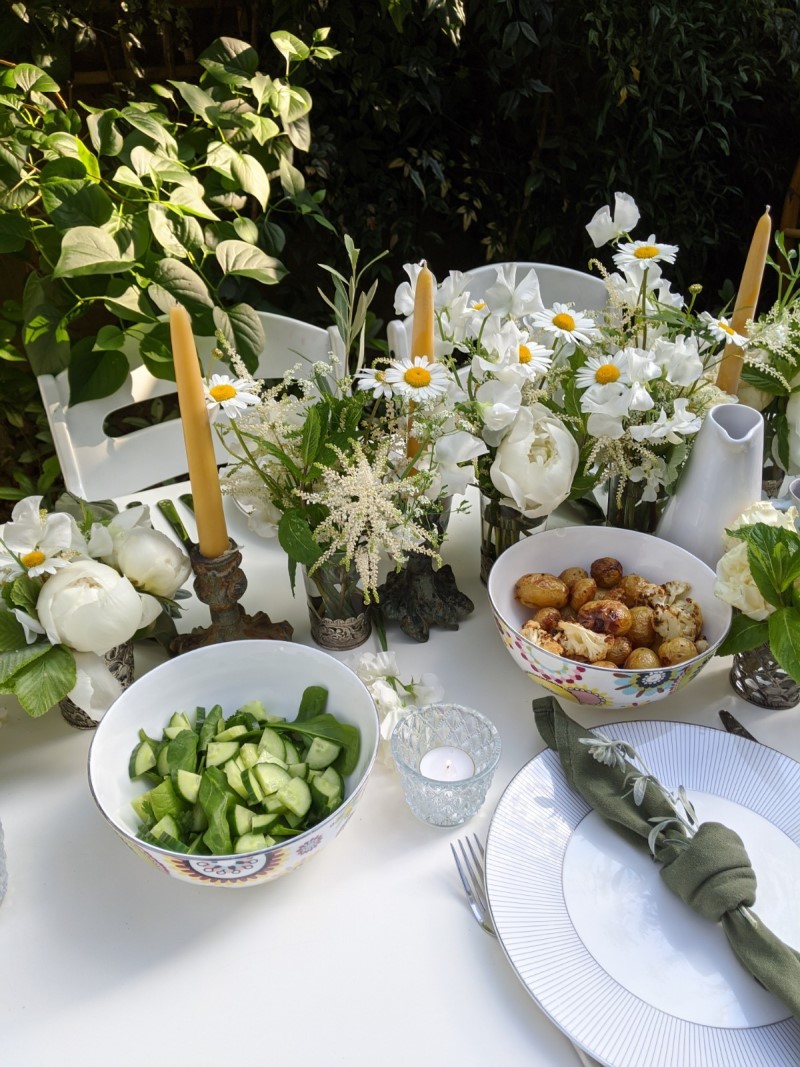 A Note about Small Vases
I adore small table top vases and always choose to style my dinners this way. They are the simplest way to add impact to a table with the versatility we all know a dinner needs. I can't abide when there is no room to place platters without an awkward rearrangement of the decor – all while hot foot waiting to be devoured. Plus, post dinner, it is a moment's work to rearrange for sofa-slumping, or to strategically place for the next day's Zoom meetings.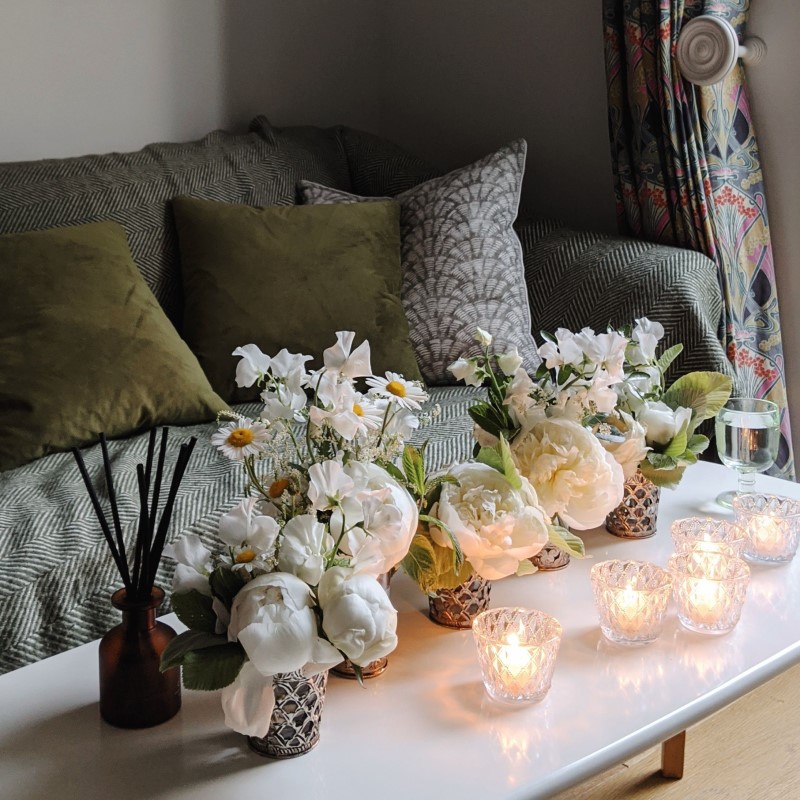 Fancy browsing through more blog posts by Charlotte Argyrou?
Find Out More
If, like me, your role in fighting Coronavirus is to stay home and wash your hands, but you'd still love to celebrate your special occasions in style, do check out this service. Here's the info:
Rust Bloom website   |   Instagram
DISCLAIMER: This service was gifted to me by Rust Bloom so that I may share it will my floral-loving community. I was not paid for promoting the service and all opinions are my own.  
Love Charlotte