2022 Floral Trends
Introduction
Where We Were, Where We Are Now
Let's kick off the 2022 Floral Trends Report by looking back at its predecessor. My 2021 report began with an unsettling disclaimer by way of introduction. To save you searching, here's a reminder of where we were one year ago:
Written November 2020: At the time of this post's publication, weddings are not permitted in England. The only exception is so-called "deathbed weddings" – a heartbreaking and tragic phrase I'd never heard until verifying the current standing on the official government website. If one partner is dying, weddings of up to six people are allowed. For the sake of talking about flowers in the context of weddings here, we are going to optimistically write as though small weddings will go ahead in 2021.
I say "unsettling" for two reasons. Firstly, oooooooph, does anyone else feel sick to the stomach to be reminded of the phrase deathbed weddings? Yet in the same exhalation, feel a deep rising, swelling wave of gratitude that we are no longer stood in the desperate place?
But secondly, I hear a nervousness in my tone of writing, so fearful of criticism. Scared I'd be slammed for insensitivity, for boldly and blindly soldiering on chitchatting about flowers when people were experiencing grief and despair in the strangles of Covid-19. For me, it articulates the key narrative thread that will run through this report and a critical transition from last year through this year and beyond. We'll call it Being Human.
Welcome to my Contributing Editors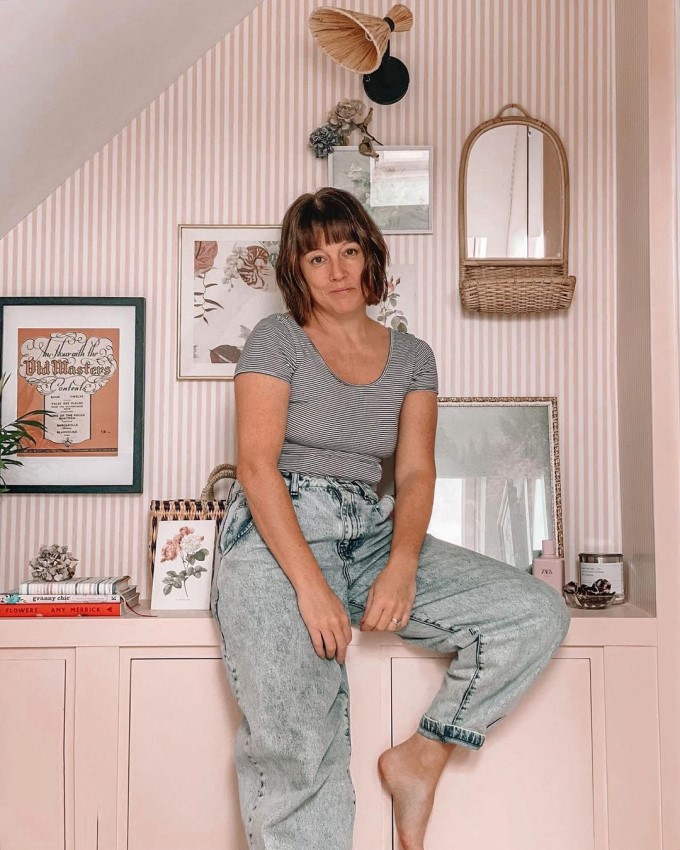 This year I'm welcoming Katie Sutton, creative stylist and floral designer, The Vintage House That Could and Isobel Watts, florist and grower, Wizz and Wild. Katie's work has been on my radar for years but she really piqued my attention with a single blog post, back in January 2018. In the blog, she bid a kind-hearted farewell to the Cath Kidston-inspired faux vintage floral décor that dominated her aesthetic. In its place, she welcomed an authentic blend of modern craftmanship and real antiques. It was a bold move, especially after building a reputation based on a specific trend. I was keen to ask Katie how it all played out a couple of years and a pandemic down the line.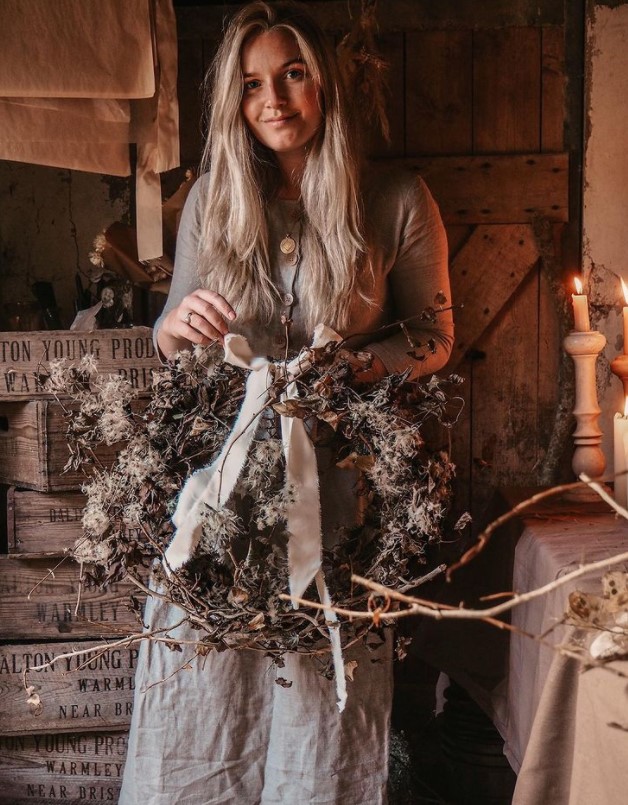 Issy is an incredible florist with a defined and lustworthy faded glory aesthetic. But it's her work as a grower that I have been utterly seduced by this year, as she's shared her Lockdown life on the land, harvesting her cutting garden and hosting small scale workshops. It's all exquisitely documented in Issy's Weekly Words e-newsletter, which I highly recommend for learning about seasonality or simply to indulge in some pure countryside escapism all from the comfort of your sofa.
About
The Floral Trends Report has never professed to be a definitive guide to what's hot and what's not. I wouldn't dare! But this year more than ever, conversations with clients and suppliers haven't focused on colours or floral species or styles of installations or arrangements. Rather, we've all enjoyed a good gossip about how we present our passions and values to secure desireable work with dream couples and clients. Happy to go with the flow, this year we are largely looking at trends within our floral businesses, covering communication, branding, joy, finding strength and planting roots in work that is meaningful to us and lands with our customers. Fighting back with renewed energy, resilience, creative impulse and experience.
Chapters
1. Floral Business: Being Human
2. Personality-Led Branding
3. Show Us Some Context
4. Waste is Unpoetic
5. Rooted in Nature, Rooted at Home
1.  Floral Business: Being Human
This report is written for all our shared online communities – florists, growers, stylists, creatives and of course, wedding couples-to-be. But whether you are a consumer or supplier, most of us experienced a blurriness in the boundaries between "work" and "life" as we've renegotiated our understanding of normal day-to-day living.
Until 2020, we would, for the most part, market our floral businesses quite aside from our homelife. Then with shops closed, access to suppliers restricted, studio space sacrificed or shared with our bubbles, the home became the workplace and what followed was a natural softening and dismantling of an invisible boundary business coaches and personal development books had advised us to build. 
Andrea McDowell, founder of Dahlia Beach, closed her thriving wedding video editing business due to Covid's enforced cancellations in 2020. What followed was a meteoric rise to fame within the floral industry despite rejections, knockbacks and rotten bulbs and tubers. "I was told categorically that dahlias were out of fashion and that it didn't sound like a very wise business venture for someone with no experience in horticulture," Andie writes in an Insta grid post celebrating the one year (!) anniversary of creating her logo on Canva and setting up shop.
"Behind every female-founded small business there is a woman who is also managing a life."
– Andrea McDowell, founder, Dahlia Beach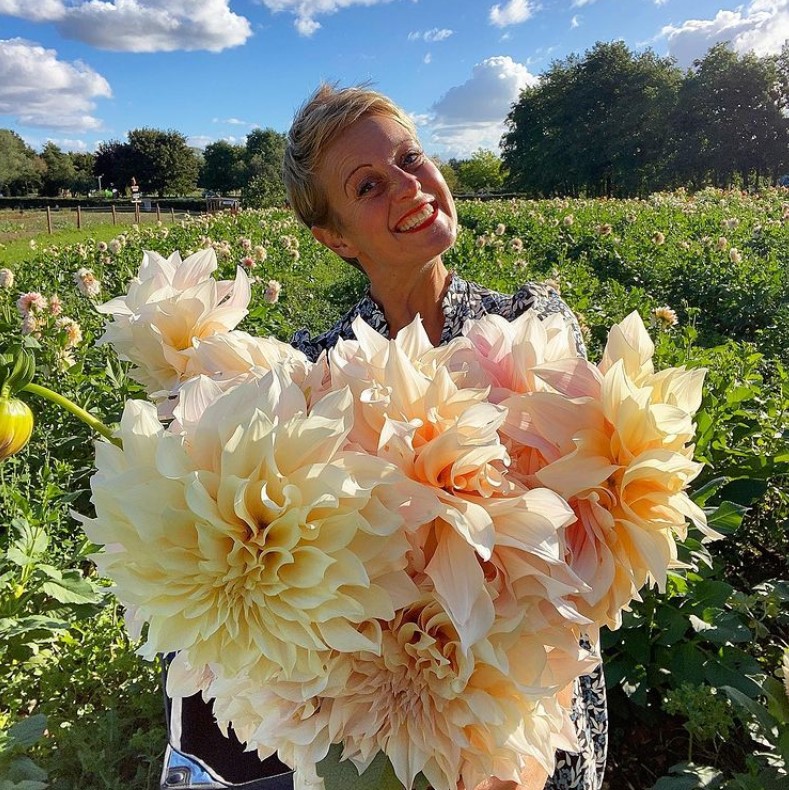 I shared with Andie that it is my feeling that this past year, female floral businesses owners are doing away with previous aspirations to having boundaries between our life and work. Maybe we once tried to compartmentalise away chicken nugget dinners, parents' evenings and the thanklessness of folding laundry. Instead, we'd promote dreamy photos of curated floral tablescapes and luscious landscapes, our art and interiors all primed and prepped. Now, it seems there is value in sharing it all mushed in together. Our social media audiences enjoy the rollercoaster, and our peeks and troughs echo their own – a source of comfort and connection, as well as inspiration and entertainment. 
Andie: "I couldn't agree with you more although I don't think it has changed, I think it has always been this way and just wholly unreported. There was a fear that admitting that you were struggling with keeping on top of the house or the kids' uniforms would undermine your professional abilities in some way. Like if you couldn't even manage the logistics of the afterschool clubs, what hope did you have of fulfilling 1000 dahlia orders!"
"The idea that there was a boundary between work and life was a facade and there was shame and embarrassment associated with the juggle."
– Andrea McDowell, founder, Dahlia Beach
With hindsight, I can reflect on my 2021 – particularly the dark Jan-March homeschool period – and acknowledge that I experienced a daily conflict and relentless pull to thrive in both camps.
Had to be an excellent, attentive mother, wife and friend.
Had to be a one-woman wedding business survival story.
At this time, my Wedding Bouquet Illustration Service gained a glitzy national win at The Wedding Industry Awards, but in the same instant I experienced fear and upset that all my summer's wedding work would be pulled from beneath me for the second year. It would leave me floating aimlessly, superficially successful, but without requisite substance to not quit. All the while, the runaway train of social media's tyrannical rule would have us constantly present something, anything relevant to appease an algorithm and cling to and unite with our longed-for customers and community.
Maybe it's a sink or swim mentality, but the reason I share this moment of reflection within an exploration of 2022 floral trends is to pinpoint the moment where and why the shift in how we present our floral businesses had (has) to happen.
Andie: "I have found that far from undermining my customers' confidence in me, admitting when I've made mistakes or failed, has shown a vulnerability which people can connect with emotionally. We're all human after all. Sometimes I'm dancing around the field with arms full of flowers and the sun on my face and other days I'm face down in the dirt which tears running down my face. This is the journey for ALL of us so it's about time we were owned our stories and wore them with pride."
Photo: Carla Blain Photography   |   Styling: Katie Sutton, The Vintage House That Could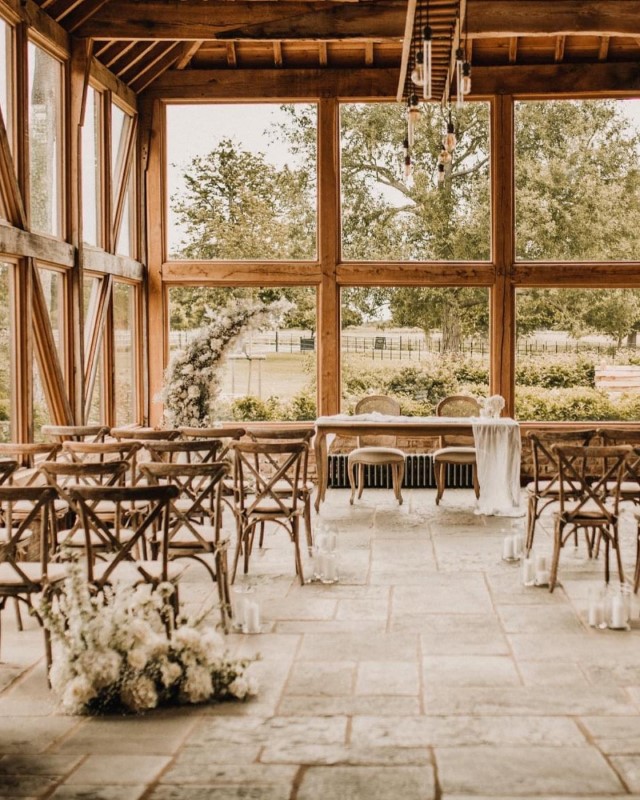 Personality Led Branding
Katie: "I think the main lesson I have learnt from last year is that couples should have exactly what they want. Weddings are and always will be the most important event in most people's lives where their love can be celebrated and if that means you want a relaxed chilled out party in a field with no speeches and no cake then go for it. Equally if they want to go all out and be extravagant then that's also allowed. It's the vibe that's important and my job is to ensure that the couple's vibe is clearly evident in all aspects of that day. Guests should walk in and immediately feel like they are at A & B's wedding and not some generic off the peg event."
It's where I feel couples and wedding businesses suffer at the hands of social media and search engines. Although it blows open opportunities and access to information and inspiration, there's a homogenising process that happens almost without your knowing. As you click on an image that appeals, the dark lords of the internet decide to show you more or the same, hoping to keep your attention longer and put more money-generating adverts in front of you. The consequence is you are introduced to increasing numbers of similar brands and businesses, which can have the effect of making you feel there is one look, or one way to do things. You feel compelled to keep up. The definition between a trend and everything looking the same becomes hazy.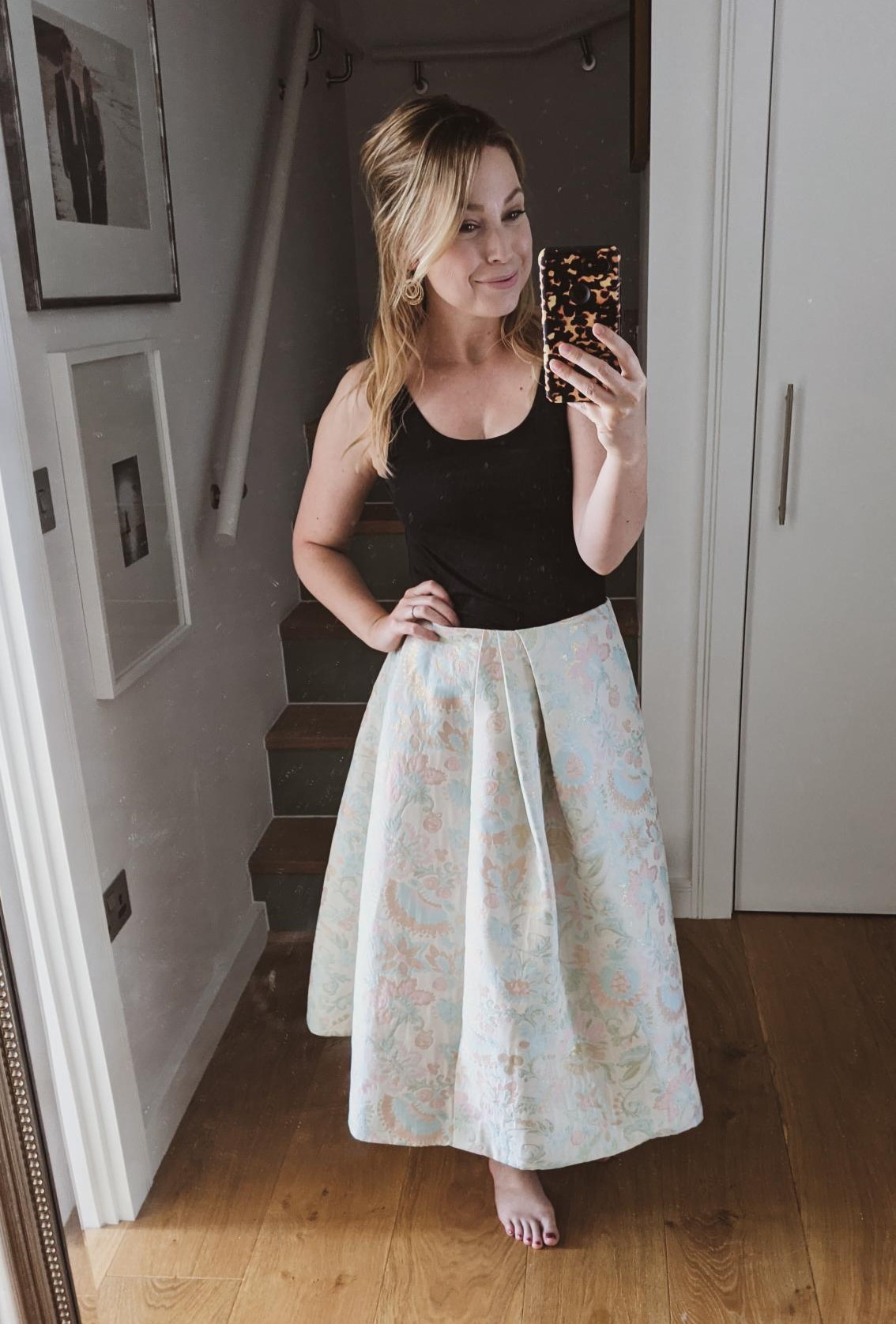 One way to have real impact on a wedding day is to work with couples who are attracted to work with us, because of us. That means booking us not due to geography or pricepoint – couples have so much choice now – but because they are magnetically attracted to our values, natural style and ethos. Here's the critical point:
You don't have to have an out there personality.
You don't have to reinvent the wheel.
You don't need to be political, or take a stand on all current affairs.
You don't have to share aspects of your life you don't want to.
Having a personality-led brand is an invitation to connect B2B and B2C, not a competition or an endless, exhausting PR campaign.
(Currently, my dusty mirror selfies always inspire customers and suppliers to say hello, far more so than glossy professional imagery. It's pretty representative of the move away from formality, accelaterated by the pandemic perhaps – one woman running her empire from her phone. )
Let's pull in some thoughts from experienced branding pros. Joanna Southwell supports bridal businesses to find their place in the market, especially from a retail point of view. I asked Joanna how we can all find our own unique space on- and offline.
Many wedding industry professionals start their businesses after their own wedding. They create a business to fill a gap in the market or to provide a service that was lacking in their own planning journey. This is why I think it is so important to show your thoughts, vision and taste to potential customers. What is important to you will be the key in attracting and engaging other likeminded people. If it was so important to you that you created a business out of it, it will resonate with other people too. What you do and why you do it is what connects people. You don't have to do something dramatically different but if you lead with a real reason and share that with your audience it will build your connection and sales.
Freya Deabill creates branding concepts and design elements for wedding professionals (as well as wedding stationery for couples who aren't afraid to swerve conventions). I asked Freya how we can work through feeling stuck in a particular style. Or what if couples are asking for a look that feels inauthentic or copied from Pinterest? Or worse, we feel compelled to mould to it. 
Think about the good old days when you used to browse the high street, perusing the shop windows, imagining your Saturday evening outfit, Christmas table, living room decor… and the aspirations you had in those moments. How boring would it have been if all those shop windows were the same, using similar colours, in the same fonts, using the same style of design and the same messaging? All competing for the same customers, all 67.2 million of us! How insane does that sound? How would you choose which shop to go in and which one would offer you the kind of incredible customer experience that you deserve?
I often say to my kids… 'how boring would the world be if we all looked the same, how would we recognise each other?' and this is also true in business, a wedding and indeed any element of 'life' where you get the chance to really show your own personality, and it's one of the most important values in my two businesses. If every florist chose to work with the same flowers and arrange them in the same way there wouldn't be any excitement or value in using one over another. The very spark of consumer experience would disappear in a poof of pollen. You can't assume that all 67 million of us are looking for the same, run of the mill 'trend' which happens to be on Pinterest, we may be inspired by that image we saw but we can do so much better. There.. are.. enough.. consumers.. to.. go.. round, and we are all different in our own way, so let's celebrate that.
3. Show Us Some Context
As Pinterest Perfection loses its lustre, I sense a growing appreciation of floral businesses that fluently integrate real weddings, styled shoots, meaningful community and real life. Katie fully embodies this by treating us to a photo of her own home every nine squares or so. Far from losing a customer base by showing her real environment and floral-filled life minus the professional photography, she inspires her customers. A virtual peep through the window excites us with this moment of intimacy and invitation to connection, and consequently brings us in and along on the journey with her. It is the context that makes everything make sense, showcases genuine passion and nurtures customer loyalty and investment.
I'm going to emerge from the Closet of Guilty Pleasure Hard-Crushing Obsession for Katie's kitchen sink photography (Zuzana at Fig & Flower's workspace is another perfect example). These are images that really fill the boots of what I'm seeking when I tap on the Instagram icon on my homescreen. I wrote to Katie:
Charlotte: "Hi Katie, Am I right in thinking that photos of your DIVINE kitchen sink

are some of the most saved grid posts you've ever shared on Instagram?"

Katie: "Hi, yes they are!"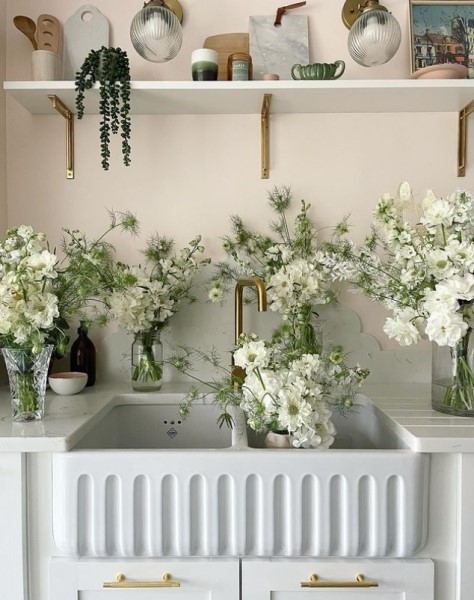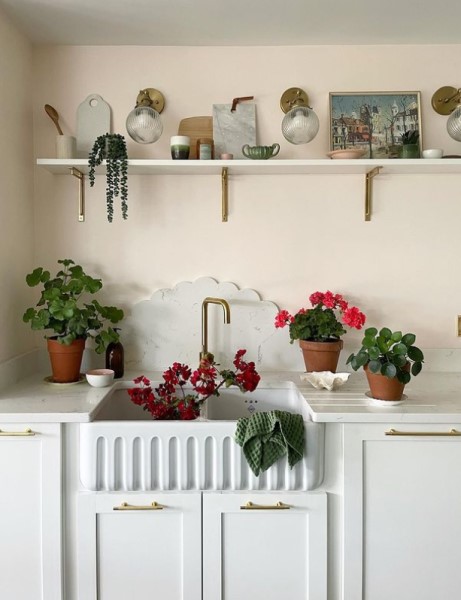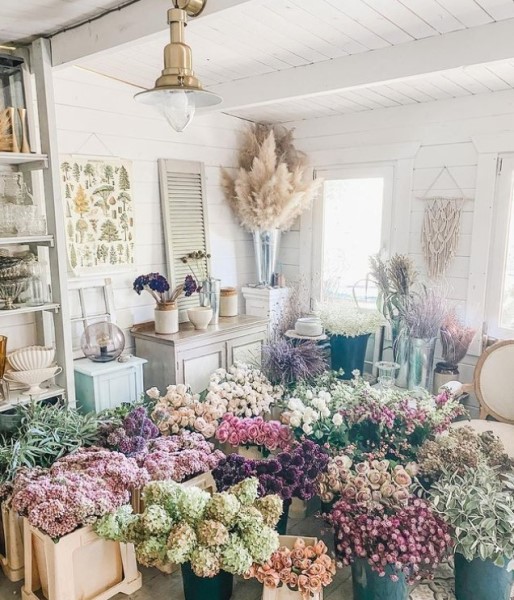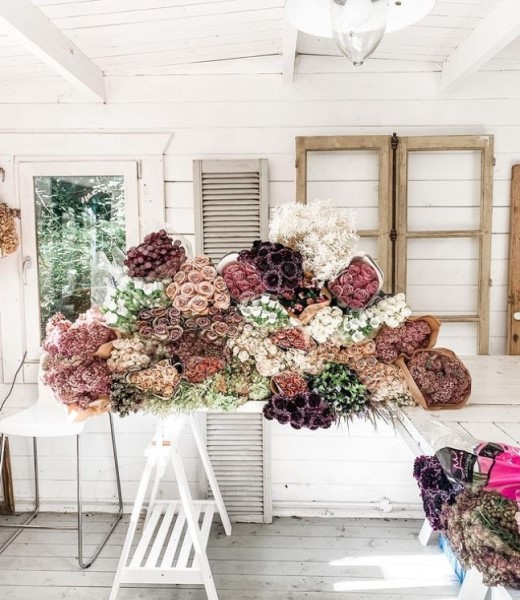 (Pictured top row: Katie The Vintage House That Could's kitchen sink   |   Pictured bottom row: Zuzana Fig & Flower's workroom)
Behind-the-scenes snaps presented as quality content please me because they is just so effective at communicating not only the aspirational entertainment we crave, but also at effortlessly educating customers. In showing the stages of preparation in our floral work – not only relegated to spontaneous Stories but proudly on our website sales' pages and our glossier grids – we help explain both our pricepoints and our core values.
Beyond just a bouquet

Beyond just an illustration

Beyond just an invitation, dress or cake
Whether as a consumer or as a fellow wedding supplier, when we witness the growing, sourcing, transportation, preparation, styling, dismantling, recycling or repurposing of flowers (or any other element of a wedding for that matter) we decrease a potential customer's urge to hustle for discounts and become less likely to be ghosted when we provide quotes.
show us beyond just a bouquet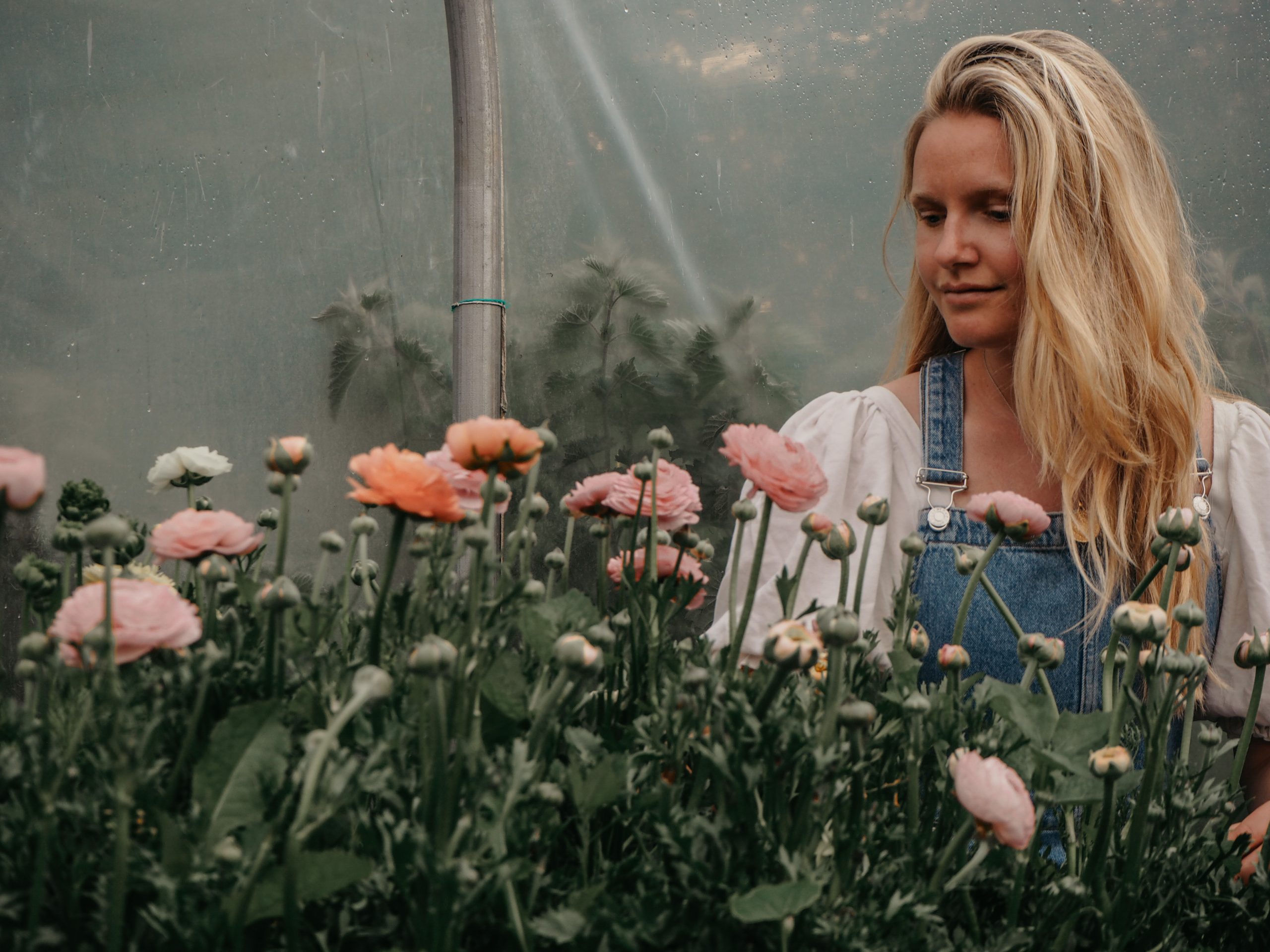 I asked Issy what her customers are asking for.
Issy: "Full and fantastic in the scale of things and intricate with details. After a year (plus) of constant restrictions and being told 'no', I have found that many of my clients for 2022 are breaking the boundaries and going big. Whether that is with wild, whimsical archways, or dramatic colours and textures, I feel as if everyone is ready to burst at the seams with creativity, and so am I. In terms of style, I am looking towards textures and shape to inspire my work. Long stems of beautiful, reflexed roses, with seasonal fruits and berries nestled lower within arrangements creating depth and detail. On the surface these works are full of shape and structure, and when you look more closely, they are filled with magic and seasonal meaning. More and more clients are asking for a specific variety of flower, and for the cutting garden this is a really exciting time to be able to start to tailor our orders to what we are sowing and growing for upcoming weddings and events."
"I have found that many of my clients for 2022 are breaking the boundaries and going big."
– Issy Watts, florist & grower, Wizz & Wild
For me, it is an inevitable outcome of Issy's year that people are jostling to work with her in the hope of absorbing that magic and seasonal meaning. She shows us and speaks to us about every element of thought and manual labour that goes into making a single bouquet from seed to the reveal moment walking down the aisle. When a brand or florist shares that level of context and it lands, potential customers will be delighted to book and wholly trust in the experience about to unfold.
4. Waste in Unpoetic
We've been reporting on sustainability for years, firstly as a theme, then as an overarching narrative. Now, customers are expecting planet-kind knowledge and guidance from all their wedding suppliers, be it production aspects, florals, catering, clothing or gifting. Katie usefully reminds us of The Vintage House That Could ethos:
Katie: "Happily, I am pleased that more and more couples are questioning the sustainability of their weddings though as the whole core of my business is vintage and recycled pieces. All aspects of the day are reused from ceremony flowers reappearing in the reception spaces through to using recycled paper and repurposing props. Leftover flowers even become confetti for more weddings. Making weddings more sustainable doesn't impact on the overall look but it does mean that couples spend less on throwaway tat and more on things that will have a greater meaning."
I recently polled florists in my Instagram community about whether or not they agreed customers are becoming increasingly savvy about seasonality and species selection from a sustainability point of view. Agree or disagree. The poll was an even split, but the resulting DMs unanimously agreed that customers are asking more insightful questions. Caring more. Wanting answers before committing to quotes and moodboards, even though they may not be fully armed with the floral intel themselves.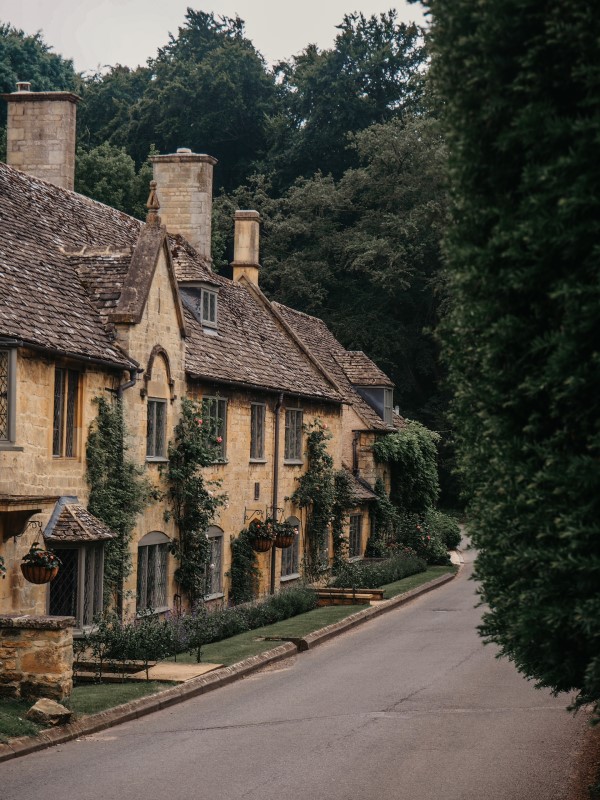 Issy adds a layer of thought that has evolved from 2020/2021 global events.
Issy: "I'm always gathering my inspiration from antiques, fashion, art, film, architecture, and walks around the Cotswold countryside. I photograph everything, and always use my photography as reference points when sketching and designing ideas for my clients. I forage different foliage whilst out walking and find vessels and vases in the deepest darkest antique shops, I wander the gardens of heritage houses and spot a particular rose, hundreds of years old and look at the way it's petals fold. Over the pandemic, we had so much time on our hands, to slow down and appreciate the world around us. I noticed things now that I never would have previously when so busy day to day."
Issy: "People are no longer interested in fast floristry. We have had all this time to think, read, breathe… And this has given my audience, and clients in particular, time to re-think the way in which they demand florals. For us, the slowing down element has always been at the heart of Wizz & Wild, using regenerative and traditional farming methods in our cutting garden. We use almost a third of our land to fill with cover crop, attracting bees and butterflies to pollinate the working beds. We also introduce a crop rotation twice a year, as well as producing our own compost to increase organic matter into our soil (which is often where the flowers from our weddings go once the day is over). My client is so much more conscious than before, and I think that is down to the sustainability narrative we read more and more about every day. 'Slow and seasonal' is not just an aspiration, it is something we are actively providing." 
"Thrift is poetic because it is creative; waste is unpoetic because it is waste."
– GK Chesterton, What's Wrong with the World (p. 1910)
I am reminded of the quote by What's Wrong with the World author GK Chesterton.
Note to self – Poetry is always luxurious. Waste is unwanted. Wasted time. Wasted energy. Wasted resources. Wasted planet.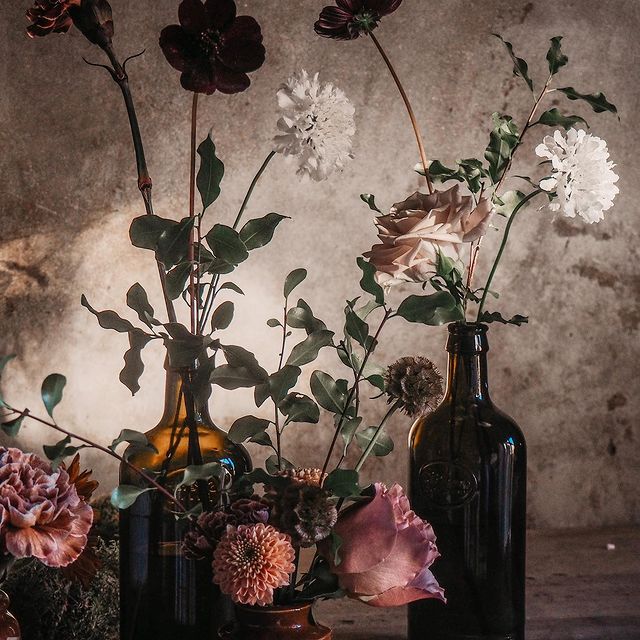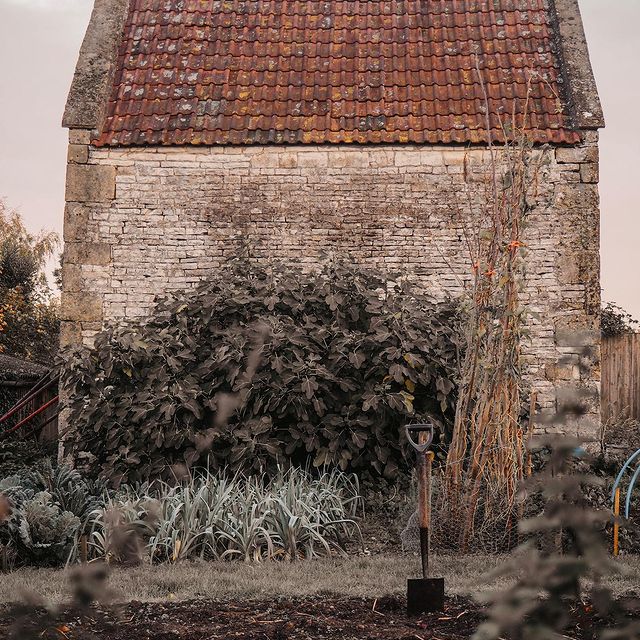 Pictured above: Life on and around the farm for Issy Watts, Wizz & Wild
5. Rooted in Nature, Rooted at Home
So we circle back. Come back to nature, come back home. Revisit the idea that we are all just being humans in our floral businesses, trying our best, inspiring our customers, seeking connections, growing financial wealth, or simply growing.
Katie: "Even more so than before people are conscious of how their homes look and feel, so the relaxed and the natural vibe has had a resurgence. Natural materials and colours are everywhere, terracottas, nudes, all shades of green are so popular and this has clearly had an impact on wedding décor choices too. In the same vein, there is still a love of dried flowers but with fresh mixed in to make it feel more seasonal. My couples are only using florals and colours of the season and make choices based on these factors rather than what is on trend. I always encourage my couples to think about their interior choices too, for example I ask "would you have this in your house?" If the answer is no, then why would you have it at your wedding?"
Katie: "My biggest reference point is and will always will be nature, which for me includes all aspects not just floral points of interest but this could be something as simple as the colour of a shell or the shape of a leaf."
"My biggest reference point is and will always be nature."
– Katie Sutton, creative stylist and floral designer, The Vintage House That Could
Issy: "Here on the farm, we live wholeheartedly with the seasons, from the cutting garden, to cooking from the kitchen garden, painting, drawing, dressing, farming, combining all of these things feed my imagination and help me create beautiful floral sets for my clients, in a gentle and thoughtful way. I love the idea of being able to re-connect people with nature, bringing the outside, in, and helping them to understand the processes by which we work. Rather than create a uniform bouquet of flowers, I like to think we are re-discovering the imperfectly perfect lessons of nature and nurturing that. We use ingredients that are original, exciting and memorable, often foraged from hedgerows or picked straight from our cutting garden which may still have a ladybird or two on their leaves."
Imperfectly perfect
Perfectly imperfect
Conclusion
Upon publication day of this document, it has become mandatory to wear masks in shops and on public transport once more in England. A cold shiver runs through me. I close off the report with such a hopeful heart that caution over the next few weeks or months leads to the boyant, celebratory wedding season 2022 has promised to be. Breaking the boundaries and going big, as Issy calls it. Katie, Issy and I would love to hear your thoughts and plans if you've enjoyed reading our collated ideas about the year ahead. All the links are below. My Wedding Bouquet Illustration Service thrives from referalls and recommendations by our shared floral community and I'm buzzing to receive next year's commissions. I'll be sharing illustrations, more behind-the-scenes of my business and ideas about creative living over here on the blog and of course oversharing daily ramblings on Instagram. It's made all the more fun just by having you along for the ride – with continued thanks. 
With Thanks
It takes a village to compile this report and I'm grateful to every contributor, including creative teams who allow us to share images. Huge thanks to contributing editors Katie Sutton and Issy Watts, for sharing their businesses and ideas with big open hearts. Find out more About Me here, or all the squad's links below.
Katie Sutton / The Vintage House That Could   |   Website   |   Instagram
Issy Watts / Wizz & Wild   |   Website   |   Instagram
Andrea McDowell / Dahlia Beach  |   Website   |   Instagram
Joanna Southwell / brand positioning and retail mentor   |   Website   |   Instagram
Freya Deabill / stationer Deabill & Quince / brand designer The Brand New Studio   |  Website   |   Instagram
Zuzana Hewer / Fig & Flower   |   Website   |   Instagram
Carla Blain Photography   |   Website   |   Instagram
Thanks to Jen Feroze / copywriter Jackdaw Editorial for sense-checking and ensuring I delete entire paragraphs of oversharing (even though that bit was quite funny…)
Thanks to Sophie / designer A Lover's Thread, Liz / florist Blue Sky Flowers and Sally / florist Halo Blossom for your well-timed enthusism ensuring this beast gets written and shared.