3 Ways to Choose Unique Wedding Gifts
If you wish to stray from the registry list
Introduction
I like to give unique wedding gifts. That's probably no surprise. But I'm not ashamed to admit I do get a thrill logging on to a John Lewis registry list in the run up to a friend's wedding. I file in it the same category as snooping through their "Dream House" or "Dream Wardrobe" board on Pinterest. It's like a red velvet curtain drops to reveal their fantasies, a vision of their imagined future. Which, to a nosy one like me, is unmined treasure.
Saying that, I've definitely experienced a sinking feeling when presented with a registry list that is, quite frankly, dull. Probably it's the fallout from couples living together pre-marriage, because, no, I don't want to buy you a new kitchen bin.  
I appreciate the monetary value is the same, but I want to be the one to get in first and buy the champagne flutes. There's a cosiness to knowing that my gift is the one that will be remembered and celebrated in the good times. Not where the couple scrap the remnants of their dinner. But is it rude or selfish to go off list? Should you just throw money into the pot and be done with it, if it's want the couple actually want?
I checked in with three wedding planner friends and together, we came up with the essential ingredients to consider when buying a meaningful or unique wedding gifts outside the lines:
1.  A gift for them, not you

2.  Personalisation

3.  Longevity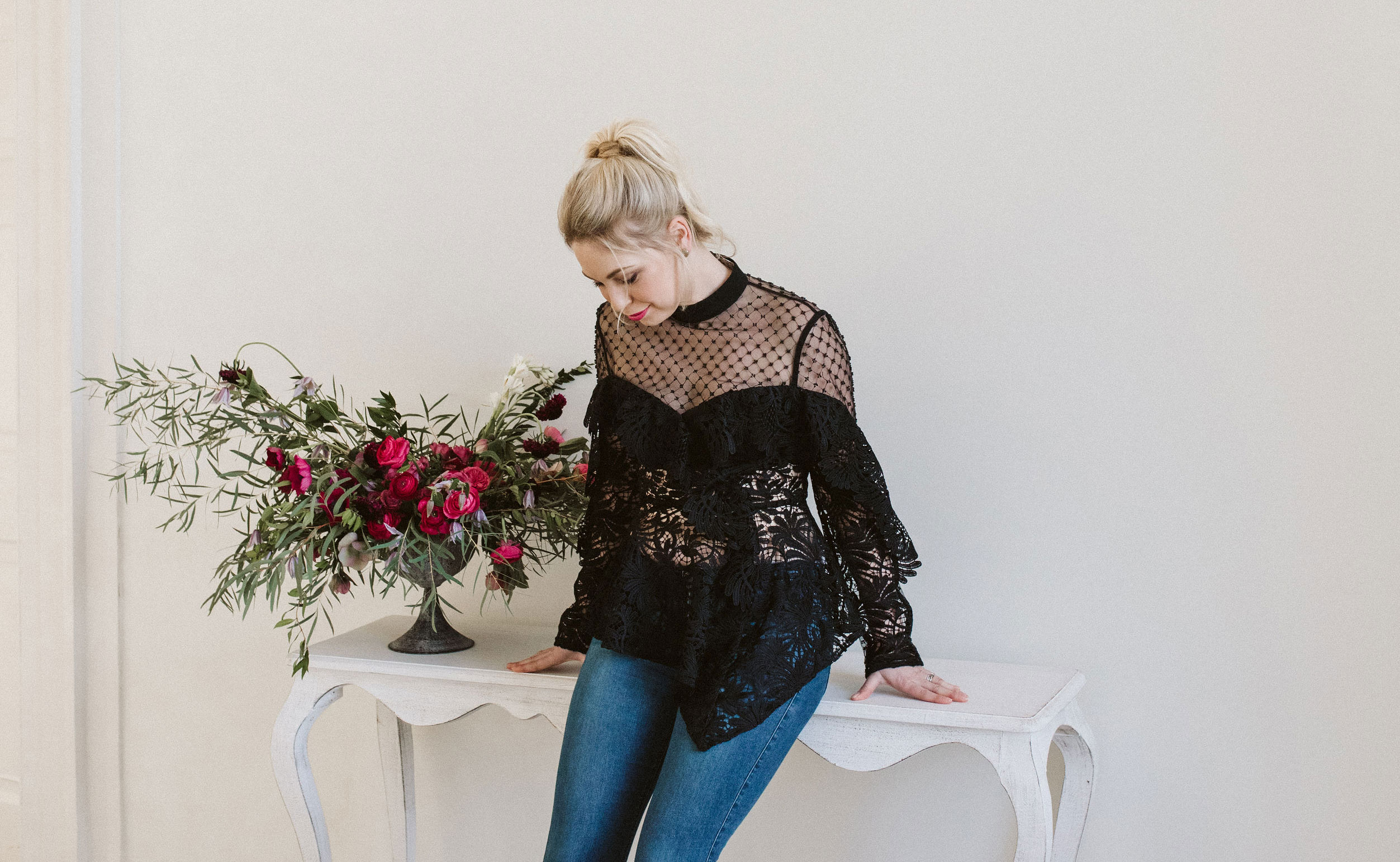 1. It's a gift for them, not for you
By Susie Evans, Surrey and South East Wedding Planner
Susie Evans: "A trap that I have often seen myself fall into is spending more does not always guarantee a well-received gift. Sometimes, the thought isn't always there but we often assume that it will be well received as it cost a lot of money."
Susie Evans: "I always suggest to think about the overall value the person is going to derive from a wedding gift over a longer time period. Think about the recipients' personalities and creating memories and something that they would actually want. It's ok to ask them too! Often thought of as a taboo but they will be happier to receive something they genuinely would like."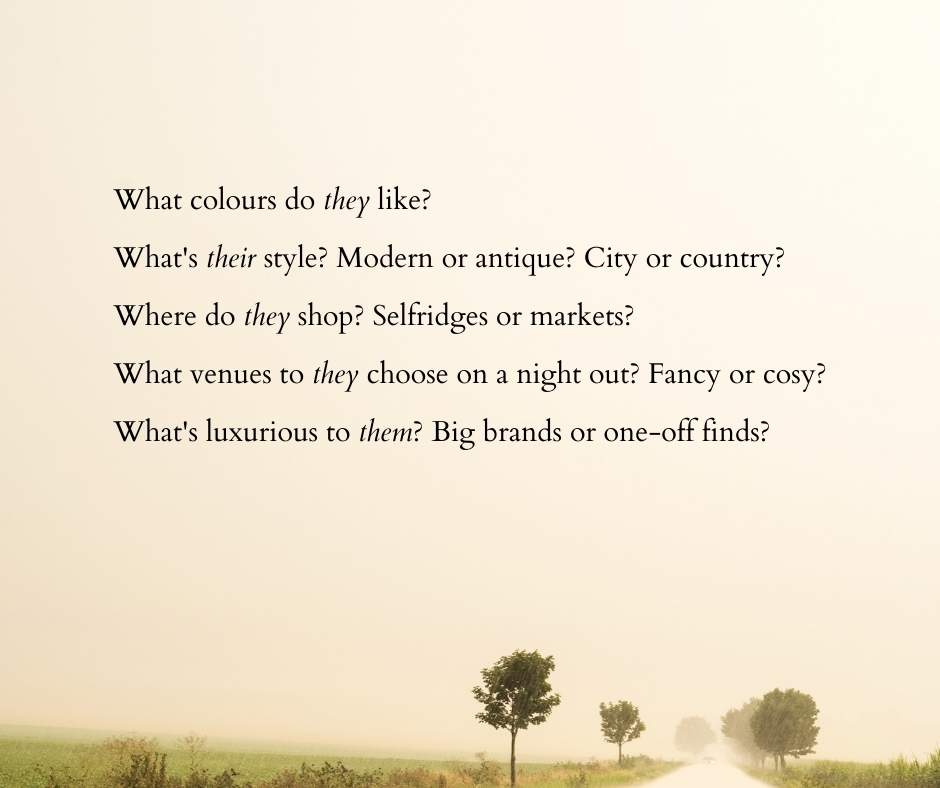 I totally agree with Susie, and will often choose to pitch a couple of options to a friend and gauge their reaction before committing. That way, there's still an element of surprise, but I'm safe in the knowledge I'm on the right lines. This applies outside wedding gifts too, as we all aim to be less consumerist and more mindful with our purchases. To celebrate a milestone birthday, I recently offered a family member babysitting and dinner out. It's not ground-shatteringly exciting, but I know the value to newish parents is far greater than the cost of a meal.
2. Personalisation
By Lucy White, co-founder Wiskow & White, Italian Wedding Planners
Lucy White: "When gifting a newlywed couple, the most meaningful gifts are those that really reflect something personal to the couple. Think emotions and memories – what gift would spark that memory that takes them back to a special moment (at their wedding) or creates a new one for them in the future? Anything that awakens the senses, such as fragrance, is a great place to start."
Here are just few ideas of things that can be personalised, either by you or outsourced to a professional. The budget span is vast here, so hopefully there's an idea that sparks your imagination regardless of available funds.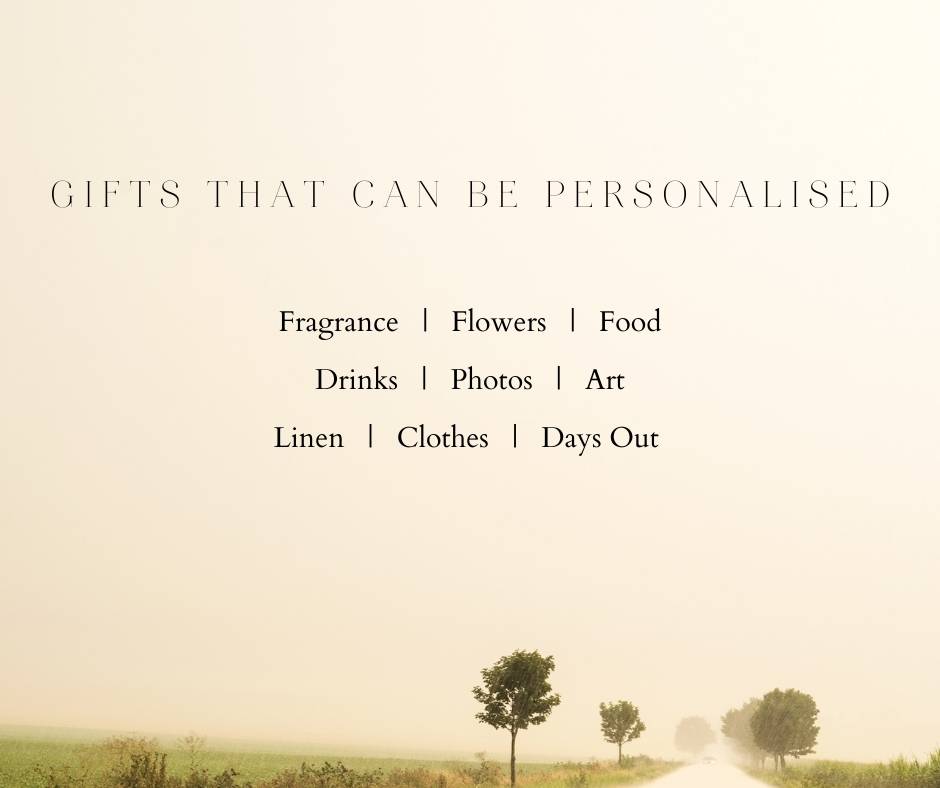 3. Longevity
By Valentina Ring, founder The Stars Inside,  UK and Destination Wedding Planner
Valentina Ring: "Many of the most meaningful wedding presents are those that can be passed on from one generation to the next, so longevity is a key element of this. I would say that's the case more than ever now, after a year of postponed and cancelled weddings making guests want to take extra special care in their gifting.
Valentina Ring: "Keepsake gifts like this could be seasonal in nature – a joyful reminder that returns year on year – or they could be heirloom pieces that become a part of the family. Quite a few of my couples have received beautiful heirloom jewellery or perfumes from their close friends or family, and even chosen to make this a part of their wedding day, imbuing the items with memories of their own."
Valentina Ring: "If you know the nearlyweds very well, and want to step outside of the gift-list box to give them something really special that you know they will treasure for years to come, that is always welcome! If you love the idea of gifting the couple something meaningful and long-lasting, but aren't sure what, I always recommend speaking to their family or close friends for advice, so you can get to know what they will both love. Consider your histories together, the interests of the couple, what stage of life they are in, and what exciting milestones may be coming for them in the near future."
Valentina Ring: "If pearls and homeware isn't your style, then make the gift your own: is there something you could create for them? One of my brides received a gorgeous hand-decorated photo album including original photographs of both the bride and groom growing up in different parts of the world, with family members that had passed away, and I know just how much this meant to them – and always will. And if you know the couple are more into moments than they are into things, then why not think about gifting them long-lasting experiences: maybe contributing to hiring that videographer they aren't sure they can afford, send them a book of all your favourite recipes, or help them with their next big DIY project for their new home. The key to unique wedding gifts that couples are likely to appreciate and remember for years to come is to choose with care, in a heartfelt way, from you, to them."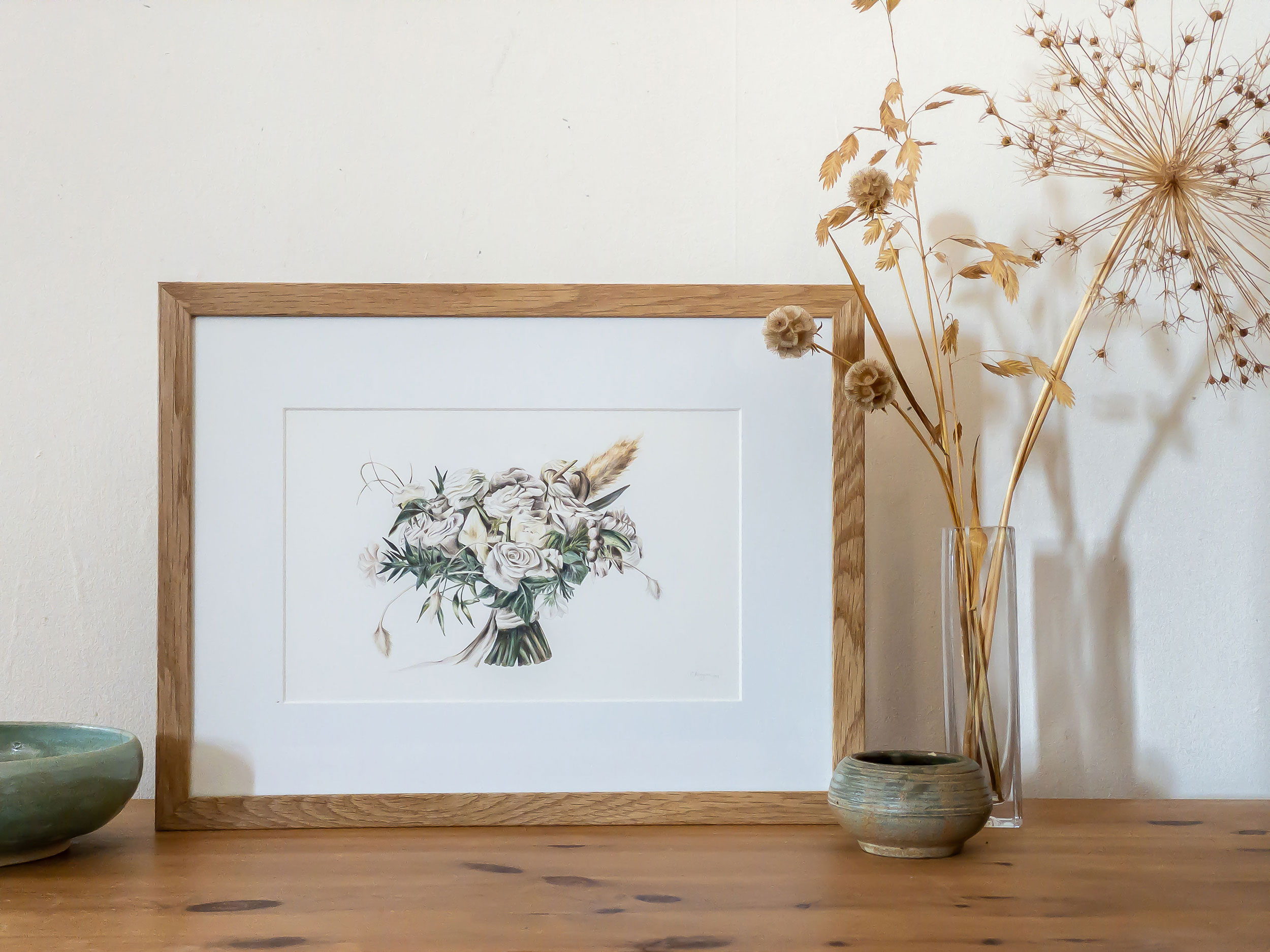 Conclusion
When I polled by Instagram community, there was an interesting mix of people who stick to the list versus those who are happy to venture into the unknown and choose unique wedding gifts of their own. DMs and comments suggested that if the newlyweds are colleagues or extended family, you are content to buy from the registry. Afterall, it's simple, quick and a safe decision that you know will be appreciated. 
But if the wedding couple are very close friends and family, you'd rather go off list and aren't so keen to contribute money to a fund: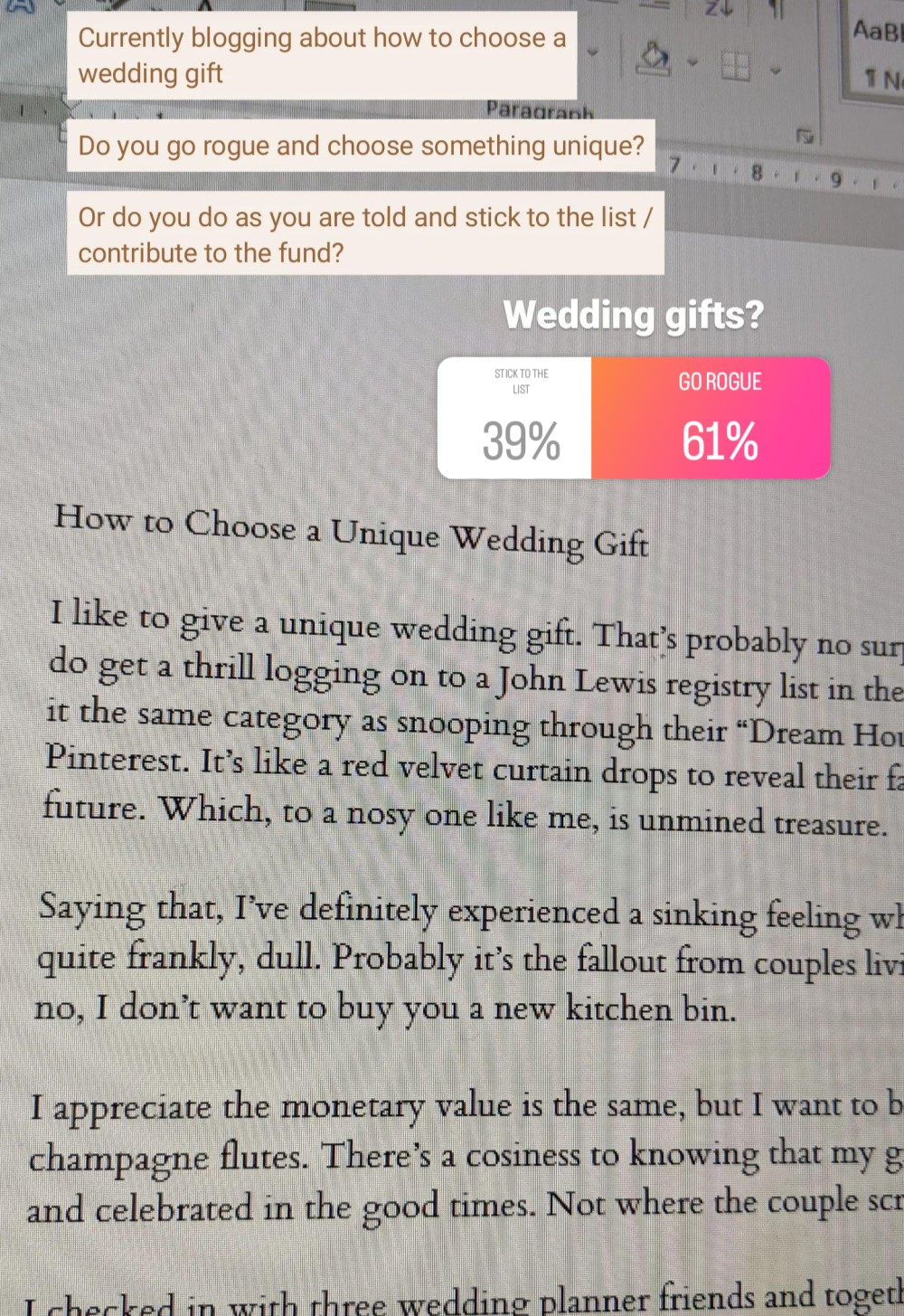 I've done all three – registry list, cash donation, gone off piste – depending on the relationship. Cash always leaves me cold, but with a gentle shoulder shrug I accept it's the couple's choice. If I am sticking to the list, I set a calandar reminder for the morning the list opens, so I can swoop in a get to the goodies. A little excessive perhaps, but the best gifts always feel great for the gift-giver, as well as the recipient.
For those diving into the unknown, I hope these tips from Susie, Lucy, Valentina and I are helpful. I'm always on the Insta DMs to have a good old chat about wedding gifting, and you can find my national-award winning Wedding Bouquet Illustration Service details over here.