I didn't start my supper club Creative in Residence by logically thinking "How to Start a Supper Club" and working methodically through the list. Rather, I focused on my goals, which thankfully were a shared a vision with my co-host – wellness coach Vicky Shilling of The Flourishing Pantry. At the time, summer 2018, I was hoping to expand my professional network but felt pretty despondent towards networking events. I either got super nervous and anxious beforehand, or I found them a bit cringy and dull. Or both.
So an obvious solution seemed to be to start my own, which hopefully wouldn't have me stressing at 3am about walking into room full of strangers the next day. No name badges. No on-the-spot presentations. Vicky's delicious food. Lots of wine. Fabulous company. Fast-forward six months and Creative in Residence is a hot ticket with a waiting list, overwhelming testimonials and plans for our next event in Dublin.
HOW TO START A SUPPER CLUB
Here's five things to think about if you are inspired to launch your own supper club or intimate networking event.
1. A room with space to seat six to 12 people
We host at my home in Greenwich, south east London. It's cosy, and we literally have to dismantle my drawing table from the top floor studio, carry it downstairs and re-assemble in the living room. That forms a banqueting style arrangement with my dining table. A couple of extra chairs come out of the shed. Every plate and glass gets used, and they certainly don't all match. But all the surface-level imperfections don't matter. We are not pretending we are Claridge's.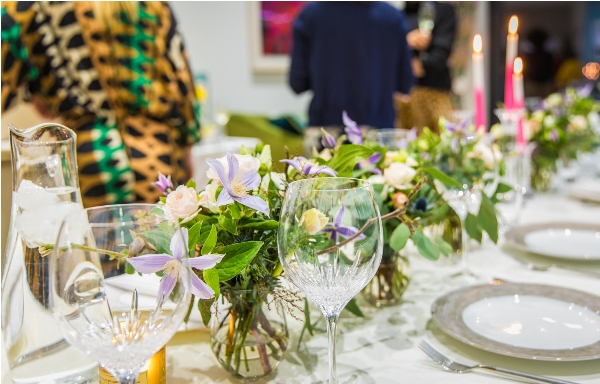 Six people would be my suggested minimum number if you want to create the ambiance of a special occasion, not a family dinner. Twelve is my maximum. Any more becomes a far more logistical challenge to serve enough food, hot, whilst still feeling like you get a chance to chat to everyone. 
2. An inspiring guest list
This is my speciality and area of expertise, having compiled guest lists for the fashion industry for many years. The best parties always have an eclectic mix of backgrounds, industries, ages and experience levels – though will by-and-large share the same core values as you. It makes for the liveliest conversations. For the Creative in Residence supper club, our guest list is focused on female creative entrepreneurs and the business mentors that support us. I'd dare you to invite a few friends, a few colleagues and few virtual strangers, perhaps those you've only met once or purely have an online relationship with. It all adds to the excitement and there's an invisible security blanket when you know you are not the only newbie in the room. Everyone naturally makes more effort to be inclusive and friendly.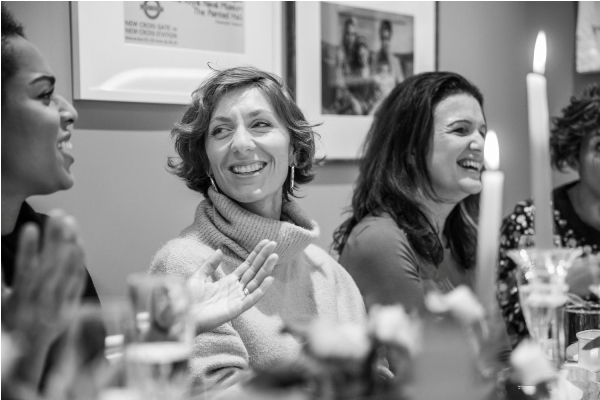 3. A delicious but simple menu
Here's where my partnership with Vicky truly flourishes. She's a foodie through and through. She loves to cook and loves even more to connect with people through her cooking. You only have to follow along on with her Instagram Stories to see her passion for wellness, self-love and level-headed nutrition, all seeping out across cyberspace. So while I'm free to focus on vibes, decor, guestlist and answering the door, Vicky can dedicate her time to lining up a delicious menu she knows she can deliver with minimum stress. Remember no-one appreciates a stressed-out bride, so prioritize fun over fancy. 
4. Fresh, organic ingredients delivered to your door
To articulate this point, I need to fill you in on my day that led up to our last Creative in Residence supper club. It all began at 5am, awoken by a vomiting child. The five hours of childcare I had scheduled was therefore cancelled, all of which time I was planning to dedicate to preparing for the event. On the way to collect our gorgeous flowers from the florist, a tyre puncture alarm suddenly went off when we were half way through the Blackwall Tunnel, under the River Thames. The next second, a tiny voice from the back seat whimpered, "Mummy, my tummy doesn't feel very nice." We were (as my bestest school friends would say) having a shocker.
But the silver lining came courtesy of Abel & Cole, the organic food box people. For 30 years, Abel & Cole have been delivering organic veggies (plus drinks, dairy and pantry goodies) across Britain. It's worth noting that they offer a Build Your Own Box service, for those who fear they will be lumped with five turnips and an artichoke. 
We teamed up with Abel & Cole for this supper club because we felt their values – delicious, ethical, seasonal, sustainable – were total aligned with what we aim to serve up for our creative entrepreneurs. And thank goodness we did, because amid all the panic and exhaustion of dealing with sick children (and my eldest had been sick and off school earlier in the week too), plus deadlines and puncture dramas, my ingredients arrived precisely when expected, all present, totally fresh and delicious. 
5. A goody bag
Ever since I was teeny tiny, I can remember the thrill of receiving a party bag to take home. Often just a slice of cake and maybe a couple of colouring pencils, these little bags of joy still elicit a wave of feverish anticipation and gratitude from deep within me.
We wanted to provide goody bags at Creative in Residence as a subtle way for our entrepreneurs to smuggle marketing materials to each guest. Nothing needed to be brandished across the dinner table. No phones required to share contact details. Everything is neatly prepared and packaged, ready to be digested the next day. Though we did have kind sponsorship from brands, we were also delighted to include our guests' contributions – books and baking were fondly received in equal measure. 
If you are planning a supper club purely as a social event and not for business, you could still consider subtly advising your guests a week or so ahead that there will be a goody bag. Those who are able will contribute. 
The Future of Creative in Residence Supper Club
Our supper club is in it's infancy, but Vicky and I are immensely proud of we have created. At 1am during our recent event, many of our guests remained, still seated at the table. Tales of racism, gender stereotyping, and feelings of inadequacy were balanced with school-day nostalgia, side-aching hoots of laughter and many weird, wondrous accounts of career plot twists.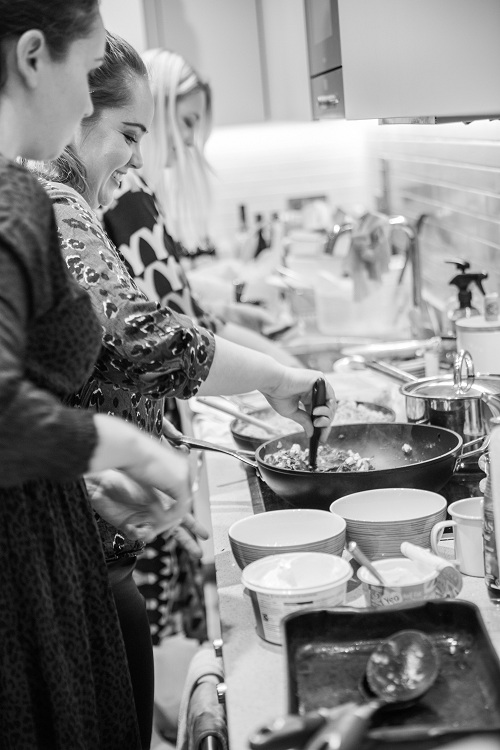 Inspired by Abel & Cole, we built our own box – as it were. A hang out for creative entrepreneurs to flourish and thrive, stuffed with all the ingredients we yearned for. Fuelled by nutritious food and company, in a homely surrounding and far from the anxiety-making threat of traditional networking events.
That's how to start a supper club.  
Sign up to the Creative in Residence supper club mailing list here
CREDIT WHERE CREDIT'S DUE…
Abel & Cole generously provided the veggies we needed for the Creative in Residence supper club. We did not receive payment for this and all the words and opinions in this blog post are my own.
Read all about Vicky's delicious vegetarian menu including her epic cauliflower curry here on The Flourishing Pantry.
All photos by Creative in Residence guest Donna at Skirting Boards & Chandeliers.
All Flowers by Creative in Residence guest Sally at Sweet Pea Rosa