Disclaimer: At the time of this post's publication, weddings are not permitted in England. The only exception is so-called "deathbed weddings" – a heartbreaking and tragic phrase I'd never heard until verifying the current standing on the official government website. If one partner is dying, weddings of up to six people are allowed. For the sake of talking about flowers in the context of weddings here, we are going to optimistically write as though small weddings will go ahead in 2021.
2021 Floral Trends
Introduction
Why a Trends Report when Weddings are Currently Banned? 
In the mid-noughties, I used to edit fashion trend reports for retail guru Mary Portas. I'd tear the pages from the newspaper runway reviews after each day of shows and I'd scrutinize over each collection on Catwalk.com within hours of publication. We'd share our analysis in a Powerpoint (!) presentation with clients promptly at the end of the New York-London-Milan-Paris cycle.
I'd taken the job at Mary's PR company over the offer of an unpaid internship on the Fashion Desk at The Times newspaper. My fiancé (now husband) and I had already moved to central London, paying bloodsucking rent on a flat in downtown Camden, and quite frankly, I like eating so needed cash. It's my Sliding Doors moment, and occasionally I wonder wistfully (never dwell doubtingly) if I'd have made it as a fashion writer. Identifying and extracting the trends, pinpointing representative looks and choosing the words to succinctly articulate the vibe was one of my favourite seasonal tasks in that job.
Fast-forward 15 years, and now I am doing the same with flowers. Through the little squares on my phone, I see with curiousity the colours and species presented by our floral community and am naturally moth-to-flamed by certain styles. So this blog post does not profess to be a definitive analysis of the impact of Covid or Brexit on the industry. Rather, my guest editors and I use that a basepoint to showcase what we see happening, intended as a useful guide to 2021 floral trends for our mutual potential clients. We edit this with a hopeful heart that weddings will proceed.   
For the 2021 Floral Trends Report, I'm welcoming florist and grower Laura Elisabeth Montgomery of Xyris Botanicals and Gemma Hales, florist and online retailer, Iris & Co.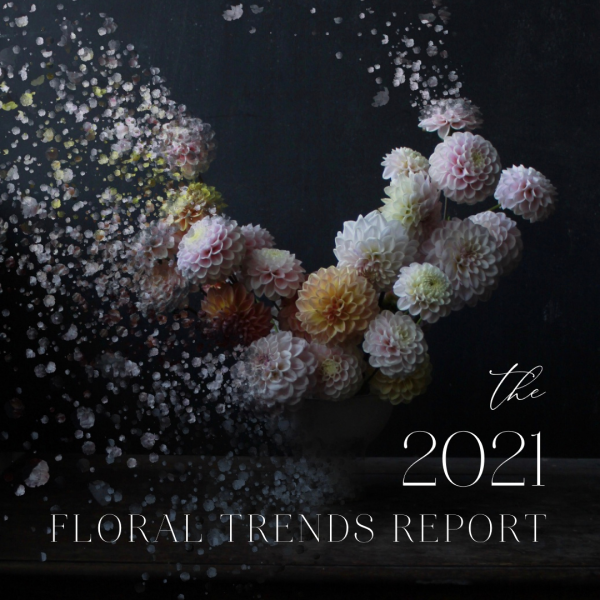 1. The Potential of Intimate Weddings
2. The Year of the Truly Individual Wedding
3. On the Subject of Sustainability
4. Single Species Bouquets
5. Fresh + Dried Bouquets
1
.  2021 Floral Trends in Intimate Weddings
"Many couples will be seizing the opportunity to tie the knot in inner cities within Registry Offices," begins Laura of Xyris Botanicals. "Sleek and contemporary styled flowers will be requested by many brides looking for modern florals to reflect their chic minimalist ceremonies."
Gemma of Iris & Co agrees that couples are amending their florals to reflect the mood of the moment, but that by no means cutting corners on style. "I'm incredibly grateful that the downsizing of weddings we've experienced in 2020 hasn't dramatically led to a downsizing in flowers for the majority of my couples.  There's still an appreciation for how much flowers add to the decoration of a venue and the 'feel' of a wedding." Pictured below: Florals by Iris & Co, photo by Taylor Hughes Photography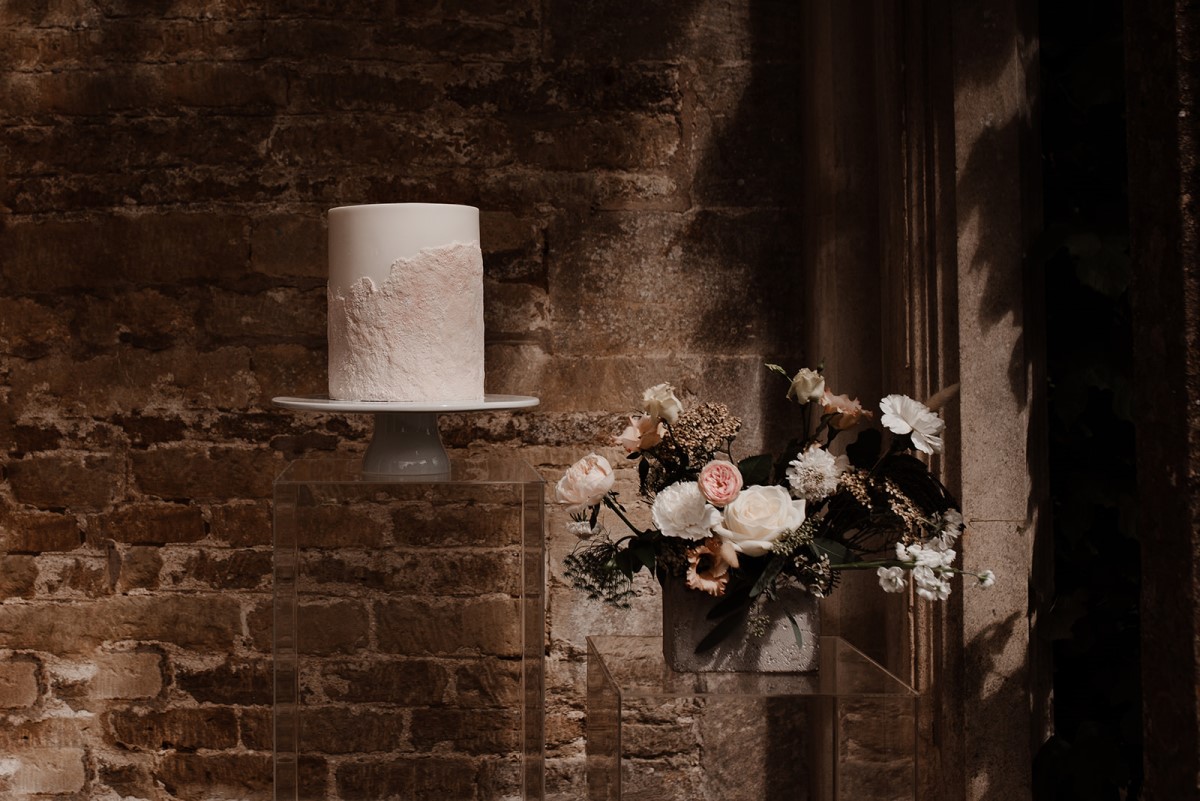 Gemma continues, "In fact, I've seen people spending their budgets differently, making the flowers a little more 'experiential' rather than just something nice to look at.  For one of my first post-Lockdown 1.0 weddings, I made 25 buttonholes and corsages, one for each guest, something that most people wouldn't be able to do with a reception of 150!  I've also had a couple who spent almost all of their budget on a gorgeous arch for their Zoom wedding as a backdrop to their vows and for those watching at home." 
I absolutely concur, as one of my own Lockdown 1.0 illustration clients invested in a lush bouquet and lavish archway for a wedding with just two guests. The passion for florals is still there, we are just seeing a reallocation of budget from tablecentres and buttonholes to single installations, fierce bouquets and then preserving bouquets by one means or another.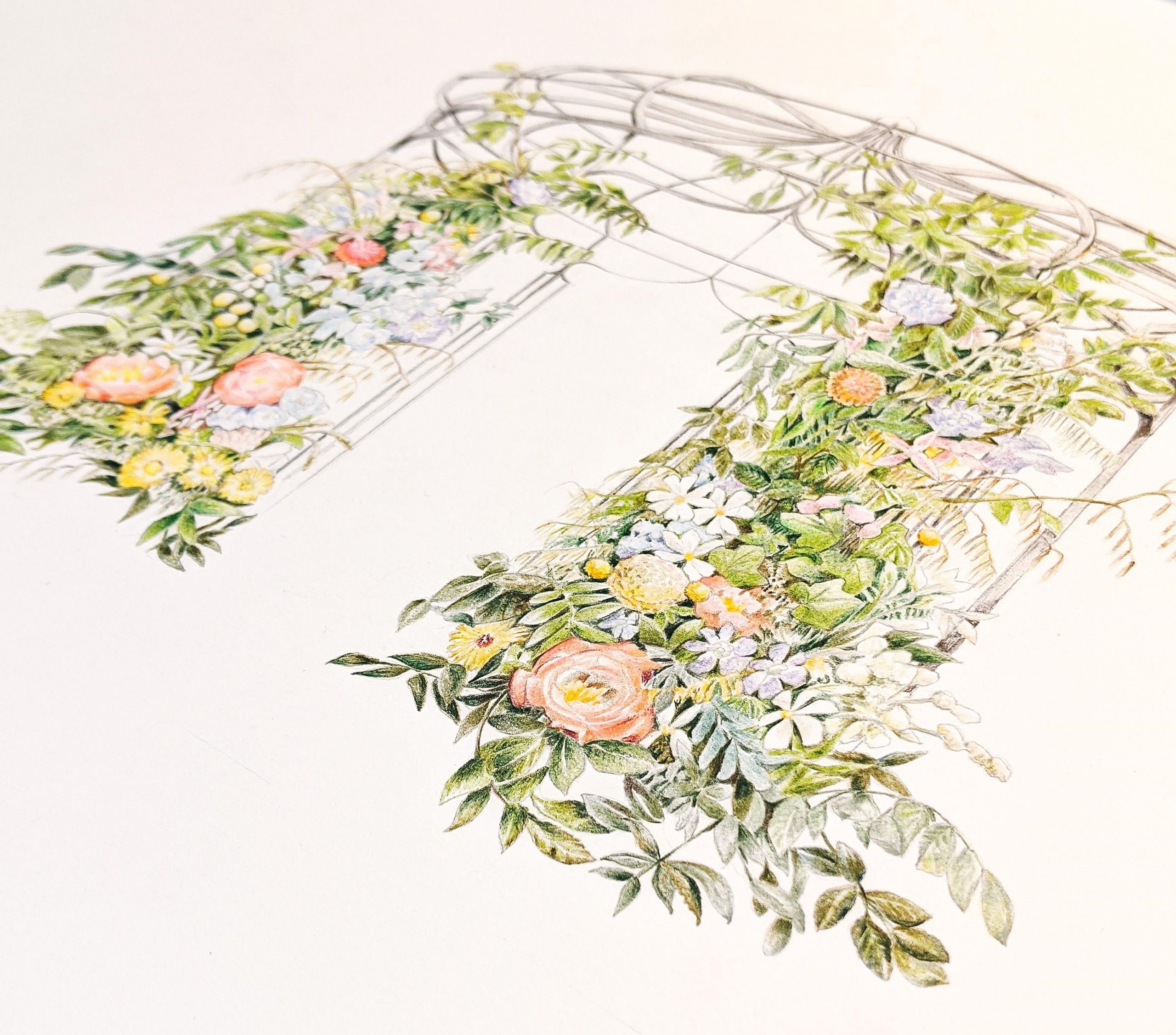 2.  The Year of the Truly Individual Wedding
With reduced attendance, bridal couples perhaps feel less pressure to appeal to the tastes of their guests. "I've seen a huge increase in the individuality and ideas coming through for weddings in 2021 and I can't wait for that to develop," says Gemma. "As a florist, this can be a challenge – with no similar images to include in proposals, I'm finding myself having to sketch more designs to show couples what it will look like.  For me, that's the exciting part of my job – creating something bespoke for a couple or a venue that's never been done before and I'm so excited that more couples are embracing who they are and representing it beautifully in their wedding." Pictured below: Florals by Iris & Co, photo by Chloe Mary Photo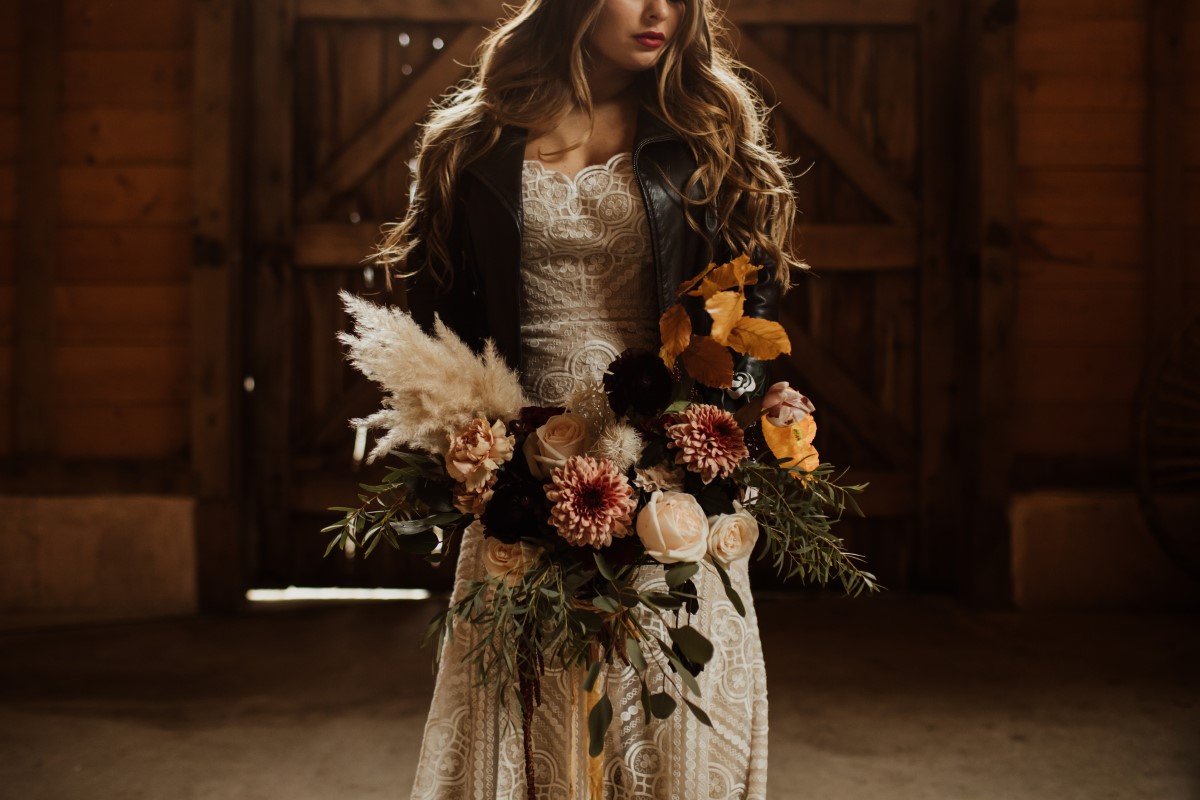 "Pinterest does absolutely still have a place, it's a great way to bring ideas and colour palettes together but I think people are starting to move away from the 'Pinterest aesthetic' for weddings. Instead, they are thinking more about bringing their own interests (be it music, films or fashion) into their wedding in new and exciting ways."
I'd add here that I also ponder if 2021 weddings will be assembled in weeks, rather than months; as restrictions continually change, will couples sense an opportunity to go ahead quickly, especially where internationally travel may come into play? 
This idea of the Year of the Truly Individual Wedding really intrigued me (forever seduced by anything against the grain). So I got straight on the phone to Joanna Southwell, editor of consumer and industry facing website The Weddinghood.
"For me, the one saving grace after this hellish year for weddings is the sense of freedom it has created. Anything goes now and I find it liberating. It allows couples to let go of the "we shoulds" and instead concentrate on the essence of weddings. The love between the two people involved. Everything is stripped back. The elements that mean the most to the couple are reinforced and everything else goes by the wayside. Home-created or foraged flowers are miraculously pulled together. It reminds me of how weddings used to be and I cannot wait to see the results." 
Something I have found truly exciting during Lockdown 1.0 and 2.0 is florists being playful with flowers for their own creative fulfilment. I don't think I've ever seen so much play, and goodness, it's refreshing. To see creations built on kitchen tables from foraged finds is deeply inspiring both to others working in the floral community and those who are simply #excessivelydivertedbyflowers.
I nod here to Laura's digital work, combining Dutch Masters influence with Lockdown's demand for some desk- or studio-based creative expression. I like to imagine these like the inner explosions of florists' brains each time the rules about weddings changed. Cancellations, postponements, messed up supply chains – all represented as splattered dahlias. Art for our times, don't you think?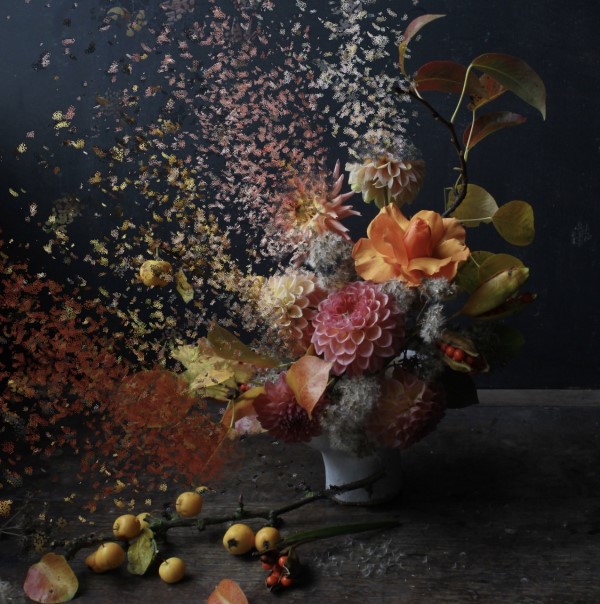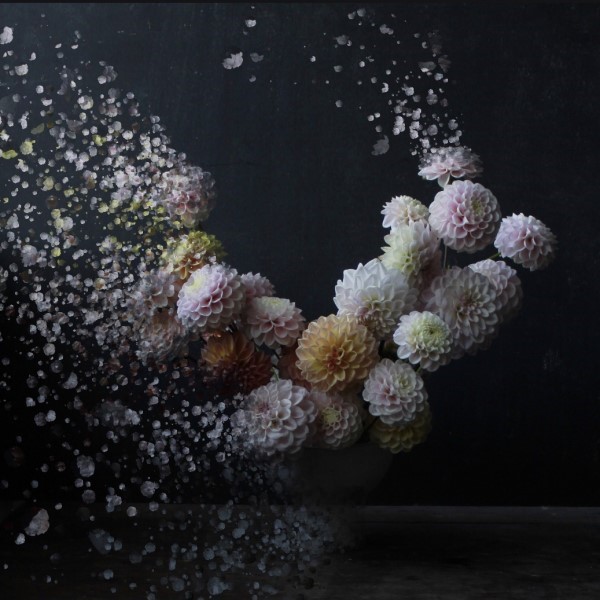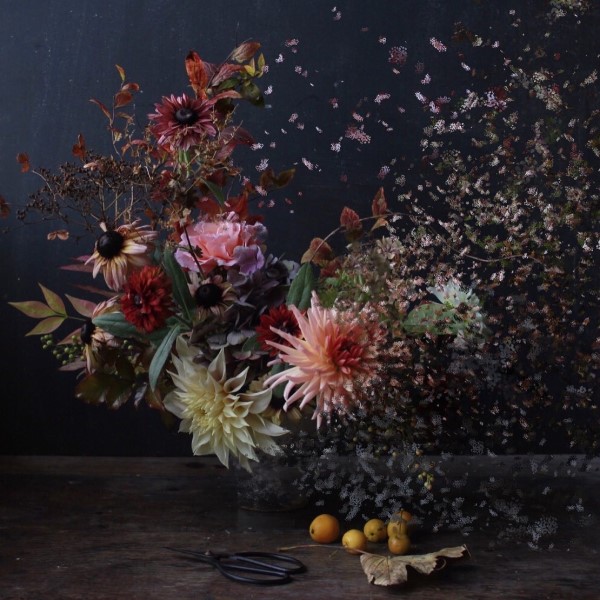 3.  On the Subject of Sustainability
British and Seasonal
Gemma of Iris & Co: "No discussion about the future can fail to include sustainability and the environment.  A huge trend in every part of our lives and weddings are no different.  With more couples educating themselves on where flowers are sourced and how their designs are put together, we as florists need to be at the forefront of new (or most often, embracing old) techniques to keep our art as kind to the planet as possible.  The embrace of seasonal and, in particular, British flowers, is growing every year and I'm so proud when I'm able to create gorgeous designs with flowers that haven't been on a flight."
Many of us in the floral community were proud to participate in Sarah Diligent of Floribunda Rose's Kickstarter campaign. Her book A Guide to Floral Mechanics was published in July 2020 and features step-by-step guides to creating bouquets, buttonholes and smallscale installations with no floral foam. Click here to read my blog post with Sarah, posted on the day of the book's publication. 
If you don't already follow Laura's cutting garden updates on Xyris Botanicals' Instagram, they are a must watch. It is a relevant, entertaining and practical way for enthusiasts and florists alike to gain insight into British seasonality in real time.
A Shared Responsibility
It's not a new trick for couples to serepetitously re-use their florals from ceremony to reception. As Gemma suggests, "Aisle runners make the most incredible fireplace and staircase designs and also look amazing in front of your top table (I promise, your guests will never know they're the same!) And gorgeous urns and arches can be bought into your reception to be enjoyed all day long.  Myself and the team are experts at sneaking in whilst you're halfway through a confetti tunnel and transforming your reception, before you've even had the first photos." Below: A ceremony display repurposed for an initimate table of six wedding breakfast. Florals by Iris & Co, photos by Maxeen Kim Photography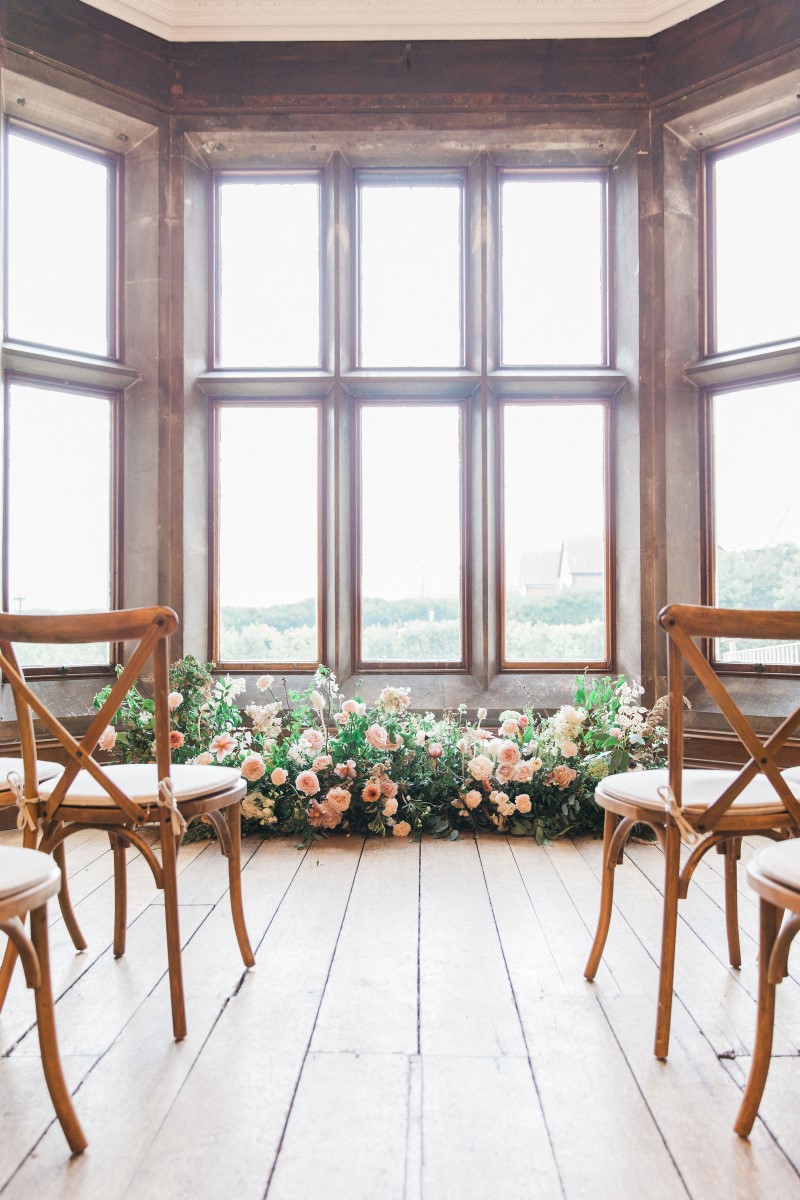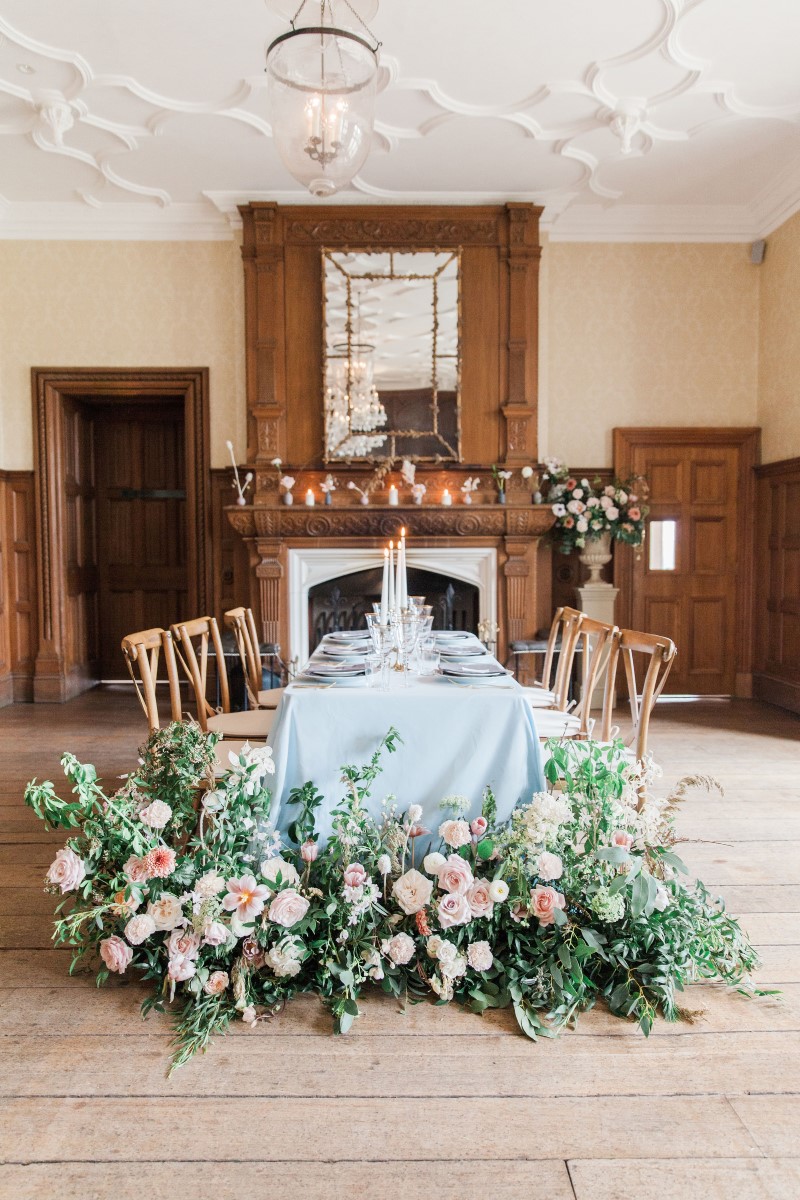 2000s couple: "Reusing flowers saves us money and probably no-one will notice that we've cut corners."
2020s couple: "Reusing flowers is a smart way to cut down on imported flowers, making for a more eco-friendly wedding." 
I remember at my own wedding, 11 years ago, being so surprised when I realised the mantel flowers from my ceremony had been placed along my top table in the ballroom, a move made secretly during our drinks reception. It looked incredible. But my thought process went more to "ooh that saved us a bit of cash," rather than "it's great to use less imported flowers but with the same visual impact of having twice as many flowers." Today, I think the necessity to be conscientious and planet-kind would be forefront in my mind if I were planning a wedding. On this point, I spoke to Meera Majithia, on the new mindset when it comes to sustainbility in the planning process.  
"There is no doubt that sustainability is becoming more important to couples. They are looking to their florist (and other suppliers) for guidance on how to have a more sustainable wedding. In 2021, it's important that suppliers themselves are well-educated on the topic and ready with relevant resources for their clients." 
Personally, I like luxury. I do. I like luxurious things. I like to feel luxurious. But the critical difference in today's environment is that waste is no longer luxurious to me. So therefore, my clients receive their wedding bouquet illustrations sandwiched between two pieces of recycled greyboard. Because while their illustration bathes in the luxury of time and intense attention to detail to lovingly create it, wasteful and environmentally-harmful packaging is no longer luxurious to the modern couple. 
4.  Single Species Bouquets
Contemporary, Sculptural, Minimalist
"Already in 2020, we have started to see single ingredient bouquets and arrangements appearing on social media," says Laura at Xyris Botanicals. "Sumptuous, sculptural bouquets of monochromatic roses (reflexed with some of the foliage left on) together with some table styling in the form of bowls of roses layered at different heights and directions, loosely influenced by the Japanese form of flower arranging known as Ikebana."
"As a small-scale grower of British flowers, I looked at this trend initially and worried that perhaps it did not align itself to the loose naturalistic style that British flowers lend themselves to so beautifully. This is however a brilliant opportunity to support British flower growers specialising in roses such as Usk Valley roses and The Real Flower Company. I did just that for a photoshoot over the summer where I ordered the most stunning Koko Loko Roses from Usk Valley Roses for simple table styling, a bowl arrangement and a bouquet pictured below." Pictured below: Florals by Xyris Botanicals, photos by Sammy Taylor Wedding Photography, model Charlotte Muyot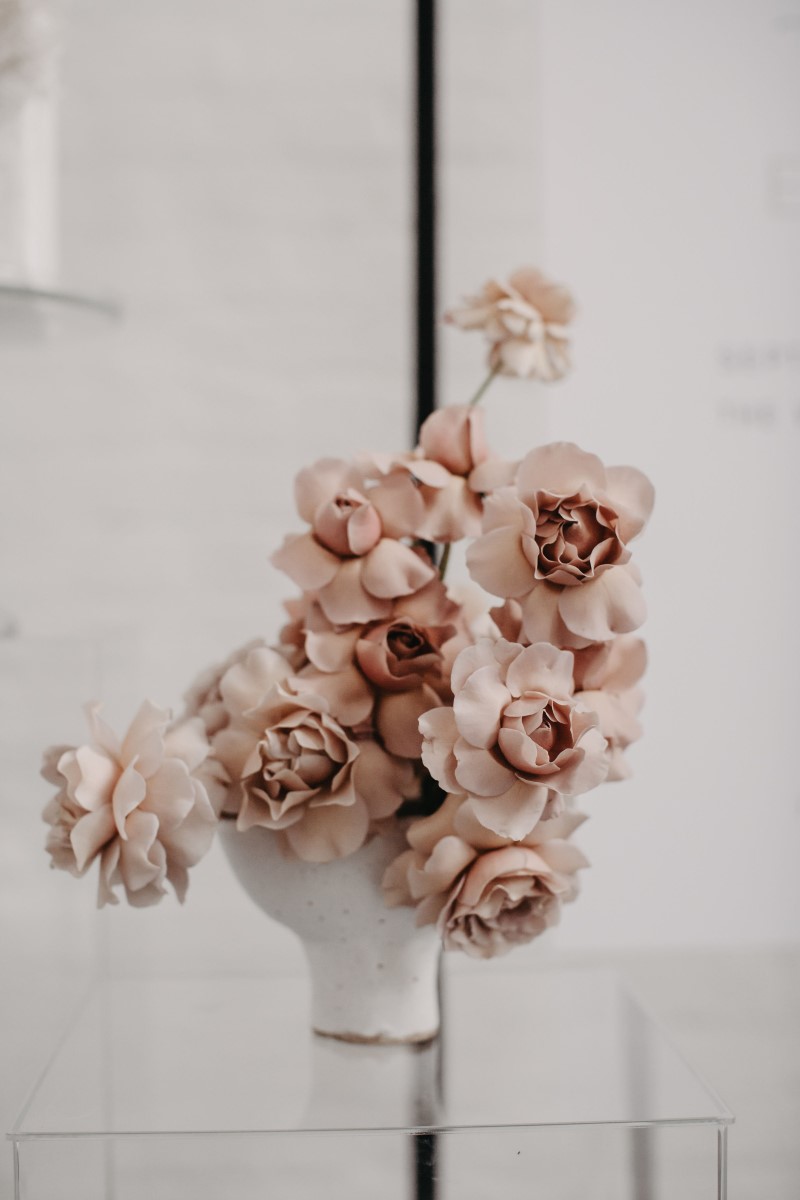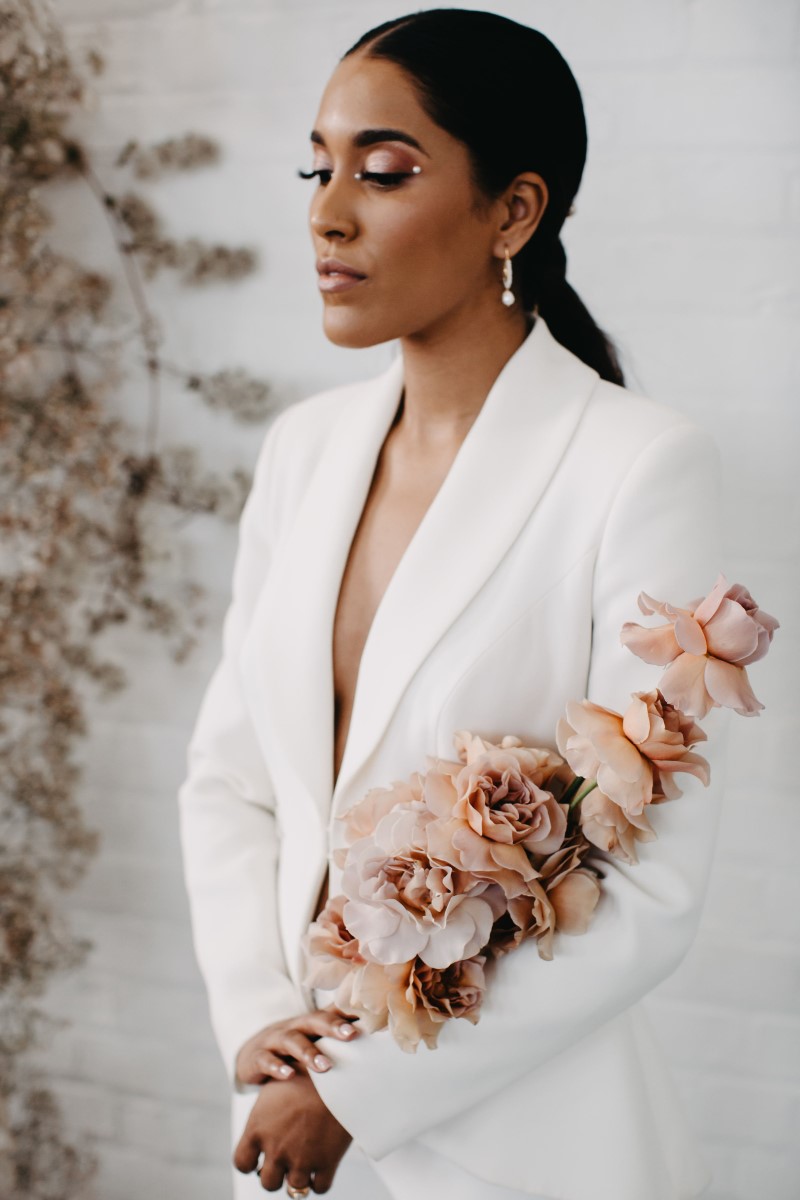 "I have also taken the trend and applied it to Dahlias, creating simple but structural bouquets and bowl arrangements using blooms from my cutting garden in south east Kent." Laura's work is all kinds of crazy gorgeous and it's thrilling to me that she has taken influence from this ancient Japanese craft and made it modern, relevant and sustainably-sourced.
5.  Mixed Fresh and Dried Florals
"The popularity of dried flowers continued throughout 2020, with stylish arrangements adorning homes around the country," says Gemma. "Saying that, I've seen more requests for a mixture of fresh and dried elements more recently, as opposed to the fully dried bouquets and designs I was asked for before. It adds so much texture to bring in those fresh elements as well as the scent that only fresh florals can bring." Pictured below: Florals by Iris & Co, photos [left] Imogen Eve Photography and [right] Chloe Mary Photo
"I've also seen a lot more brides drying their bouquets and other flowers from their wedding which I love.  More of an art than a science, my top tip is to group them in different places, to avoid a disaster.  Whilst they will need somewhere with good air flow, where you can hang upside down, you can't be sure you don't get a damp patch and your flowers fall apart so best so spread them out and at least some will dry beautifully! Alternatively, I know a girl who will exquisitely illustrate your bouquet to make sure it lasts forever…"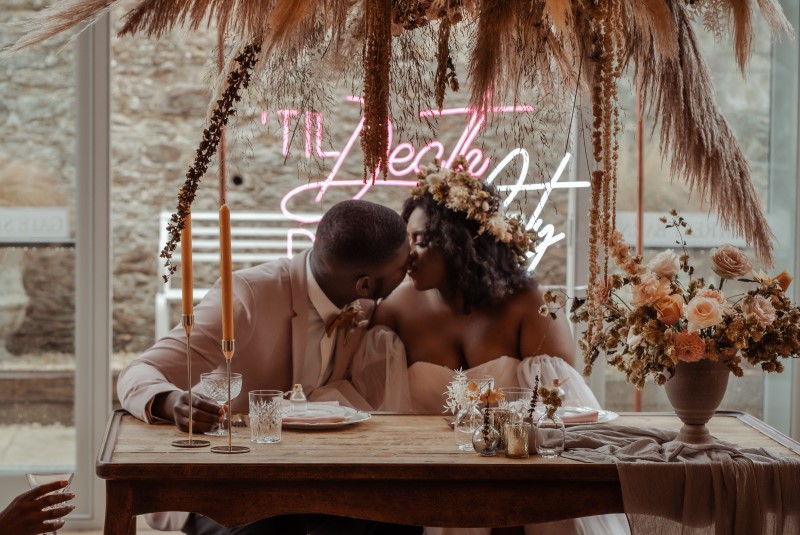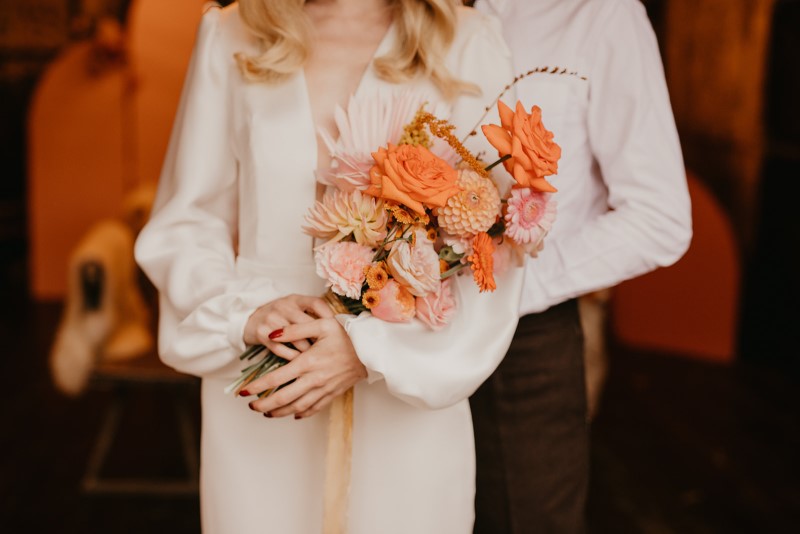 Conclusion
As we look ahead to 2021, with – at best – uncertainty, it's a comforting distraction to fantasize about the stylistic potential a new era of weddings will bring. While multiple traditional tablecentres may be an unlikely feature, the presence of an exquisite bouquet – a defining feature throughout 2020's triumphant micro weddings – is a safe bet. I'm so grateful for Gemma and Laura sharing their expertise here, where we do appreciate a good bouquet.
To the wedding couples-to-be reading this, your suppliers have everything crossed for you and your 2021 plans. You have no idea how much a we want to make your wedding experience spectacular, with memories to last a lifetime. And to the suppliers, I'm so grateful to see out this year alongside you through our online platforms. Your vision, energy and talent is appreciated and admired, and a inspiration to many.